The mobile devices market is simply exploding, with smartphones shipmentgoing up to the sky, tabletsemerging so fast that some people think it will replace PC (but this is still to be confirmed…). This lead mobile SoC designs to integrate increasingly more features, to support customer needs for more computing power and sophisticated video, audio and storage. To support these new features, improving both performance and power, new interface standards have emerged, that SoC designers need to integrate, under an ever increasing time to market pressure, opening the door for external sourcing of new functions (Design IP) and the need for solutions that can accurately test the functionality of their design and ensure manufacturing success (Verification IP). Cadence has pretty well defined the problematic (see image): it's too hard to verify from scratch, as it requires too much time, effort and expertise.
That's why the Verification IP market is so dynamic these days, and that's why both Synopsys and Cadence not only communicates, but are also very active: almost every week brings major news, acquisition or release of new VIP supporting emerging standards. The involvement of Cadence in the Verification IP for System on Chip developed for the Mobile industry (wireless handset, media tablets, and portable consumer electronic devices) clearly appears when looking at the list of VIP offering for mobile applications with support for the following standards:
LPDDR3:

This low-power version of the pervasive DDR3 memory standard enables customers to meet the high bandwidth and power efficiency requirements of mobile systems.

MIPI CSI-3:

Providing an advanced processor-to-camera sensor interface, MIPI CSI-3 enables mobile devices to deliver the bandwidth required to enable high resolution video and 3D.

MIPI Low Latency Interface (LLI):

This interface cuts mobile device production cost by allowing DRAM memory sharing between multiple chips.

USB 3.0 On-The-Go (OTG)

: Providing 10x the performance of the previous USB specification, USB 3.0 OTG allows consumers to rapidly transfer data, such as video and audio content, as well as quickly and effortlessly charge devices.

Universal Flash Storage (UFS):

A common flash storage specification for mobile devices, UFS, a JEDEC standard, is designed to bring higher data transfer speed and increased reliability to flash memory storage.

eMMC4.5:

Designed for secure, yet flexible program code and data storage, eMMC4.5, a JEDEC standard, enables high bandwidth, low pin-count solutions that simplify system design.

cJTAG:

With its support for reduced pin count, power management and simplified multichip debug, cJTAG enables efficient testing of mobile devices, a key requirement for delivering high volume, high quality mobile devices.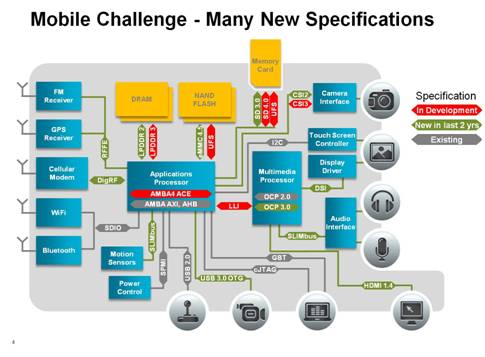 The secret sauce for supporting emerging standards, when these are still in development, is to actively participate to the standard committee, like for example MIPI Alliance. According with Joel Huloux, chairman of the board, "MIPI Alliance continues to advance mobile interface standards with processor and peripheral protocols that streamline system development and expand the sophistication of today's mobile devices. By ensuring verification support for these protocols at the earliest stage possible, companies such as Cadence enable mobile designers to embrace the latest standards and deliver products that transform the consumer's mobile experience." Cadence was also the first company to add support for ARM Ltd.'s AMBA 4 Coherency Extensions protocol (ACE), speeding the development of multiprocessor mobile devices, and the DFI 3.0 specification, which defines an interface protocol between DDR memory controllers and PHYs.
Another important ingredient for cooking a successful recipe, at the other side of the spectrum, is the collaboration with the system manufacturers. If you take a look at the member list on the MIPI Alliance web, you realize that this collaboration could be with companies like: Ericsson, Nokia, Panasonic, RIM or Samsung, even if Cadence does not disclose this information. Being present at both side of the spectrum, participating to the standard elaboration well before the protocol release, and working closely with the system integrators, the final users, is a good way to fine tune the verification product and release it as early as possible, allowing the SoC designers to cope with increasingly shorter time to market.
Eric Estevefrom IPNEST

Share this post via: