Podcast EP16: Hyperscale Computing & Changes in the Datacenter
Dan is joined by Frank Schirrmeister, senior group director of solutions marketing at Cadence Design Systems, Frank has extensive experience in complex system design from his work at companies such as Cadence, Synopsys, Imperas and ChipVision. He has also advised Vayavya Labs and CriticalBlue.
Dan and Frank discuss the many challenges of building hyperscale datacenters and the innovations that are helping to make this massive compute infrastructure buildout a reality. Domain-specific compute architectures and the required design tool support are some of the items explored in this conversation.
The views, thoughts, and opinions expressed in these podcasts belong solely to the speaker, and not to the speaker's employer, organization, committee or any other group or individual.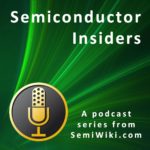 Share this post via:
---