The foundation of SemiWiki.com has always been to transition live semiconductor related events to an easy to digest digital format via a worldwide online semiconductor community. SemiWiki is staffed by working semiconductor professionals that transform live events, press releases, whitepapers, webinars and other collateral into easy to read blogs for the semiconductor ecosystem.
"Semiconductor professionals writing about semiconductors"
Since going online in 2011, SemiWiki has published more than 7,000 blogs (in collaboration with our sponsors) that have garnered more than 43,000,000 views. As a result, SemiWiki in total has experienced more than 3,500,000 users and is the #1 semiconductor ecosystem portal around the world.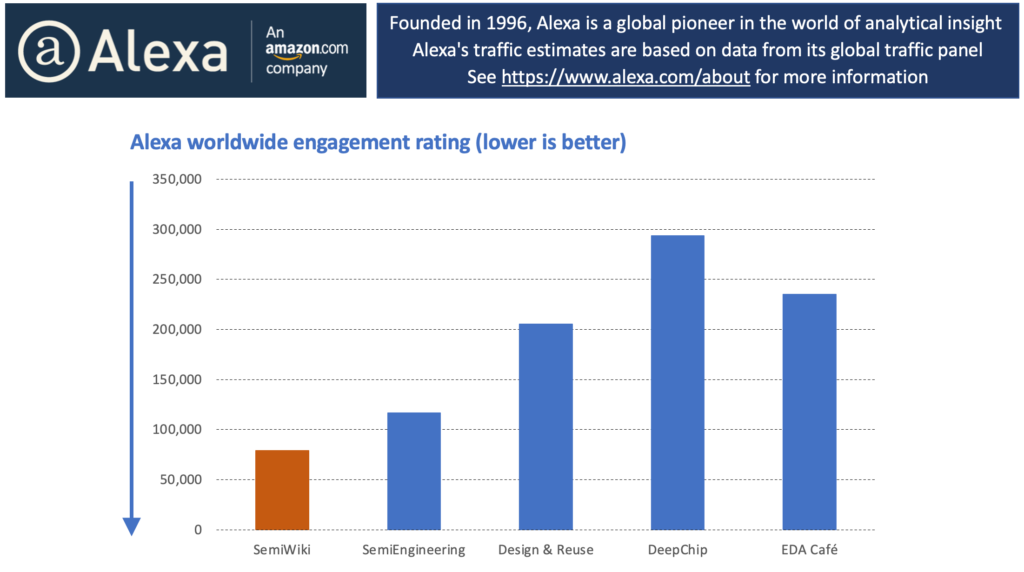 FOR THE GREATER GOOD OF THE SEMICONDUCTOR ECOSYSTEM!

BENEFITS OF REGISTERED MEMBERSHIP!

As a SemiWiki Member you may adopt a screen name to protect your identity but you must register with real names and your LinkedIn profile. Only semiconductor professionals with LinkedIn profiles qualify as SemiWiki Members and all Member information will be held in the strictest confidence. SemiWiki does NOT share, rent, sell, or trade member registration information. Registered SemiWiki members can post blogs, read and write blog comments, post in the forums, and create or modify Wikis.

Today everything and everyone is connected and crowd sourced. In fact, all social media, from blogs, to forums, and wikis have a profound impact on how people communicate, search for information, and make decisions. For vendors, social media is no longer an experiment or a moonlighting function. Social media is now an integral part of corporate communications.

The SemiWiki business model is subscription based so there is a financial link and the SemiWiki Bloggers share in that success. Bloggers need to eat too. The point of the SemiWiki blogs, wikis, and forums are to drive traffic, feed the site analytics, and provide a real-time-feedback-loop, that is where the SemiWiki value proposition is. This is crowd sourcing, Bloggers share observations, experiences and opinions, SemiWiki members can agree or disagree, the collective knowledge of the crowd will win every time. That is social media: increasing the transparency of business, products, and people.

A SemiWiki subscription includes: A dedicated company landing page with a banner ad, blogging, wikis, calendar of events, and analytics. We also assist with white papers, webinars, and seminars as time permits.

A SemiWiki subscription does not include guaranteed coverage of your events. The observations, opinions, and experiences shared by SemiWiki Bloggers are their own. We are semiconductor professionals and have personal brands to protect.

You do not need to subscribe to SemiWiki for us to cover your events. Contact the Blogger of your choice and we will see what we can do, as time and interest permits. If you want us to cover a live event send us a media pass and we would be happy to attend (schedule permitting) and share our experiences on SemiWiki. If you would like to post a guest blog on SemiWiki please email that request to admin at semiwiki dot com.

Companies that currently subscribe to SemiWiki or have a professional connection with a SemiWiki Blogger include:
Angisys, Altair, Amiq EDA, ANSYS, Breker Systems, Cadence, ClioSoft, Corigine,  Concept Engineering, Dassault Systemes, Defacto, Empyrean, IC Manage, Infinisim, Keysight EDA, Magwel,  Methodics/Perforce, MunEDA, Primarius, Pulsic, Semifore, Siemens EDA, SkillCAD, Synopsys, S2C EDA, Vayavya Labs.
Achronix, Agile Analog, Alphawave, ArterisIP, Analog Bits, Avery Design, Blue Cheetah Analog Design, CEVA, Codasip, Comcores, eMemory, Expedera, Flex Logix, Intrinsic ID, Menta, Minima, Mirabilis, Mixel, Movellus, Omni Design, Silicon Creations, SmartDV, Sure Core, Truechip.
Accellera, Alchip, Atonarp, Axiomise, Efabless, Fabricated Knowledge, eInfochips, IC Knowledge, Intermolecular, Mavin Silicon, NetApp, OpenFive, Rescale, Samtec, Semiconductor Advisors, Semiconductor Intelligence, Silicon Catalyst, Sondrel, Veriest.

GlobalFoundries, Intel Custom Foundry, Samsung Foundry, TSMC.

Regular SemiWiki Bloggers include industry professionals:

Daniel Nenni, Daniel Payne, Eric Esteve, Tom Dillinger, Bill Jewell, Scotten Jones, Don Dingee, Bernard Murphy, Robert Maire, Fred Chen, Mike Gianfagna , Kalar Rajendiran, Dave Bursky.
SemiWiki has a strict no shills policy. All vendor employees must properly identify themselves if they are going to answer questions, promote products, or talk about the company they work for on SemiWiki.

While Google, Yahoo, Bing, and other search engines will continue to play an important role in social media, KNOWLEDGE SHARING sites like SemiWiki are the new search. The role of user generated content has changed the way information is exchanged. SemiWiki brings technology and technologists closer together than ever before, providing in-demand content and facilitating peer-to-peer communications using Web 2.0 technologies.

5 things you should know about SemiWiki:
SemiWiki is global. Your experience here will be from around the world with an incredible amount of information at your fingertips. Make sure you connect and interact, make sure you engage at all levels.
Build relationships and network. You can truly connect here with people who you have not met. Make friends and create a support system for your professional life.
Take the good and the bad. Distinguish between fact and opinion, objective and subjective. People will either like or dislike your posts and there is something to be learned from both.
Don't be evil. Top influencers will have one thing in common, they use their influence for the greater good.
Be yourself. Impersonating others online is a crime so just be yourself. Share your knowledge, share your profession, share your passion. You don't have to be an expert or industry icon to be a top influencer on SemiWiki.
Privacy Policy: All SemiWiki Member information will be held in the strictest confidence. SemiWiki does NOT share, rent, sell, or trade member registration information. SemiWiki uses Google Analytics to help us understand how our visitors use the site. Information about how Google uses your personal information can be found here. You can opt-out of Google Analytics here. We also use Amazon's Alexa service. Additional information about how Alexa uses your Personal Information can be found here. Again, SemiWiki does NOT share, rent, sell or trade member or visitor information.

Please direct questions, comments, and suggestions to admin at semiwiki dot com