Tensilica HiFi DSP family, dedicated to voice and audio processing, is shipping over 1 billion units worldwide annually, thanks to the 75+ licensees. The new HiFi 3z architecture offers more than 1.3X better voice and audio processing performance than its predecessor, the HiFi 3 DSP, which leads the industry in the number of audio DSP cores shipped. Better voice quality requires higher voice sample rates, translating into more complex voice pre-processing. For example, the latest mobile voice codec supporting voice over LTE (VoLTE), Enhanced Voice Services (EVS), supports up to a 48kHz sample rate, compared to 16kHz for the previous AMR-WB codec. The need to increase DSP workload is similar for home entertainment applications, based on audio codecs like Dolby AC-4 and MPEG-H transitioning from channel-based to object-based.
Which is true for pre-processing also applies for audio post-processing functions. For example, to support the Waves Nx 3D/AR audio and the immersive audio of Dolby Atmos-enabled TVs, the HiFi 3z DSP provides 1.4X better performance on Dolby Atmos-enabled TVs than the HiFi 3 DSP.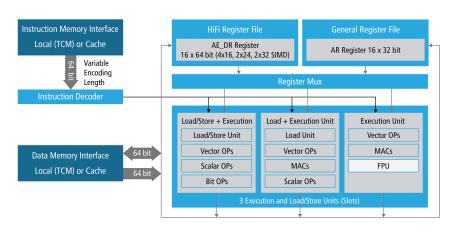 The HiFi 3z architecture has been improved compared with the HiFi 3, and we can highlight the most important points. The MACs count for 16×16 has been doubled, leading to an octal MAC. The HiFi 3 DSP has Load/Store support in 1 slot only when the HiFi 3z provide L/S support in 2 slots. The HiFi 3z offers a number of instruction set architecture (ISA) improvements to efficiently supports the latest audio and voice compute requirements, by accelerating FFTs, FIRs and IIRs. To improve voice trigger performance, the HiFi 3z provide 4-way 8-bit load, and 8-way 8-bit load for reduced NN memory usage. The support for multiple instruction-length encoding allows code-size reduction.
The availability of Floating Point Unit in the DSP dramatically reduce time from algorithm development to DSP implementation and the HiFi 3z offers a FPU as a configurable option. Benefiting from this FPU can boost the Time-to-Market, crucial for applications targeting consumer oriented systems. This FPU can execute up to 2 floating-point MACs per cycle and IEEE 754 floating-point operations are available. Because the FPU operates on vector register file, this result to a reduced area and allow a seamless conversion between floating point and fixed point. The NatureDSP FPU DSP library is available and supported by the HiFi 3z.
The number of applications where you need a powerful but energy efficient, low footprint DSP IP to support audio and voice is constantly growing. In the mobile segment, you need audio and voice processing in smartphones, tablets or laptops. In the consumer segment, home entertainment includes Digital TV, Set Top Box, sound bar or gaming, requiring functions like:
–

Audio codecs such as Dolby, DTS, MPEG-H

–

Audio post-processing

–

Immersive audio

–

Interactive audio and voice codecs for real-time gaming
But you also need an audio DSP in the automotive segment to support digital radio and head unit infotainment, relying on high performance:
Audio codecs such as Dolby or DTS
Audio post-processing, active noise control or in-cabin communications
We also see the emergence of smart speakers, using front-end processing, voice trigger and neural network processing to support voice recognition. Who could guess, a while ago, that audio DSP will have to support IA functionalities? That's why the Tensilica HiFi 3z DSP 16×16 MAC engines provide 4.8 GMAC/sec capability (@ 600 MHz clock rate) to DNN_ASR systems.
How to position HiFi 3z DSP IP core across Tensilica various families? It's simply the leading energy efficiency device for complex audio/voice processing, offering higher performance than the HiFi 3 (and the Fusion F1, Ultra-low energy, the HiFi 2, mainstream and the ultra-low power HiFi Mini). Only the HiFi 4 will provide higher performance, the best 32-bit fixed and floating-point device of the HiFi family!
The following link to get more information about the HiFi 3z DSP:
https://ip.cadence.com/ipportfolio/tensilica-ip/audio&CMP=TIP_BLG_SW_HiFi3z_0717_3z_PP
By Eric Esteve fromIPnest
Share this post via: