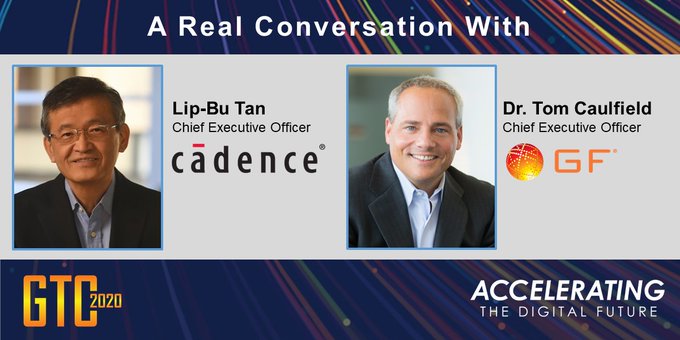 Hands down, without a doubt, the most interesting CEO in semiconductors is Lip-Bu Tan, founder of Walden Capitol and current CEO of Cadence Design Systems. If you want to talk about a man with a plan it's Lip-Bu Tan.
Before we get into the fireside chat between Tom Caufield and Lip-Bu at the GTC 2020 Virtual event let's do a quick biography:
Lip-Bu holds a B.S. in Physics from Nanyang University in Singapore, a M.S. in Nuclear Engineering from Massachusetts Institute of Technology, and a M.B.A. from the University of San Francisco. His first big pivot was leaving the MIT PhD program and going to San Francisco for an MBA. As the story goes Three Mile Island happened so a PhD in Nuclear Engineering lost its appeal, their loss our gain.
Lip-Bu founded Walden International in 1987. According to his Wikipedia page He named the firm after the book "Walden" by Henry Thoreau based on the contrarian theme. He started with $20M and now Walden is worth $Billions.
In 2004 Lip-Bu joined the Cadence board of directors and took the CEO job in 2009. To make a long story short, Cadence stock (CDNS) was trading at less than $5 a share at the time and now trades at more than $110.
Lip-Bu also brought diversity to EDA CEOs. In 1995 former Cadence CEO Joe Costello characterized EDA as "Have you seen three big dogs hovering over one bowl of dog food?  It's not a pretty picture." Synopsys CEO Aart de Geus is 100% EDA. Former Mentor CEO Wally Rhines is 50% semiconductor (TI) and 50% EDA, and then there is Lip-Bu Tan 100% of everything.  Bottom line: EDA is now three race horses running in the semiconductor derby.
The fireside chat started with a little bit of levity with Lip-Bu saying that he has a twin which is why he is in two places at one time (EDA CEO and Semiconductor VC). Funny because it sure seems that way.
Lip-Bu's thesis for this talk was something that SemiWiki has been telling us for some time now. We are at the beginning of a Datacentric Revolution fueled by 5G, autonomous driving, Industry 4.0, hyperscale, AI/ML, and data analytics. It's all about the Data.
According to Lip-Bu 90% of the data we have today has been generated in the last two years, 80% of that data is unstructured, and only 3% has been analyzed/utilized much less monetized.
Semiconductors are collecting data on the edge and processing it in the cloud. Processing data is mostly done on general purpose CPUs and GPUs with FPGAs mixed in. The shift to domain (application specific) processors has already started and will continue.
Next comes storing data in a very efficient way with low latency access. New types of memory from DRAM to HBM and other new memory technologies (QNM) are emerging. Data transmission speeds must also increase and then you must organize and analyze the data for monetization across vertical markets.
Lip-Bu has now invested in more than 30 AI/ML companies.
If you put this talk together with Tom Caufield's keynote on edge device power and connectivity you will see why the partnership between Globalfoundries and Cadence is a natural fit. I would also hope that Tom gets Lip-Bu involved with GF at the advisory level for future growth and positioning. Nobody knows more about semiconductor IPOs than Lip-Bu Tan, absolutely.
Also Read
Covering Configurable Systems. Innovation in Verification
Tempus: Delivering Faster Timing Signoff with Optimal PPA
Bug Trace Minimization. Innovation in Verification
Share this post via: