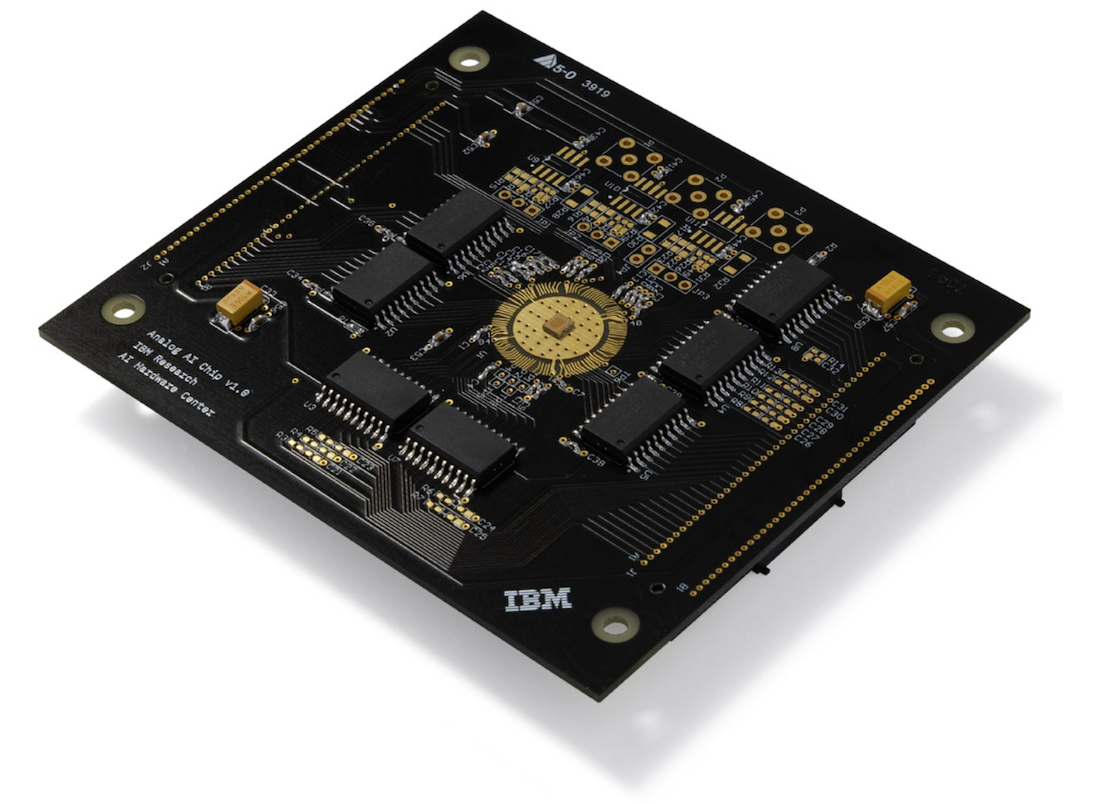 Anyone who frequents SemiWiki will likely know Moore's Law. The prediction made by Gordon Moore over 50 years ago regarding the relentless increase in transistor density and reduction in cost has tracked well for a very, very long time. In recent years, there has been spirited discussion about the end of Moore's Law. This is a discussion for another time and another blog post. I want to focus here on a significant announcement made today by a company we all know: Synopsys Helps Advance IBM's Vision of 1,000 Times Improvement in AI Compute Performance during the Coming Decade. There's a lot packed in that title and I'll get to the details in a moment as to how Synopsys teams with IBM to increase AI compute performance 1,000X by 2029.
First, I want to point out that a new and different version of Moore's Law, one that tracks AI performance, is embedded in this announcement. IBM's vision, as it pertains to AI processor cores, focuses on an improvement in performance of 2.5x each year and a goal of 1,000X overall performance improvement by 2029. The announcement states that IBM Research has realized a gain of twice that in its first year, so they're off to a good start. If you wonder if Moore's Law is out of gas, simply focus on this new metric if you'd like something to look forward to.
Back to the details of the announcement. IBM is a massive organization that always thinks big. The AI Hardware Center, announced last year is a perfect example of thinking big. Headquartered in Albany, NY the enterprise is enabling next-generation chips and systems that support the tremendous processing power and unprecedented speed that AI requires to realize its full potential, according to IBM. While IBM is the catalyst for this effort, they are far from alone. Early partners include:
New York State
SUNY Polytechnic Institute
Rensselaer Polytechnic Institute
Samsung
Applied Materials
Tokyo Electron Limited (TEL)
Synopsys
A rather impressive list of industry-leading companies. Let's look at how Synopsys fits in this collaboration. According to the press release, there are three primary areas where Synopsys brings expertise:
Multi-die integration in a package, silicon design and verification: Technology here includes: Synopsys 3DIC Compiler, Fusion Design Platform™ and Verification Continuum® Platform, which include the use of state-of-the-art functional verification, prototyping and emulation systems that address the size and scale of the designs being developed, and support for hardware and software co-design and co-analysis methodologies
Silicon engineering: Providing software to address critical manufacturing and yield challenges introduced by leading-edge process technologies such as the use of novel materials, gate-all-around 3D stacked architectures, and source and mask creation for EUV technology. The Synopsys Design Technology Co-Optimization (DTCO) solution combines its capabilities to provide more options and help achieve global optimality
Silicon IP: Addressing the processing, memory performance and real-time connectivity requirements of AI chips, providing a broad portfolio of silicon-proven DesignWare® IP such as LPDDR5 and PCI Express® 5.0 for a wide array of applications
This is a very broad and technically deep list of capabilities. Synopsys is uniquely qualified to deliver strong, AI-relevant technology across, design/verification, manufacturing/yield and advanced silicon IP. The Synopsys relationship here is not that of a typical EDA company. Synopsys, along with IBM and the rest of the collaborators are aiming to change the course of AI deployment.
When you boil it all down, AI is really the fundamental fuel for innovation in the coming years. You'd be hard pressed to cite any significant technology advancement that wasn't at least partially enabled by AI. As many know, AI as a technology isn't new. The term, "AI" dates back to the 1950's. What has created the recent massive deployment of AI is the ability to run these complex algorithms much faster, with lower power and reduced hardware footprint. Giving the whole process a "turbo boost" of 1,000X will quite likely change the course of history. This effort in general, and the Synopsys contributions in particular are something to watch.
Arun Venkatachar, vice president, Artificial Intelligence and Central Engineering at Synopsys commented, "This is a unique opportunity for Synopsys to be part of a collaborative effort that connects the entire semiconductor value chain. To realize IBM Research's vision, the AI hardware being designed requires a fundamentally new approach, which needs innovative strategies – from tools, to IP, to workflows and manufacturing. Our involvement with the AI Hardware Center provides a platform for us to help drive the future of AI chip design with a synergistic partner."
"Together, AI and hybrid cloud will play a critical role in the next generation of enterprise computing and scaling AI, with new hardware solutions as part of a wider effort at IBM Research to envision and realize What's Next in AI," said Mukesh Khare, vice president, Hybrid Cloud, IBM Research. "To achieve this, we need to build a new class of AI hardware accelerators that increase compute power without the demand for more energy. Additionally, developing new AI chip architectures will enable companies to dynamically run large AI workloads in the hybrid cloud. Synopsys' unmatched breadth of experience and technical offering is an extremely valuable asset in this effort."
IBM considers Synopsys the lead EDA partner on this program. I'll end on that note. I, for one, will be watching as Synopsys teams with IBM to increase AI compute performance 1,000X by 2029. Here's to a new, exciting and much improved future.
Also Read:
Digital Design Technology Symposium!
Netlist CDC. Why You Need it and How You do it.
The Big Three Weigh in on Emulation Best Practices
Share this post via: