Podcast EP148: The Synopsys View of High-Performance Communication and the Role of Chiplets
Dan is joined by John Swanson, who is the HPC Controller & Datapath Product Line Manager in the Synopsys Solutions Group. John has worked in the development and deployment of verification, integration, and implementation tools, IP, standards, and methodologies used in IP-based design for over 25 years at Synopsys.
Dan explores the future of high-performance computing with John. What is required for success, and what challenges are faced by designers and applications to get to 1.6T Ethernet leveraging 224 GbE, including FEC, cabling, and standardization.
The views, thoughts, and opinions expressed in these podcasts belong solely to the speaker, and not to the speaker's employer, organization, committee or any other group or individual.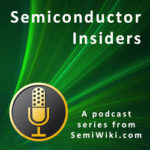 Share this post via:
---