Podcast EP141: The Role of Synopsys High-Speed SerDes for Future Ethernet Applications
Dan is joined by Priyank Shukla, Staff Product Manager for the Synopsys High Speed SerDes IP portfolio. He has broad experience in analog, mixed-signal design with strong focus on high performance compute, mobile and automotive SoCs and he has a US patent on low power RTC design.
Dan explores the use of high-speed SerDes with Priyank. Applications that enable high-speed Ethernet for data center and 5G systems are discussed. The performance, latency and power requirements for these systems is quite demanding, How Synopsys advanced SerDes IP is used to address these challenges is also discussed.
The views, thoughts, and opinions expressed in these podcasts belong solely to the speaker, and not to the speaker's employer, organization, committee or any other group or individual.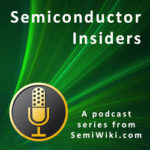 Share this post via:
---