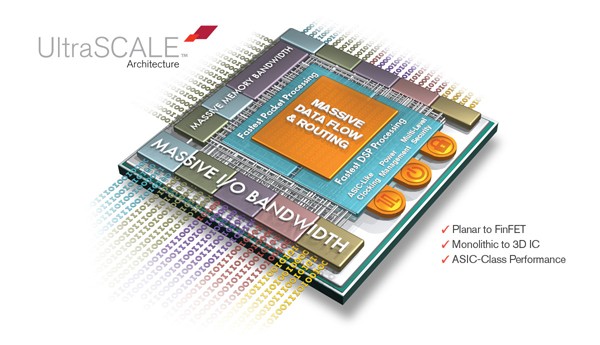 Xilinx just announced the shipment of the first TSMC based 20 nm FPGAs, beating Altera to the punch yet again. Xilinx was also the first to ship TSMC 28nm FPGAs and will undoubtedly beat Altera to 14nm which could be the knockout punch we have all been waiting for. The Xilinx UltraScale is a new family of FPGAs that will use 20nm and 16nm processes with 20nm samples available just in time for Christmas! Ho ho ho…
"This announcement underscores our first-to-market leadership commitment of delivering high-performance FPGAs," said Victor Peng, senior vice president and general manager of products at Xilinx. "The next generation starts now with the shipment of our new UltraScale devices, building upon the tremendous momentum we have established with our 7 series."
"The delivery of UltraScale devices on TSMC's 20nm process technology marks a new juncture for the semiconductor industry," said TSMC vice president of R&D, Dr. Y.J. Mii. "We are happy to see Xilinx continue to break new ground and deliver 20nm silicon to its customers."
In 2012 the FPGA market was about a $4.5 billion business. Xilinx has about 50% market share at $2.2 billion. Altera is not far behind at $1.8 billion. Being the first to silicon is key in the FPGA world as it not only builds market share, it also builds trust that Xilinx can continue to deliver leading edge products.
Xilinx and longtime manufacturing partner UMC were about one year late at 40nm which allowed Altera and manufacturing partner TSMC to gain significant FPGA market share. Xilinx then switched to TSMC at 28nm and the race with Altera on a level manufacturing playing field began. Clearly Xilinx won 28nm with not only first silicon shipped but also first to 3D IC technology.
One of the big questions I see around the internet is: "Why did Altera really switch to Intel for 14nm?" Simple: Because Altera cannot beat Xilinx to market on a level manufacturing playing field. Even though Altera is a long time TSMC partner, TSMC does not play favorites and delivered technology to both Altera and Xilinx in a uniform manner.
As previously reported, Intel 14nm is late. Word from Altera is that they won't start taping out 14nm designs until Q4 2014. Xilinx, on the other hand, is taping out 16nm designs early in Q1 2014. Intel is not talking in detail about the speed and density of 14nm in regards to their foundry business so I have no idea how competitive Altera will be against Xilinx at 14nm. But Altera being a year or more late to market is 40nm all over again.
More Articles by Daniel Nenni…..
lang: en_US

Share this post via: