The 15th TSMC Open Innovation Platform® (OIP) event was held recently. This event is a focal point across the industry for cutting-edge development and industry-level collaboration. Appropriately, advanced packaging, paving the way for multi-die design was a focal point for the event. You can get a good overview of what was happening at OIP here. Beyond fab and packaging, there was a lot of talk about end markets, with automotive being a key growth area.  This is where I'd like to focus in this post – with another example of Analog Bits leadership in automotive grade sensors. Read on to see how Analog Bits leads the way at TSMC OIP with high-accuracy sensors.
Why It's Important
According to recently published market research, the global automotive sensor market was worth $30.9 B in 2022, and is projected to grow at a CAGR of 7.3% to reach $ 61.4 B from 2023 to 2032. According to the research, "… substantial growth is due to the integration of sensors in vehicles to enhance safety, efficiency, and overall performance. Sensors are used in areas like advanced driver assistance systems (ADAS), engine management, and environmental monitoring. The market's expansion is driven by regulatory mandates for vehicle safety, the rise of electric and autonomous vehicles, and consumer demand for innovative features."
The report discussed the need for high-accuracy sensors in automotive designs. Everyone is getting into this market, including:
Robert Bosch GmbH
Continental AG
DENSO Corporation
Analog Devices, Inc.
Sensata Technologies, Inc.
Delphi Automotive PLC
Infineon Technologies AG
STMicroelectronics
The need for high-accuracy, automotive-grade sensors has become a white-hot item in vehicle design. It is against this backdrop that the work presented by Analog Bits is so important.
What Was Presented at OIP
Analog Bits has been at the forefront of precision analog IP for a long time. At OIP, the company showcased numerous IPs on TSMC's industry-leading N5A process of its new high accuracy sensor and automotive grade, silicon proven designs at its booth. This development is part of Analog Bits' broadening portfolio of mixed signal IP in advanced TSMC 3nm, 4nm, and 5nm processes. The company announced that design kits are available now.
Mahesh Tirupattur, executive vice president at Analog Bits weighed in with the following official comments:
"As we work with leading edge automotive customers on advanced FinFET processes, thermal issues continue to be a concern and need for multiple instances of sensors continues. Furthermore, many applications cannot have additional test costs associated with trimming for higher accuracy. We have been working on designs for improving un-trimmed accuracy in FinFETs and reducing the area of the sensors, and we are pleased to demonstrate working silicon of these higher accuracy sensors on N5A process at our booth at OIP."
Mahesh is a force in this industry. You can review his incredible ride at Analog Bits here. Analog Bits has quite a deep technical bench. The president and CTO of Analog Bits, Alan Rogers gave a presentation at OIP about on-die power management IP's, another very important topic. Let's look at what Alan presented.
Alan's Presentation at OIP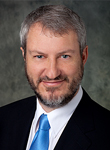 Alan Rogers has been at Analog Bits for over 25 years, and he's been working with transistors for over 55 years. In his own words, he's getting quite good at it. Alan began his presentation with the following introduction:
"In the last 40 years, since my first CMOS chip development in 5u SOS, I've watched the power density of silicon chips increase every generation, with higher switching frequencies and larger and larger currents making power integrity a serious design profession. For good reason, the two longest traces on opposite corners of a wire bonded DIP package just don't seem like a good power delivery solution anymore. How can we help with that?  Glad you asked!"
Alan went on to discuss power management challenges in SoCs and chiplets. He covered topics such as the Analog Bits portfolio of on-die power management IP's, the benefits of this IP, silicon results on TSMC N3E, and future work. He detailed several high-profile challenges being faced by many designers today. These include:
Power integrity and noise
Dynamic power management
Static voltage drop
Heterogeneous integration
Leakage power
Transient voltage spikes and voltage sags
Thermal hazards
He then detailed the various IPs available from Analog Bits to address the above challenges:
PVT Sensors – integrated and pin-less
Power On Reset and Over Current Detection Macro
Power Supply Glitch Detector
Power Supply Droop Detector
Low Dropout Regulator
The impact of a comprehensive library of IP like this can be substantial. Alan touched on some of that impact, including improved power efficiency, faster transient response and efficient regulation, enhanced reliability and improved yield, voltage scalability, integration and space savings, and noise reduction. Quite a list of improvements.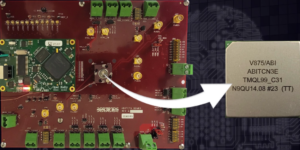 He then went on to show several actual silicon results from TSMC's N3E process. The response of the Droop Detector to a slow power slew was shown as well as the linearity of the system against a programmable input threshold. Results over temperature were presented that illustrated the stability and quality of the design. Performance of the PVT sensor was also shown over multiple conditions. The programmability of the Power On Reset macro was shown in detail as well.
Overall, an impressive portfolio of IP and an impressive set of results on an advanced process.
To Learn More
If you'd like to dig into the array of precision IPs offered by Analog Bits, you can do so here. And that's how Analog Bits leads the way at TSMC OIP with high-accuracy sensors.
Share this post via: