Podcast EP8: A Look Inside Analog IP and Analog Bits
Dan and Mike are joined by Mahesh Tirupattur, executive vice president at Analog Bits. Mahesh discussed how he found his way to analog IP design and his long association with Analog Bits. Effective strategies for analog IP design and deployment are discussed as well as leading edge applications for analog IP . Mahesh also provides the back story on those Analog Bits gift bottles of wine that are seen each year around the holidays.
The views, thoughts, and opinions expressed in these podcasts belong solely to the speaker, and not to the speaker's employer, organization, committee or any other group or individual.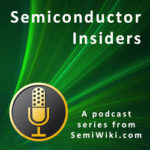 Share this post via:
---