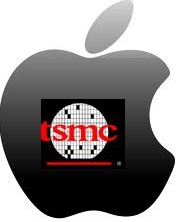 Disclaimer: I'm a blogger and by definition I share my observations, opinions, and experiences. Journalists and Analysts on the other hand are held to a much higher legal standard which is why they cite undisclosed sources and use double speak to shield themselves legally. Why trust a SemiWiki blogger over a Journalist or an Analyst? Because we actually work inside the fabless semiconductor ecosystem and they do not, simple as that. My previous TSMC blogs are HERE if you want to check my credentials. Be sure and read the ones early last year on the rumors of problems with TSMC 28nm. I said FALSE and I was right, the Journalists and Analysts were wrong, and their pants are on fire once again.
The first rumor is that the next Apple A7 processor (28nm) will be made by TSMC. That rumor is FALSE! As I previously blogged, the Apple iPhone to be released this year (iPhone 5s) will be Samsung 28nm. The iPhone to be released next year (iPhone 6) will be TSMC 20nm. A company the size of Apple cannot switch foundries on a moment's notice. The volumes are too high and the technology issues are too complex.I have no doubt Apple discussed 28nm with TSMC but since no other foundries had 28nm available there was no way TSMC could handle the wafer demands of Apple and the rest of the fabless companies. Apple also gets preferred pricing so why would TSMC give up higher margin 28nm business AND alienate their customer base? Not going to happen.
TSMC: Our mission is to be the trustedtechnology and capacity provider of the global logic IC industry for years to come.
20nm will be another story. Samsung and GLOBALFOUDNRIES will have 20nm in production and TSMC will see their 28nm customers use other sources. Qualcomm, TI, Broadcom, Marvell, and Xilinx all second and third source wafer manufacturing when possible. 20nm volumes will also not match 28nm due to a higher cost per transistor. To me 20nm is a half node in the economic sense in preparation for 16/14nm FinFETs, which will hit much higher volumes from the mobile guys due to lower power consumption (longer battery life).
The second rumor is that TSMC will build a fab in New York to help facilitate Apple business. I say FALSE. If TSMC builds a GigaFab anywhere in the United States I will eat my SemiWiki hat, simple as that.If TSMC needs to expand capacity above and beyond what they have planned today they can simply take over empty DRAM fab space in Taiwan which there is plenty of. Or if you want a more realistic rumor to spread here it is: TSMC will acquire the #3 semiconductor foundry UMC to increase capacity. This is much better than the rumor last year that GLOBALFOUNDRIES would acquire UMC. But I don't do rumors so you didn't hear it from me.
The Taiwan government founded the pure-play semiconductor foundry business working hand-in-hand with both TSMC and UMC. TSMC and UMC are brothers. The Taiwan economy is semiconductor centric. TSMC is one of Taiwan's top employers. I have no doubt that TSMC is seriously looking at all options but why would they follow the GLOBALFOUNDRIES model of having "global foundries" in favor of the TSMC model of Taiwan based cost efficiencies? The U.S. environmental impact bureaucracy alone would kill that deal! :p The wafer business has always been about price and that will never change.The other prediction I made last year is that TSMC stock (TSM) is a $20 dollar stock. It will happen this year, believe it.That's my story and I'm sticking to it.
Related: Apple will NOT manufacture SoCs at Intel!

Share this post via: