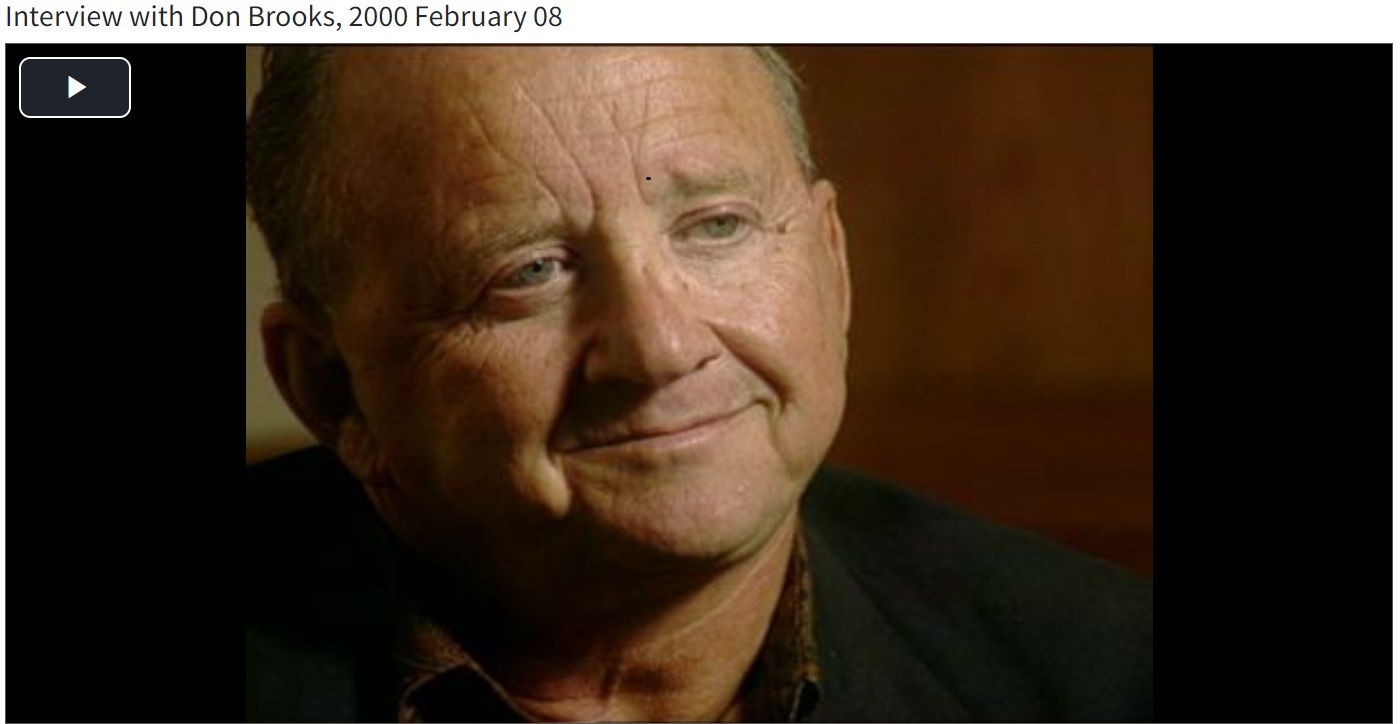 During my research I found an interview with Don Brooks from February 2000. It was very interesting and confirmed some of the things I knew about Don and brought up a few things I did not know. It's an hour but it is a video of Don telling his story and is definitely worth a look. One of the things that was not mentioned however is the pivot that TSMC made when Don was president that enabled the transformation of the fabless semiconductor ecosystem, absolutely.
https://exhibits.stanford.edu/silicongenesis/catalog/cj789gh7170
Here are notes from the interview:
Don Brooks, former Senior Vice President of Texas Instruments and President and CEO of Fairchild Industries, discusses his experiences in semiconductor manufacturing.
00:00:00 Interviewer introduces Brooks and his overall career.
00:01:00 Discussion of going to school at SMU in a co-op program with Texas Instruments (TI), and his experience working in fabs (semiconductor fabrication plant) and with Jack Kilby.
00:05:10 Discusses TI's attempt to vertically integrate while horizontally expanding the product line, and Intel's departure from the DRAM business.
00:11:06 Discusses management at TI and leaving Texas Instruments to be President at Fairchild.
00:15:37 Discusses the demise of Fairchild, sale to Schlumberger, subsequent sale to National, and the Fujitsu proposed merger.
00:27:28 Discusses his upbringing and how he came to work at TI.
00:31:35 Discusses his work in venture capital, becoming the President of Taiwan Semiconductor Manufacturing Company (TSMC), and the context for foundry business and product engineering in the semiconductor industry.
00:37:35 Discusses Morris Chang, the politics of being president at TSMC, and Europe, the U.S., and Taiwan's cultural differences in the semiconductor industry.
00:47:15 Discussion of the lifetime of fabs, the cost of equipment, and profit sharing.
00:57:20 Discusses moving back to the US, working at UMC on the Board of Directors, and focusing on his work in venture capital.
Interviewed by Rob Walker, February 8, 2000, Sunnyvale, California.
In regards to the pivot, this is what I remember but it is open for debate. Back when TSMC first started it was a very difficult transition from using an ASIC company like VLSI Technology or LSI Logic to using a pure-play foundry. There was a serious amount of foundation IP, PDKs and customer owned tooling (COT) that had to be done before a fabless company could design to a new process.
When TSMC first arrived a pureplay foundry was a very difficult sell to chip designers since there was no real ecosystem to support them. IDMs were the first targets since they had internal EDA and IP groups but the bigger margin markets were the emerging fabless companies or what was to be the Qualcomm, Nvidia, and Broadcoms of the world.
The first couple of processes TSMC used were licensed from Philips so there were some PDKs and IP available. After that TSMC developed their own processes with "greenfield" fabs and the real work began.
Not long after assessing the TSMC sales strategy, Don Brooks sold the TSMC board on the idea of opening up TSMC's design rules to the EDA and IP companies for quicker and broader adoption of the TSMC process technologies. I don't recall exactly the first set of design rules TSMC released,  I believe it was 1.0µm, but I do recall the first commercial EDA/IP company to adopt them and it was Compass Design Automation, a spin out of VLSI Technology, which was later purchased by Avant! (I worked for Avant!). In fact, my god friend and favorite co-author Paul McLellan, a long time VLSI Technology employee, was president of Compass.
To make a long story short, not only did all of the EDA and IP companies adopt TSMC PDKs, TSMC's competitors did as well. A fabless company could design a chip for TSMC and take it to UMC, Chartered (now GF), or SMIC for second source manufacturing. I experienced this first hand many times.  One tape-out I was involved in originated at TSMC and was manufactured by all four foundries during its lifetime. This "T like" process development strategy continued until the FinFET era (16nm). The PDK "accessibility" made TSMC what they are today, the highest margin foundry the world has ever seen. But during the CMOS years (down to 28nm) TSMC's margins were compressed by the smaller foundries so this level of openness was a double edged sword.
The bottom line: Morris Chang's hands-off management style during Don's tenure was a good thing. Had Don Brooks not opened up the TSMC design rules the semiconductor ecosystem may not be what it is today, a true force of nature.
Also Read:
Former TSMC President Don Brooks
The First TSMC CEO James E. Dykes
Morris Chang's Journey to Taiwan and TSMC
How Taiwan Saved the Semiconductor Industry
Share this post via: