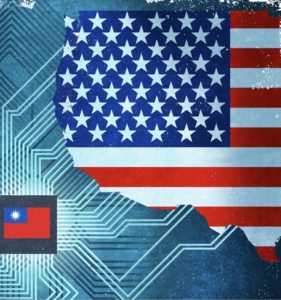 Now that semiconductors are front page news and a political football, I would like to write more about how we got to where we are today to better understand where semiconductors will go tomorrow. I will start this article with a provocative quote that really made me laugh and will put some context to what I am trying to accomplish here:
Trump accuses Taiwan of taking away America's semiconductor business "Taiwan, they took our business away. We should have stopped them. We should have taxed them. We should have tariffed them," said Donald Trump, Fox News, July 2023.
I know, American politics is an acquired taste but it is funny just the same. We already covered the fabless transformation in our book "Fabless: The Transformation of the Semiconductor Industry" so let's start with a quick look at the history of the semiconductor industry in Taiwan (GPT 4.0):
The semiconductor industry in Taiwan has a rich history that spans several decades, starting from the 1970s to the present day. The industry has played a crucial role in Taiwan's economic transformation from an agrarian economy to one of the world's top high-tech industrialized nations.
Here are some of the key milestones:
"Formation of Electronics Research and Service Organization (ERSO): In 1973, the Taiwanese government established ERSO under the Industrial Technology Research Institute (ITRI). Its aim was to develop the electronics industry in Taiwan and provide a platform for semiconductor research and development.
Birth of Taiwan Semiconductor Manufacturing Company (TSMC): In 1987, TSMC, the world's first dedicated semiconductor foundry, was founded by Dr. Morris Chang. The establishment of TSMC initiated the foundry model in the global semiconductor industry, which separated the manufacturing and design aspects of chip production. This allowed fabless companies to focus on designing innovative chip solutions without the need for significant capital investments in manufacturing facilities.
Hsinchu Science and Industrial Park: The Taiwanese government established this park in 1980 to serve as a hub for high-tech companies. It now houses numerous semiconductor companies and has played a significant role in the growth of Taiwan's semiconductor industry.
Expansion of other major semiconductor companies: Over the years, several other Taiwanese companies have become key players in the global semiconductor industry. These include United Microelectronics Corporation (UMC), the world's second-largest pure-play semiconductor foundry, MediaTek, a leading fabless semiconductor company, and ASE Technology Holding Co., the world's largest provider of independent semiconductor manufacturing services in assembly and test.
Leadership in Advanced Process Technology: In recent years, TSMC, in particular, has emerged as a global leader in advanced process technologies, successfully achieving mass production at ever smaller node sizes (7nm, 5nm, 3nm and planning for 2nm and beyond). This has placed Taiwan at the forefront of the global semiconductor industry.
While this summary provides a brief overview, the history of Taiwan's semiconductor industry is rich and complex, driven by strategic government initiatives, visionary leadership, strong educational programs, and the rise of the global digital economy. As of 2023, Taiwan is one of the world's largest and most important centers for semiconductor manufacturing."
Great summary, here is a little color on what happened. When I joined the semiconductor industry in the 1980s it was a challenging decade. Mini computer companies such as IBM, Hewlet-Packard, Digital Equipment, Data General, Prime Computer, and Wang all had their own fabs all over the United States. Unfortunately, due to over regulation (especially here in California) and the inability to hire skilled workers (sound familiar?), manufacturing of all types left the US for more friendly countries.
Additionally, in the 1980s, there were quite a few economic ups and downs including the crash of 1985. Keeping these very expensive fabs running was difficult which spawned the IDM foundry business where US and Japanese semiconductor companies accepted designs from outside customers for contract manufacturing to fill their fabs.
One of the first big fabless companies to do this was FPGA vendor Xilinx (founded in 1984, now owned by AMD). Sieko Epson (Japan) was Xilinx's first IDM foundry partner. Xilinx quickly outgrew the relationship and moved to UMC and then TSMC which is where they are today.
Clearly IDM foundries were a stop-gap solution back then since they routinely competed with customers and the foundry business had lower margins than the products they manufactured internally so those products always had priority in the fabs.
Also in the 1980s, the ASIC business model was developed by VLSI Technology (founded in 1979) and LSI Logic (founded in 1980). VLSI and LSI accepted designs from fabless companies and manufactured them using internal fabs. But again the cost of the fabs was prohibitive. The ASIC business model is again thriving but it is now populated by fabless ASIC companies who do the design and manage manufacturing through the foundries.
Bottom line: The early IDM foundries and ASIC companies created the perfect storm for the pure-play foundry business model that fully evolved in the 1990s and that is where Dr. Morris Chang comes in.
To be continued… Morris Chang's journey to Taiwan.
Also Read:
Morris Chang's Journey to Taiwan and TSMC
Intel Enables the Multi-Die Revolution with Packaging Innovation
TSMC Redefines Foundry to Enable Next-Generation Products
Share this post via: