We all know the signal integrity and power integrity challenges of high-performance system design.  It used to be enough to design a robust chip. Now, the interaction between the chip, the substrate/package and the PCB all matter. If your design is 2.5D, as many are these days, the problems just gets worse. Chiplets are becoming more popular as a method to bring known-good interfaces to a design. This technology creates even more challenges associated with interconnect. Don't give up hope, Samtec addresses these challenges and delivers ultra-high density with direct connect to IC package technology.
As is the case with a lot of Samtec product lines, there is a well thought out roadmap for what's needed today and tomorrow. For today's interconnect, Samtec offers FireFly™ Micro Flyover System™. 28 Gbps NRZ and 56 Gbps PAM4 speeds are supported and both copper and optical transport are available. And around the corner is Si-Fly™, delivering 56 Gbps NRZ and 112 Gbps through copper and optical transport.
These systems utilize Samtec's Direct Connect™ Technology. These interconnects can directly connect to the IC package, bypassing the PCB and route signals from the silicon through a long-reach cable, such as Samtec's FlyOver® cables assemblies. The result in a denser design and higher performance since PCB parasitics are bypassed. Up to a 5X increase in reach is achievable with this approach. 5G, high-performance computing, emulation and machine learning are example applications that benefit from the enhanced speed and reach of the Samtec ultra-high density with direct connect to IC package technology approach.
I recommend an excellent video that explains a FireFly demo Samtec delivered at DesignCon 2020. The demo is presented by Keith Guetig, Samtec high-speed product manager. The video is part of a post from Danny Boesing, product marketing director at Samtec. As an aside, you will find a rich library of information, collateral and videos on Samtec's website. There's a lot to learn there.  Back to the demo. At a little over four minutes run time, you can get a lot of information in a short amount of time.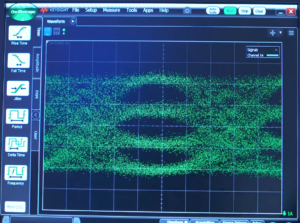 Keith explained that the demo incorporates eight BGA-style packages. Four use FireFly copper cable assemblies and four use FireFly optical cable assemblies. The signal path runs from the die to the Samtec connector on the edge of the chip package. The copper signal path uses Samtec ulta-low skew twinax cable assemblies. There are 32 copper direct connect assemblies in the demo and 16 optical direct connect assemblies. Connecting one of the optical channels to a Keysight scope reveals a wide-open eye diagram with plenty of margin for the system designer as shown.
Keith goes on to list the benefits of Samtec Direct Connect technology compared to traditional PCB topologies, which include:
Increased density in a smaller footprint allowing for higher data rate density
A future-proof design, since optical or copper interconnect can be used with the same connector
A 5X increase in reach due to no PCB interconnect
He also goes into some details about Samtec's next generation Direct Connect technology – Si-Fly. The low-profile, high density of this technology will deliver 25.6 TB aggregate data rate with a path top 51.2 TB in the time frames shown in the figure, below.

Keith concludes the video with a discussion of the IEEE 802.3ck insertion loss spec, which limits the reach of high-speed PCB substrates to 4.5 inches. Samtec's approach with Si-Fly Direct Connect and ultra-low skew twinax shatter this barrier and support 22 inches of reach before approaching the IEEE limits. Don't like the IEEE 802.3ck rules?  Change them with Samtec. IF you want more information about how Samtec delivers ultra-high density with direct connect to IC package technology, you can start here.
Share this post via: