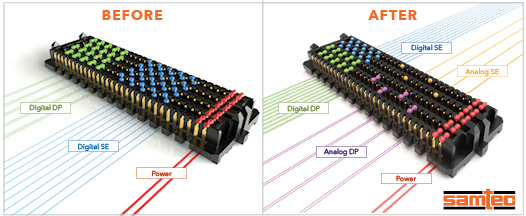 Samtec is well-known for its innovative signal channel solutions. Whether the application requires copper or fiber, Samtec can deliver incredible performance and flexibility. The quality of the company's models, eval kits and design support are well-known. There is another aspect of Samtec's innovation. I touched on it in last month's post when I discussed how Samtec can turn bulky waveguides into flexible cables. Beyond performance, this approach has a big impact on form factor and signal density – two very important topics these days. In this post, I'll explore another innovation from Samtec that mixes analog and digital signals in the same connection. Read on to see how Samtec increases signal density again with Analog Over Array™.
What is Analog Over Array?
Samtec Analog Over Array connectors are dense, high-frequency connectors supporting digital and analog differential or single-ended signaling. An open pin field design is used that provides the flexibility to simultaneously run differential pairs, single-ended signals, and power through the same interconnect. The figure at top of the post shows what these connectors look like.
Samtec's high-density array connectors are already proven in high-speed, high-performance digital applications. For RF applications, Samtec adds industry-leading differential crosstalk and return loss performance beyond 8 GHz. You get performance and a denser form factor in once package.
Features of the technology include:
Open-pin-field design with maximum routing and grounding flexibility
Analog and digital signals (differential pairs and/or single-ended) plus power though the same interconnect
Differential ground pattern supports RF SOCs
Single-ended ground pattern
The approach can be used in a wide range of applications, including 5G/LTE, remote PHY, phased digital/array radar, test and measurement, low/medium Earth orbit satellites, and RF SoCs. If you are working in any of these areas, you should check out what Analog Over Array can do for your project.
There are more details and references coming, but here is a top-level summary of performance:
50 Ohm system impedance (single-ended); 100 Ohm system impedance (differential)
Return loss (maximum): -12 dB up to 4 GHz; -10 dB up to 8 GHz
Crosstalk isolation between channels (minimum): -69 dBc to 4 GHz; -53 dBc to 8 GHz
How Can I Get It?
Analog Over Array capability is available through several Samtec products:
NOVARAY® 112 GBPS PAM4 ARRAY, EXTREME DENSITY ARRAYS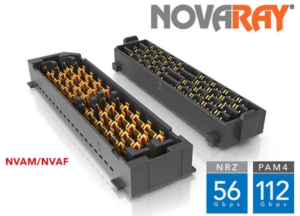 Features
112 Gbps PAM4 per channel
0 Tbps aggregate data rate – 9 IEEE 400G channels
PCIe® 6.0 capable
Innovative, fully shielded differential pair design enables extremely low crosstalk (beyond 40 GHz) and tight impedance control
Two points of contact ensure a more reliable connection
92 Ω solution addresses both 85 Ω and 100 Ω applications
Analog Over Array™ capable
ACCELERATE® HP HIGH-PERFORMANCE ARRAYS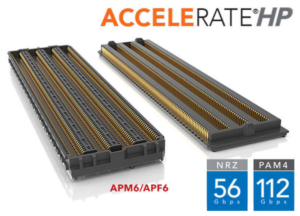 Features
635 mm pitch open-pin-field array
56 Gbps NRZ/112 Gbps PAM4 performance
Cost optimized solution
Low-profile 5 mm and up to 10 mm stack heights
Up to 400 total pins available; roadmap to 1,000+ pins
Data rate compatible with PCIe® 6.0 and 100 GbE
Analog Over Array™ capable
SEARAY™ 0.80 MM PITCH ULTRA HIGH-DENSITY ARRAYS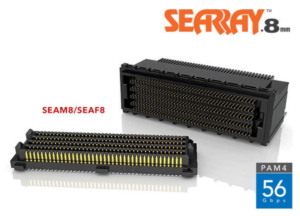 Features
80 mm (.0315″) pitch grid
50% board space savings versus .050″ (1.27 mm) pitch arrays
28 Gbps NRZ/56 Gbps PAM4 performance
Rugged Edge Rate® contact system
Up to 500 I/Os
7 mm and 10 mm stack heights
Solder charge terminations for ease of processing
Samtec 28+ Gbps Solution
Final Inch® certified for Break Out Region trace routing recommendations
Analog Over Array™ capable
LP ARRAY™ LOW PROFILE OPEN-PIN-FIELD HIGH-DENSITY ARRAY
Features
4 mm, 4.5 mm, 5 mm stack heights
Up to 400 I/Os
4, 6 and 8 row designs
.050″ (1.27 mm) pitch
Dual beam contact system
Solder crimp termination for ease of processing
28 Gbps NRZ/56 Gbps PAM4 performance
Analog Over Array™ capable
To Learn More
Samtec will soon offer complete evaluation kits to test-drive Array Over Analog technology. Stay posted for details about these kits here.  A detailed characterization report on a SEARAY design is available here.  Other Samtec product families mentioned in the article are on the roadmap.  A White Paper on the technology is available here.  And that's how Samtec increases signal density again with Analog Over Array™.
Share this post via: