Samtec provides connectors, cable assemblies and active optical modules. Their products take the data produced by the chips in a system and deliver it in a fast, reliable and accurate manner to other parts of the system.
Founded: 1976
Headquarters: New Albany, IN
International reach: 40+ international locations and products sold in more than 125 countries.
Number of employees: 6,000+
Revenue in 2018: $822 Million
Employee retention rate: 96%
Customers: With more than 25,000 customers spanning all industries, Samtec serves the well-known global tech giants, small start-ups, and everyone in between.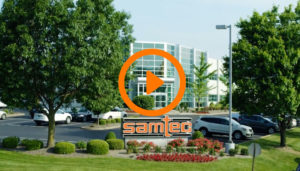 Much more than just another connector company, Samtec puts people first with a commitment to exceptional service, quality products, and convenient design tools. We believe that people matter, and taking care of our customers and our employees is paramount in how we approach our business. This belief is deeply ingrained throughout the organization, and means that you can expect exceptional service coupled with technologies that take the industry further faster.
Our Culture
We're a little (ok, a lot) different from most companies our size. It works for us, but it isn't for everyone…
"Self-Development" of Career Path
This happens at the intersection of focusing on an individual's strengths and interests, how those align with business needs (which we call putting "round pegs in round holes"), and providing ongoing challenges to accelerate the process. Continuous learning is enhanced by the job itself, coupled with formal and informal mentoring and training. Roles are often created for people, as opposed to putting people in pre-defined boxes on an org chart.
Work/Life Balance
In today's 24/7 connected world, the line between work and home can get blurred. While we do have pre-defined work hours, there is plenty of flexibility. The work environment is friendly, family-oriented, and fun. Our benefits reflect this as well, offering employees a wealth of options and versatility to tailor what is most suitable for them.
"Sudden Service"
We're known for service leadership, but it's also a way of life. The customer-centric, fast-paced mantra ensures we stay focused, minimize bureaucracy, and align priorities and decision-making. It's the over-arching compass that guides us to provide differentiated value to the customer experience, and creates a win-win career and work environment for our employees. A long history of ranking #1 in Customer Service in the annual Bishop Awards, which is an honor bestowed by the global connector industry's leading market research firm, reflects our commitment to service.
https://www.linkedin.com/company/samtec-inc/
https://semiwiki.com/category/semiconductor-services/samtec/

Share this post via: