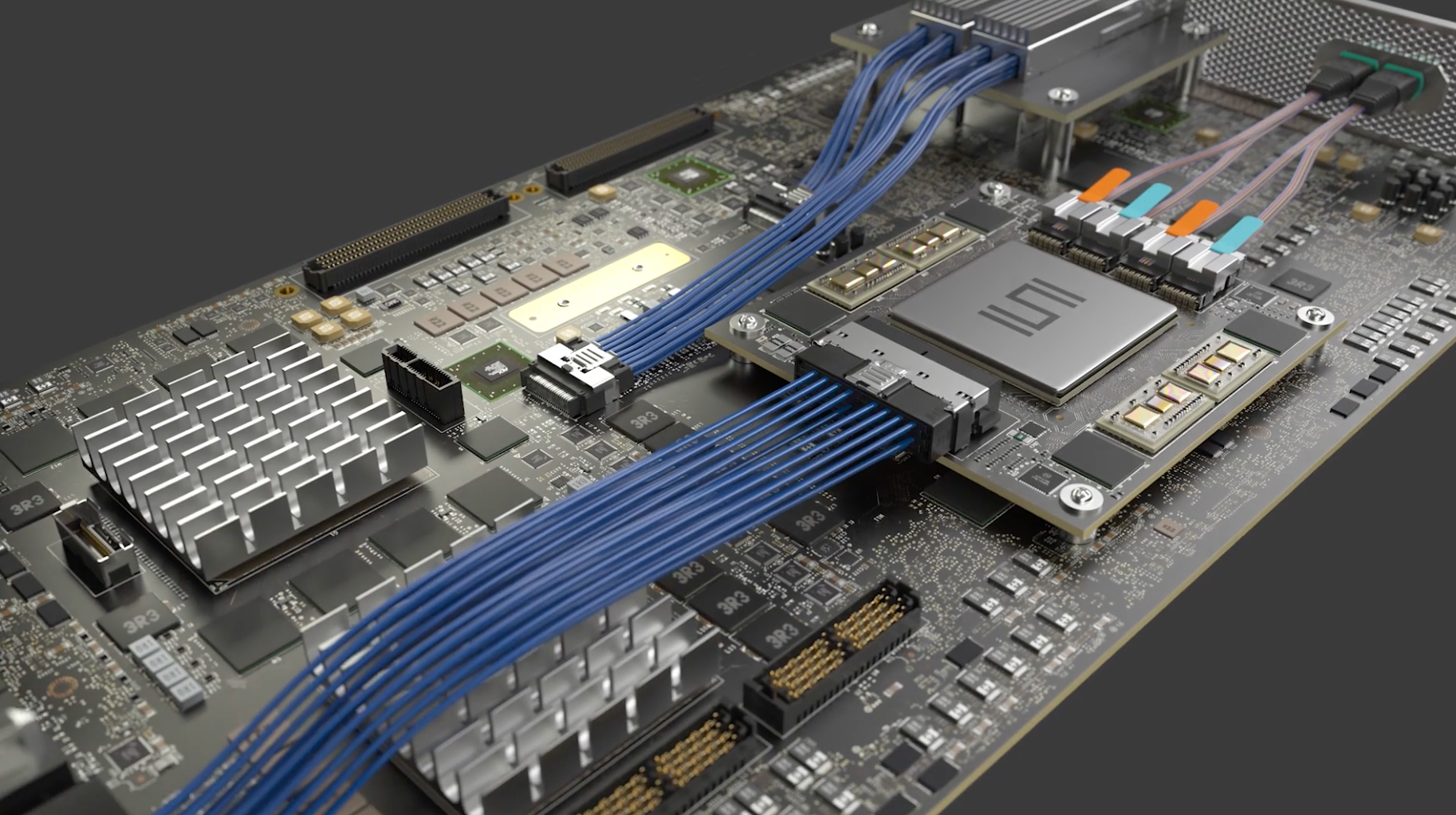 I always enjoy welcoming new corporate members to the SemiWiki platform. Each company brings new technology, a different perspective and the opportunity for the SemiWiki community to hear about another aspect of chip design and manufacturing. But this introduction is different. This time, a new corporate member is opening up a whole new dimension to the conversation – system design.
Samtec provides connectors, cable assemblies and active optical modules. Their products take the data produced by the chips in a system and deliver it in a fast, reliable and accurate manner to other parts of the system. The company literally provides the infrastructure that allows all the parts of a system to communicate, whether it's on a board, a backplane or between racks. This is the realm of system design and I'm delighted that Samtec has opened the door to this new chapter of SemiWiki exploration.
I got to know Samtec quite well in my prior life at eSilicon. A key piece of IP for eSilicon was our high-performance SerDes. Most folks will know that a SerDes provides a way to send data through a serial interface at high speed to another part of a system. It's great to have a top-notch SerDes, but without a high-performance channel to carry the data, well, it's like all dressed up and no place to go. The demands for things like accuracy, precision and signal integrity are substantial for a high-performance SerDes link. So, the first conception I want to dispel is that cables and connectors are easy. Trust me, they are not. We did some pioneering work with Samtec to demonstrate just how good our SerDes was and just how good their interconnect was. More on that in a moment.
First, a bit about the company. Samtec has been around since 1976. They are headquartered in New Albany, Indiana. The company employs over 6,000 people in over 40 international locations, with over 25,000 customers in more than 125 countries. Samtec is a great place to work. Their employee retention rate is 96 percent. The culture is to be envied and imitated. In their own words:
Much more than just another connector company, Samtec puts people first with a commitment to exceptional service, quality products, and convenient design tools. We believe that people matter, and taking care of our customers and our employees is paramount in how we approach our business. This belief is deeply ingrained throughout the organization, and means that you can expect exceptional service coupled with technologies that take the industry further faster.
OK, so how does a company like Samtec fit in the lexicon of chip design?  Simply put, Samtec is one of many companies that complete the system. I believe thinking about design in a holistic way like this is very important. A good example of how this works is DesignCon. I first started attending this show a long time ago. It was a mid-size EDA-oriented event. I got away from it for a bunch of years and recently returned. The size of the exhibit floor, both from a physical and technology perspective literally blew me away. All aspects of what it took to build a real product were represented, not just the chip. As I walked into the main hall, I saw floor-to-ceiling banners from the main sponsors of the show. Companies like Samtec, Anritsu and Keysight. What happened to Synopsys, Cadence and Mentor?  Was I on another planet? After a few minutes of wandering the show floor, it became clear that this show had "grown up" and was now addressing ALL the technologies needed to build a new product. This is why I'm excited to welcome Samtec to SemiWiki.
I mentioned eye-catching SerDes demos earlier. eSilicon had developed a 56 Gigabits per second SerDes IP block that we implemented in a test chip to showcase its capabilities. Thanks to its robust design, the part was able to drive a signal at maximum speed over very long distances with very low loss. But how do you demonstrate that? Enter Samtec, who delivered a five-meter copper cable. That's not a misprint, the cable was over 16 feet long and able to deliver high performance, high precision signals if driven properly. And eSilicon could certainly do that. So, we had some fun demonstrating a five-meter copper channel running at 56G at a bunch of trade shows. Most folks who visited us at first refused to believe what we were showing was possible. It was the precision and quality of Samtec's products that carried the day for us.
Our work with Samtec on this long-reach demo was covered by Dan Nenni in a SemiWiki post back in 2018. We called the demo "reach beyond the rack". Below is photo of a unique demo we did at the AI Hardware Summit in 2019. Using Samtec's ExaMAX Backplane Connector paddle cards and a five-meter ExaMAX Backplane Cable Assembly, we literally ran the "reach beyond the rack" demo between our two booths at the show. I don't think a demo that spans two booths had ever been done before.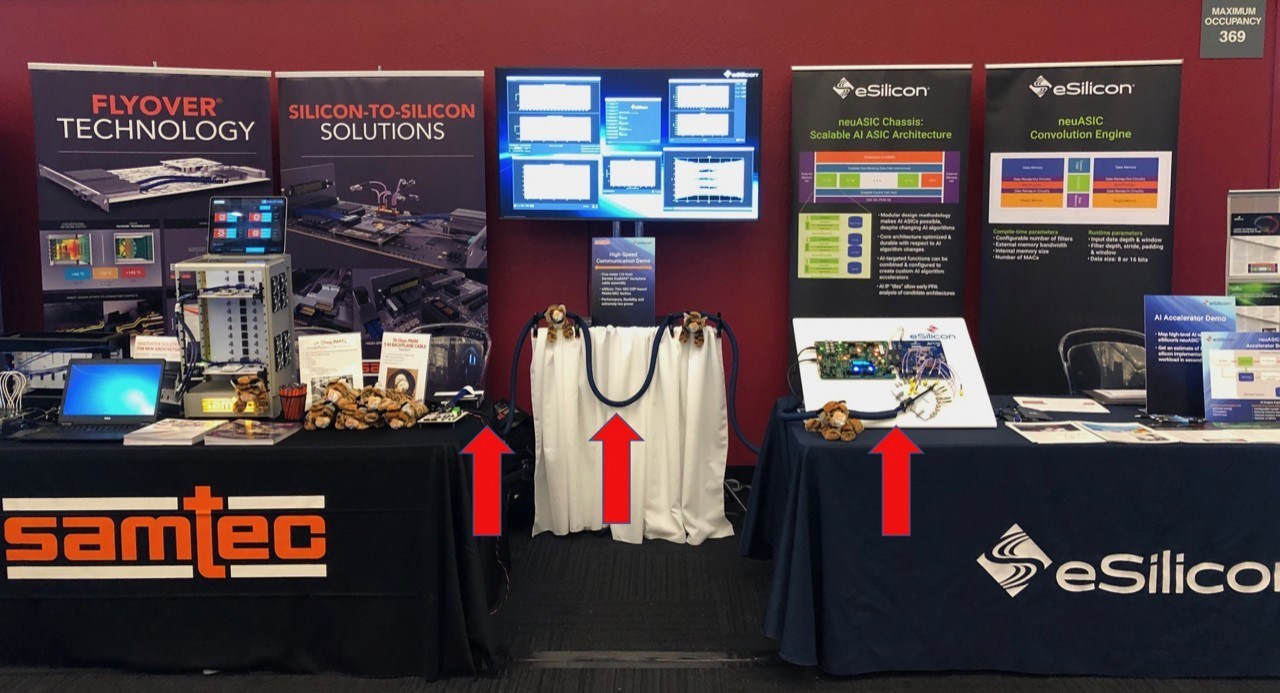 I'll stop here for now. There will be a lot more interesting information from Samtec over the coming months. Information that will expand your design horizons. In the meantime, you can find out more about Samtec here: https://www.samtec.com.
In closing, I met a lot of very talented folks at Samtec during my time at eSilicon. I'd like to give a shout-out to a couple of them.  I'm sure you'll be hearing more from these folks. Matt Burns is the technical marketing manager at Samtec. He was interviewed in the SemiWiki story, above. And Ralph Page, system architect at Samtec was the driving force in the design of the five-meter cable demo. He also coined the phrase, "reach beyond the rack".
Share this post via: