IP has always been a hot topic on SemiWiki with quite a bit of our readers doing the "make versus buy" analysis. SerDes is one of the more difficult "makes" so it is mostly a "buy" analysis made by networking class ASIC architects and a handful of other applications that demand high performance and throughput. Based on the recent traffic patterns, data centers and the coming 5G infrastructure are spiking SerDes interest, absolutely.
The new SerDes twist is "long reach", a term I was not completely familiar with so I got on the phone with my goomba Mike Gianfagna at eSilicon. He put me in touch with Hugh Durdan, Vice President, Strategy and Products at eSilicon and Matt Burns, Technical Marketing Manager at Samtec Inc. Samtec is a privately held electronic interconnect solutions company that enables the SerDes "reach beyond the rack" implementation – high-speed serial communication over an eye-popping five meters of copper cable.
"eSilicon will demonstrate true long-reach capability for the most demanding system environments in next-generation 25 and 50 Tb/s switches with Samtec Twinax Flyoverä Cable Assemblies. Developers can accelerate their time to market with a high-performance, flexible, easy-to-configure SerDes that targets all of the common Ethernet, Fibre Channel and CPRI standards as well as proprietary rates common in data center and 5G
wireless infrastructure applications."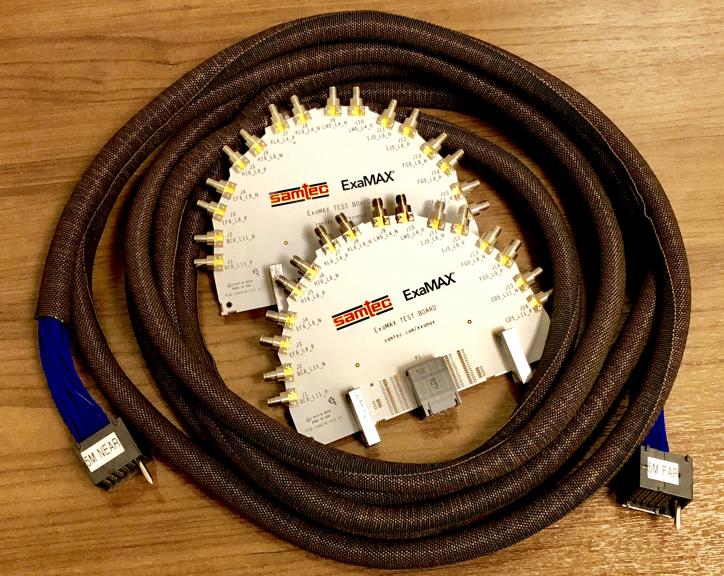 5-meter prototype Samtec EBCM Series ExaMAX® Backplane Cable Assembly
Q: What's different about the SerDes you are announcing?
A: from eSilicon. There are several things that set this device apart. It is a full DSP (transmit and receive) 56G SerDes in 7nm with true long-reach performance. Many other so-called DSP-based SerDes are in reality a hybrid with a digital transmit path but an analog receive path, which impacts performance. We also offer exceptional control and configurability through a graphical user interface that talks to the firmware running on an embedded SiFive processor built into the SerDes. From the GUI, users can access all monitoring features such as non-destructive eye diagrams, SNR & BER, bathtubs, histograms and power measurements.
Q: Regarding this "reach beyond the rack" demo, why is this significant?
A: from eSilicon. Customers want to leverage existing infrastructure and drive higher and higher data rates through legacy backplanes. With our ability to achieve low bit error rates over very long channels we enable customers to extend the life of their existing equipment vs. having to do a "fork-lift upgrade". Data center customers also want extreme flexibility in connecting systems to each other. Thanks to the highly robust design of our SerDes and Samtec's cable products, we are able to offer 56G operation over five meters of copper cable.
A: from Samtec. At 56G data rates, trace lengths on a PCB get really short. There are numerous design techniques engineers can use to combat this: advanced PCB laminates, additional PCB layers or clock and data recovery and retimers. Samtec's solution is to get the signal out of the noisy and lossy PCB into low-noise, ultra-low-skew twinax copper cable as soon as possible. Long length copper cable also enables a paradigm shift in system architecture in the data center, whether inside the rack or beyond that rack.
Q: Tell me a little abou Samtec as my readers may not be familiar with your company. What do you make, where does it fit in the end product?
A: from Samtec. Samtec has been the service leader in the connector industry since our founding in 1976. At our core, we continuously support our legacy flexible stacking headers and sockets. Additionally, we are expanding our high-performance interconnect portfolio into backplane, board-to-board, precision RF, optical engines and high-speed cable assemblies based on our Twinax Flyover™ technology.
Q: Tell me about the long cables. What's involved in manufacturing them? Why are they so accurate?
A: from Samtec. One key factor is our manufacturing process. Our twinax cables are co-extruded with low Dk FEP dielectric using real-time closed-loop control. This high-precision process eliminates the inconsistencies of individually extruded dielectric twinax cabling. Our cables are grounded via twinax copper alloy, eliminating the need for a drain wire. When combined with our high-performance connectors, the results are 56G data rates over the longest backplane cable assemblies in the industry.
The demonstration will be conducted in the Samtec booth #521 at Supercompute in Dallas from Nov. 12 – 15. Sign up now for a private briefing HERE. And Matt Burns has a nice blog series HERE.
AbouteSilicon
eSilicon provides complex FinFET ASICs, market-specific IP platforms and advanced 2.5D packaging solutions. Our ASIC-proven, differentiating IP includes highly configurable 7nm 56G/112G SerDes plus networking-optimized 16/14/7nm FinFET IP platforms featuring HBM2 PHY, TCAM, specialized memory compilers and I/O libraries. Our neuASIC™ platform provides AI-specific IP and a modular design methodology to create adaptable, highly efficient AI ASICs. eSilicon serves the high-bandwidth networking, high-performance computing, artificial intelligence (AI) and 5G infrastructure markets. www.esilicon.com

About Samtec
Much more than just another connector company, Samtec puts people first with a commitment to exceptional service, quality products, and convenient design tools. We believe that people matter, and taking care of our customers and our employees is paramount in how we approach our business. This belief is deeply ingrained throughout the organization, and means that you can expect exceptional service coupled with technologies that take the industry further faster. www.samtec.com
Share this post via: