At SemiWiki we usually don't write about the press releases we are sent. However, a recent press release by eSilicon caught my eye and prompted me to call Mike Gianfagna, eSilicon Vice President of Marketing. The press release is not just about one thing, rather it focuses on a number of interesting things that together show their momentum, especially in the 7nm space. So, in my conversation with Mike I dug a bit deeper to better understand their progress. 7nm is a topic that gets a lot of talk, but eSilicon can point to some pretty significant and very real milestones at 7nm.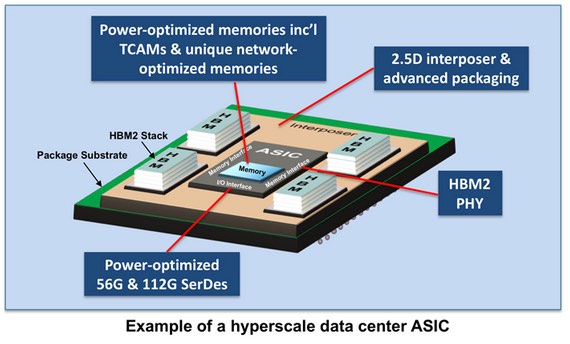 Not that long ago eSilicon announced their NeuASIC IP platform that targets AI designs at 7nm. It offers specialized AI blocks that perform convolution operations and acceleration of AI tasks. Also included in this are HBM2 PHY IP. Similarly, they recently announced their 56G long reach 7nm SerDes. In talking to Mike, he was quick to point out that If you look at AI designs, they have moved memory from large instances to localized memory associated with each processing element. This helps eliminate memory access bottlenecks that these designs are prone to.
In many cases 50% of the area on AI chips is dedicated to memory. Interestingly, about 250 of eSilicon's 500 person design team is focused on memory design. In short, they have significant resources to apply to these leading-edge memories. This is big leverage point for reducing power and area.
Another focus of Mike's comments had to do with what it takes to deliver silicon for today's systems. He pointed out that Apple early on figured out that the processor chip was a big differentiator for their products. We now live in an age where most of the big systems companies are well aware that the SOCs that go into their designs are critical to product success and differentiation. This is why we see many very large systems companies driving SOC development. So, it goes without saying that these are type of companies that would look to eSilicon for ASICs to incorporate into their products.
However, delivering silicon to systems companies results in a totally different kind of engagement than there used to be for earlier ASICs. At 65nm each team could engage sequentially. You had the front-end guys in at the kick off and brought test in later closer to the end of the cycle. No longer. The criteria for success now is having the chip working in the targeted system, not just delivery "to spec".
Mike said that the project kick-off teams now have "all hands" to ensure that each phase of the project will run smoothly. Another example of this phenomenon is that the bring up team from eSilicon is at the customer several months ahead of silicon delivery to look at firmware, test methodology, etc.
Mike and I also spoke about SerDes design and how it has changed over the years. Mike says their customers need to measure the SerDes performance completely isolated from all the test fixtures and equipment. This is a big task given the high frequencies and tight tolerances. This is why they partnered with Wild River to develop a test board to allow de-embedding. A 56G SerDes still is very much dependent on the package, board, connectors and cable for its performance. So, in a way the test board best practices can serve as a reference design to help guide system integration.
The current generation of SerDes will actually monitor its own performance and adapt to the operating environment. eSilicon uses a RISC-V processor core inside the digital section of their SerDes to control its operation. It's even possible to open up a graphical interface to the internals of the SerDes to view its functioning.
eSilicon now has silicon back for two different advanced FinFET designs and is going through bring up. These chips incorporate advanced IP – high speed SerDes, specialized IP, advanced memories, 2.5D HBM, advanced packaging, etc.The effort required to build an effective platform for SOC design at 7nm is immense.eSiliconhas worked hard to achieve success at previous nodes such as 28nm, 16/14nm and now on 7nm.This is the kind of silicon that will be used in data centers, automotive intelligence and other demanding applications. For more background on their progress take a look at the press release on their website.
Share this post via: