Since the beginning of May eSilicon has announced the tape-out of three TSMC 7nm test chips. The first of these, a 7nm 400G Ethernet Gearbox/Retimer design, caught my eye and I followed up with Hugh Durdan, their vice president of strategy and products, to learn more about it. Rather than just respin their 56G SerDes, they decided to add the 112G SerDes, and at the same time use this vehicle for several other objectives. The gearbox in this chip contains 8 lanes of 56G and 4 lanes at 112G, allowing it to handle 400G Ethernet traffic. More than just showing that the SerDes work at 7nm, the configuration allows them to demonstrate a number of other things as well.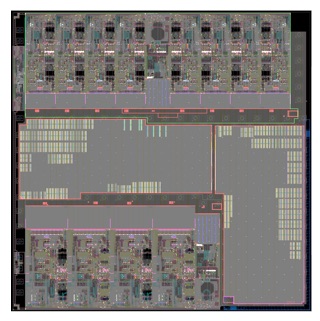 In our call, Hugh mentioned that they chose to work with Precise-ITC who develops IP for Ethernet and Optical Transport Network (OTN). They saw this as an opportunity to combine eSilicon interface IP with 3rd party IP to go through the process of integration and ensure that their StarDesigner 7nm flow was working as they expected. In essence this is a pipe cleaner of their SOC flow for 7nm.
Precise-ITC contributed a Forward Error Correction (FEC) block, Media Access Controller (MAC) and the Gearbox block. Having higher level functionality offers increased confidence in each element of the test chip. Hugh pointed out that this is a chip that customers can actually use as they evaluate the eSilicon's offering. The chip will feature long reach and use only around 5W for the entire gearbox.
Designing at 7nm is even more difficult than at previous nodes. Lithography requirement impose many new restrictions on the layout. This makes designing chips with analog content challenging. Another aspect of the design that plays a critical role in the success of a chip like this is the packaging. Hugh told me that they used this opportunity to anticipate the complexity of designs with a much higher lane count by adding a more complex package design for some of the lanes. They also have the ability to inject noise during testing to ensure that the SerDes will perform in larger and more complex environments.
eSilicon is expecting to get silicon back in their lab by Q3 in 2019. They will make a test board that customers can use to put the SerDes and Ethernet related IP through its paces. The 112G SerDes will open the doors to continued development of Terabit Ethernet, which is becoming necessary with the explosion of data center throughput requirements.
eSilicon has consistently expended resources to stay at the leading edge of SOC technology. Their other May test chips included HBM and AI/ML designs all at 7nm. At the same time their partnerships will make life easier for their customers who are going to want to add advanced functionality to their designs. Test chips like this are a win for eSilicon, TSMC, Precise-ITC and their customers. We can eagerly await the return of silicon from this and their other test chips to learn more about how 7nm will perform in the wild. For more details, refer to the announcement on their website.
Share this post via: