It's all around us. The pervasive use of AI is changing our world. From planetary analysis of weather patterns to monitoring your vital statistics to assess health, it seems as though smart everything is everywhere. Much has been written about the profound impact AI is having on our lives and society. Everyone seems to agree that AI software algorithms deliver the transformative technology that powers these changes. Those who are more thoughtful about the process (and perhaps work in the semiconductor industry) realize it is the incredible processing power of semiconductors that brings the software to life. There is a major conference dedicated to hardware and AI coming soon. If you want to learn more, the AI Hardware Summit is the place to be. More on that in a moment. There is another aspect of the AI transformation that is the subject of this post. It is the critical nature of information flow in AI systems. It is here that Samtec is fueling the AI revolution.
Data Everywhere
For a very long time, data was generated by humans interacting with applications. This created something of a self-limiting process. Humans can do so much work per day, so aggregate data grew at a predictable and steady rate. Around 2018 that changed. It was then that machines began generating data. Think autonomous vehicles, aircraft, personal monitoring devices and the ubiquitous use of sensors in almost everything. The fuel for AI is data, so this change had a lot to do with the AI revolution.  A useful measure is a zettabyte, or 1,000,000,000,000,000,000,000 (1021) bytes of information.
According to a Forbes article, there was about .004 zettabytes of data in world in 1997. According to Statista,   the world housed 47 zettabytes of data in 2020. That number is projected to grow to 612 zettabytes by 2030 and 2,142 zettabytes by 2035.  You get the picture.
Applying deep analytics to this data to find the world-changing facts hidden there is a significant benefit of AI. Data is the fuel that powers AI. As processing speed and latency demands grow, more of this processing is being done at the edge or on the device itself. There is simply not enough time to get to the cloud and back. All of this creates substantial complexity in the form of heterogeneous architectures. Many collections of CPU, GPU, DSP, FPGA and custom-built processors working in unison.
All this creates substantial demand on data communication across the architecture. This is where Samtec brings a lot to the table and how Samtec is fueling the AI revolution.
Connectivity Solutions for AI Architectures
Samtec brings value to AI systems design across three primary areas:
Next Gen System Expertise: The connectivity solutions provided by Samtec are engineered with the complete system in mind. By taking this big picture approach, all design parameters such as throughput, density, scaling and power/thermal management can be addressed.
High-Performance Interconnects: This is the foundational expertise delivered by Samtec. Its large catalog of advanced interconnect solutions offers something for every design challenge. Its ultra-high density, signal-integrity optimized, and high-power interconnects fit well with the challenges of AI system design.
Full System Support: Samtec collaborates with its customers. This simple strategy is the margin of victory in many applications. The company's industry-leading expertise extends the capabilities of any design team, so the entire high-performance signal channel can be optimized.
You can learn more about Samtec on SemiWiki and on Samtec's website. Here, you can see the full impact of Samtec and its products on high-profile applications, including chipsets, embedded platforms, accelerators, and application-specific architectures.  You will learn a lot.
The Next Big Event
I mentioned the AI Hardware Summit. I attended the first one a few years ago. The conference has grown dramatically since then. It turns out there are many, many AI-focused events. But not that many that focus on the hardware side of AI. This is what brings AI to life and the AI Hardware Summit has a singular focus here.
The event will be September 13-15, 2022 at the Santa Clara Marriott. Samtec will be exhibiting there. You can even get a break on the registration fee if you mention them. See the details below. Stop by and see how Samtec is fueling the AI revolution, live and in person.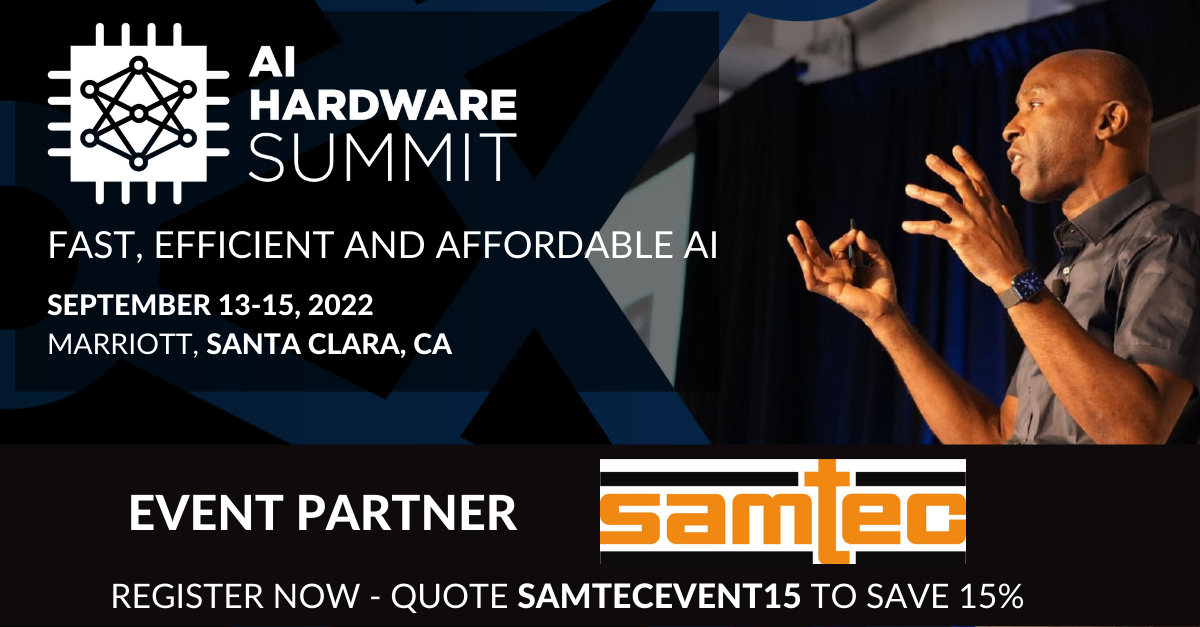 Also read:
A Look at the PCIe Standard – the Silent Partner of Innovation
A MasterClass in Signal Path Design with Samtec's Scott McMorrow
Passion for Innovation – an Interview with Samtec's Keith Guetig
Share this post via: