It really is an exciting time in semiconductors. The benchmarks on the new Apple A11 SoC and the Nvidia GPU are simply amazing. Even though Moore's Law is slowing, the resulting chips are improving well above and beyond expectations, absolutely.
As I have mentioned before, non-traditional chip companies such as Apple, Amazon, Tesla, Google, and FaceBook are now driving the semiconductor industry in ways most would not have imagined. Mobile has been great but now with AI/AR/VR coming to our smartphones we should see another surge of silicon. Electric and autonomous cars and the need for exponentially more automotive grade silicon is also a significant challenge/opportunity and IoT is bringing in many more non-traditional chip companies. Connectivity is another big driver. Our cars, for example, will generate hundreds of gigabytes of data every day that will need to be transmitted to the cloud for processing. 4G may get us there but 5G will enable so much more.
Non-traditional chip companies continue to dominate SemiWiki traffic and the EDA executives are saying the same in regards to revenue. A big tell is the rapid growth of the emulation and FPGA prototyping systems business. The ability to develop software in parallel with an SOC is now required for leading edge system companies.
In the second quarter of 2017 semiconductor revenue hit a record $97.9B scoring a record 23.7% growth following an already strong 18.1% in Q1 2017. Semiconductor revenues for 2017 are expected to be over $401B with greater than 16% growth rate.

EDA generally lags the semiconductor industry as we can see by 2017 numbers. EDA reporting has also changed. Now that the #3 EDA company is part of Siemens (Mentor) reporting is based on the current EDA duopoly of Synopsys (SNPS) and Cadence (CDNS).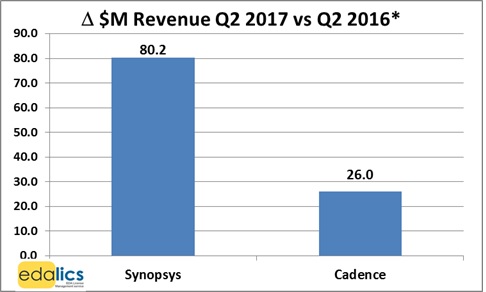 In Q2 2017 SNPS grew revenues 13% ($80.2M) vs Q2 2016 and CDNS grew Q2 by 5.7% ($26M). The comparable growth rates in Q1 were SNPS by 12.4% and CDNS by 6.5%. SNPS and CDNS both beat their mid-point revenue guidance for the quarter by $2.9M and $4M respectively.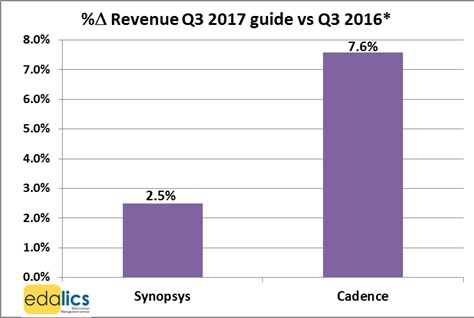 Mid-point guidance for Q3 2017 for SNPS is 2.5% ($15.8M growth to $649.5M) and CDNS is 7.6% growth ($33.8M growth to $480.0M).
At the beginning of 2017 SNPS started at $60 per share and is now over $80. CDNS started at $25 and today is well over $38.
BOTTOM LINE: SNPS and CDNS are both pushing products up to the system level catering more to the non-traditional chip companies so moderate growth is expected to continue in 2017 and 2018.

* And thank you to Gerry Byrne, the founder of edalics, the only independent EDA Budget Management advisor to leading semiconductor companies, for the above data.
Share this post via: