Seeking Alpha just published an article about Intel and Samsung passing TSMC for process leadership. The Intel part seems to be a theme with them, they have talked in the past about how Intel does bigger density improvements with each generation than the foundries but forget that the foundries are doing 5 nodes in the time it takes Intel to do 3. They also make a big deal about Horizontal Nanosheets (HNS) Versus FinFETs and yes that is impressive, but at the end of the day what you deliver for power, performance and area (PPA) is what really matters.
I have written about this before here.
In this article I will briefly review where each company is currently and where I expect them to be over the next five years. I do not want to go into too much detail in this article because I will be presenting on leading edge logic at the ISS conference in January and covering this in more depth then.
Intel
Figure 1 illustrates Intel's node introductions starting at 45nm. After many nodes on a 2-year cadence Intel slipped to 3 years at 14nm and 5 years at 10nm. 10nm has been particularly bad with yield and performance issues, even today it is hard to get 10nm parts. Intel has recently announced 10+ now known as 10SF (Super Fin). The Super Fin provides a 17-18% performance improvement like a full node. There is also a rumor that Intel is using EUV for M0 and M1 although I have not confirmed this. M0 and M1 on the original 10nm process are the most complex metal pattering scheme I have ever seen so this might make sense for yield reasons.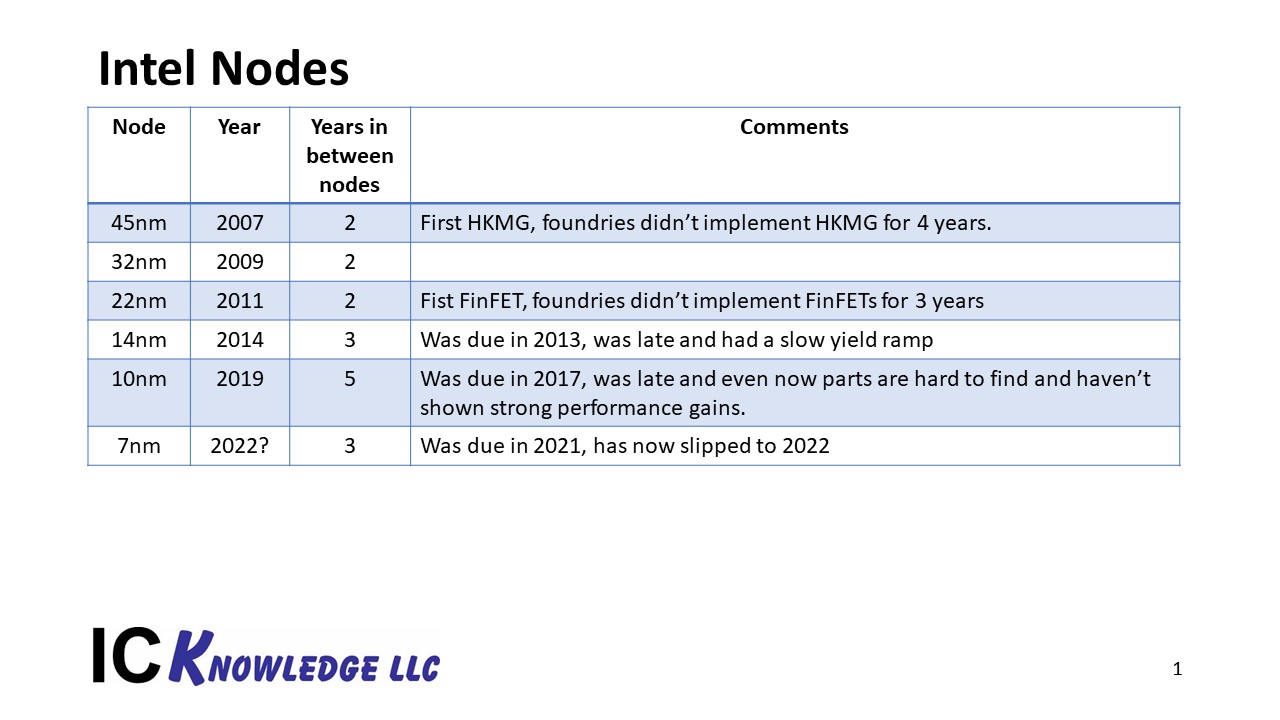 Figure 1. Intel Node Introductions.
Intel's 7nm was scheduled for 2021 and was supposed to get Intel back on track. At 7nm they are doing a smaller 2x density improvement and the implementation of EUV was supposed to solve their yield issues, but the process is now delayed until 2022.
Seeking Alpha makes an argument that Intel will be back on a 2 year cadence for their 5nm process, I am not sure I believe this given their 14nm, 10nm and 7nm history but even if they are I don't think this puts them in the lead as I will describe below.
14nm/16nm
14nm was Intel's second generation FinFET and they took a big jump in density. Intel's 14nm process came out in 2014, Samsung's 14nm process also came out in 2014 and TSMC's 16nm process came out in 2015. Intel's 14nm process was significantly denser than Samsung or TSMC's 14nm/16nm processes.
Foundry 10nm
In 2016 both foundries came out with 10nm processes and they both passed Intel for the process density lead.
Foundry 7nm/Intel 10nm
In 2017 TSMC released their 7nm process moving further ahead of Intel and in 2018 Samsung released their 7nm process also moving further ahead of Intel. In 2019 Intel finally started shipping 10nm and the Intel 10nm process was slightly denser that TSMC or Samsung, but in 2018 TSMC's 7+ process (half node) and in 2019 Samsung's 6nm (half node) processes passed Intel 10nm density. Samsung's 7nm is also notable as the industry's first process with EUV, although TSMC soon had EUV running on their 7+ process and is in my opinion the EUV leader today, in fact TSMC claims to have half of all EUV systems in the world currently.
Foundry 5nm
In 2019 the foundries started risk starts on 5nm pulling further ahead of Intel. TSMC 5nm took a much bigger density jump than Samsung's 5nm and they opened a lead over Samsung and Intel. TSMC 5nm also introduced a high mobility channel. 5nm has ramped throughout 2020 and utilizes EUV for more layers than 7nm.
Foundry 3nm/Intel 7nm
Risk starts for foundry 3nm are due in 2021 and TSMC will pull further ahead of both Intel and Samsung. Samsung will introduce the industry's first HNS and that is a great accomplishment and positions them well for the future, but we expect TSMC's 3nm process to be much denser with better power and performance.
Intel's 7nm process is currently expected around 2022 and is slated to be their first EUV based process (although there may be some EUV use on 10nm as discussed above). Based on their announced density improvements and the announced density improvements for TSMC and Samsung we expect Intel 7nm and Samsung 3nm to have similar densities but TSMC will be much denser than either company.
Foundry 2nm/Intel 5nm
If Intel gets back onto a two-year node interval, then Intel 5nm using HNS will be due in 2024. I am not sure I believe that but for the sake of argument I will go with it. There is also a question as to whether Intel even does 5nm, they are looking at outsourcing and depending on how that goes they may not go beyond 7nm and may use foundries.
TSMC's 2nm node is now expected to be available for risk starts in 2023 and production in 2024. TSMC has said it will be a full node and even with modest density improvements it will be denser than Intel's 5nm process based on announced density improvements, Intel will likely pass Samsung but not TSMC. This would be Intel and TSMC's first HNS. Possibly because it would be Samsung's second generation HNS maybe they will take a bigger density jump but I don't see them catching TSMC who is taking bigger jumps at both 5nm and 3nm.
Conclusion
The bottom line is Intel may be doing bigger density jumps at each node than the foundries but from the 14nm nodes in 2014 through the Intel 7nm node expected in 2022, the foundries have done 5 full nodes while Intel has done 3 full nodes and TSMC in particular has opened up a big process lead.
Also Read:
Leading Edge Foundry Wafer Prices
VLSI Symposium 2020 – Imec Monolithic CFET
SEMICON West – Applied Materials Selective Gap Fill Announcement
Share this post via: