Semiconductors down 12% in 2019
World Semiconductor Trades Statistics (WSTS) reported the world semiconductor market in 2019 was $412 billion, a 12.1% decline from $469 billion in 2018. Most of the decline was in the memory market (primarily DRAM and Flash) which was down a third from a year ago. However overall semiconductor demand was down for the year as the global economy slowed from 3.6% growth in 2018 to 2.9% growth in 2019, according to the International Monetary Fund (IMF).
We at Semiconductor Intelligence have been tracking the accuracy of semiconductor market forecasts from various sources for several years. We look at publicly available projections made late in the prior year or early in the forecast year before any WSTS monthly data for the forecast year is released (generally in early March). Based on these criteria we had a tie for most accurate forecast for 2019. Objective Analysis in December 2018 predicted the semiconductor market would decline 5% in 2019 primarily due to a weak memory market. Also in December 2018, Morgan Stanley called for a 5% decline in 2019. Thus, Objective Analysis and Morgan Stanley win our (virtual) forecasting prize for 2019. UBS was a close second with a projected 4.3% decline. Most forecasters expected low single-digit growth going into 2019. We at Semiconductor Intelligence in December 2018 projected growth of 4% for 2019.
Outlook for 2020 and 2021
The IMF January 2020 World Economic Outlook Update called for an acceleration of World GDP growth from 2.9% in 2019 to 3.3% in 2020 and 3.4% in 2021. The advanced economies are not expected to see any GDP acceleration, with 2020 and 2021 GDP growth of 1.6%, slightly lower than 1.7% in 2019. The acceleration will come from emerging and developing economies, with GDP growth picking up from 3.7% in 2019 to 4.4% in 2020 and 4.6% in 2021. Slowing growth in China will be more than offset by increasing growth rates in other regions, particularly India and the ASEAN-5.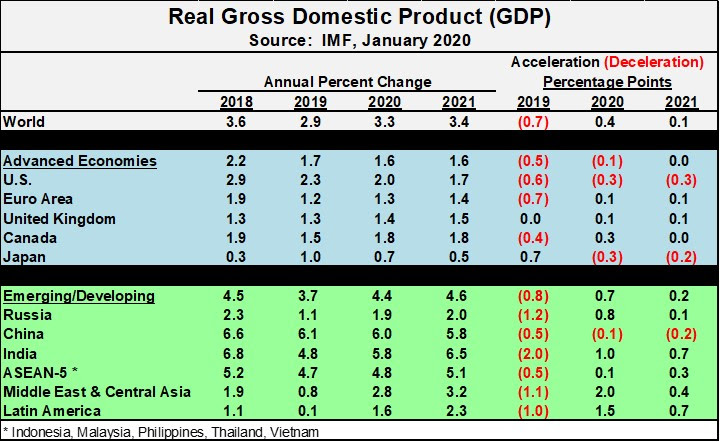 U.S./China Trade and Brexit
Two key issues which have been major concerns for the global economy over the last couple of years have been at least partially resolved. The U.S. and China reached a Phase One trade deal which was signed January 15, 2020. Under the deal, the U.S. will lower tariffs on Chinese imports and China will purchase more U.S. agricultural goods and financial services. While many issues remain, the deal reduces the potential of a major U.S.-China trade war.
The United Kingdom (UK) officially withdrew from the European Union (EU) on January 31, 2020. This process, known as Brexit, will go through a transition period for the rest of the year to negotiate new trade agreements and other issues between the UK and the EU. Prior to the official exit, Brexit had been a question mark on the UK and EU economies.
Coronavirus
Just as U.S./China trade and Brexit are in the beginning phases of resolution, a new threat to global health and the economy has emerged. Reports of a deadly new respiratory virus began to emerge from Wuhan, China in December 2019. The novel coronavirus has been named COVID-19 the by the World Health Organization (WHO). WHO stated as of February 20 China has reported 74,675 cases and 2,121 deaths. Outside of China COVID-19 has 1,076 cases and 7 deaths.
COVID-19 is certainly a global health concern. The economic concern is how efforts to stop the spread of the virus will affect China production and demand. The IMF did not consider COVID-19 in its January 2020 economic update. The IMF has since stated the impact of COVID-19 is dependent on how quickly the virus is contained. The optimistic case is a quick resolution would result in a sharp drop in China's GDP growth in 1Q 2020, but return to normal growth over the course of the year. The pessimistic case is a more severe outbreak would severely weaken the Chinese economy and disrupt global supply chains.
Some companies have taken measures to adjust to production issues in China. Nikkei Asian Review reported Samsung's Galaxy smartphone factories in Vietnam are at full capacity as it is moving components from China. Apple issued a guidance update on February 17 stating it will not meet its March quarter guidance due to iPhone supply constraints and lower demand for its products in China. Digitimes disclosed Apple is considering moving manufacturing of some of its devices from China to Taiwan. Omdia (a new organization resulting from the merger of the research division of Informa Tech with IHS Markit's technology research) projects COVID-19 will reduce smartphone demand in China, disrupt display panel manufacturing, and affect the Chinese games market. EETimes issued a detailed report on the impact of COVID-19 on technology companies.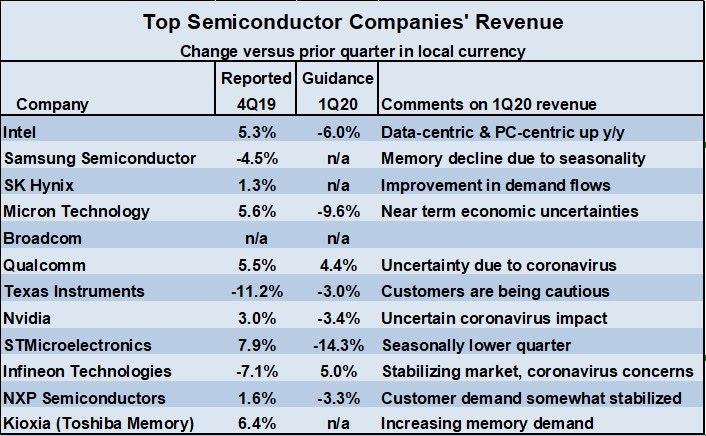 Outlook for Semiconductors in 2020
The near-term outlook for the semiconductor market is uncertain due to the COVID-19 outbreak. Of the eight top companies providing 1Q 2020 revenue guidance, six expect a revenue decline versus 4Q 2019, ranging from -3% from Texas Instruments to -14.3% from STMicroelectronics. Qualcomm expects a 4.4% increase in revenue and Infineon expects 5.0%, however both these companies mentioned concerns over the coronavirus (COVID-19).
Semiconductor market forecasts for 2020 vary widely. Objective Analysis (co-winner of our 2019 forecast prize) expects 2020 change of "at best zero" based on continuing memory weakness. At the other extreme, Future Horizons is calling for a minimum of 10% growth, with 15% possible. Other forecasts are in the range of 3% to 8%. We at Semiconductor Intelligence have lowered of 2020 forecast from 10% in December 2019 to
7.0% based primarily on COVID-19 concerns.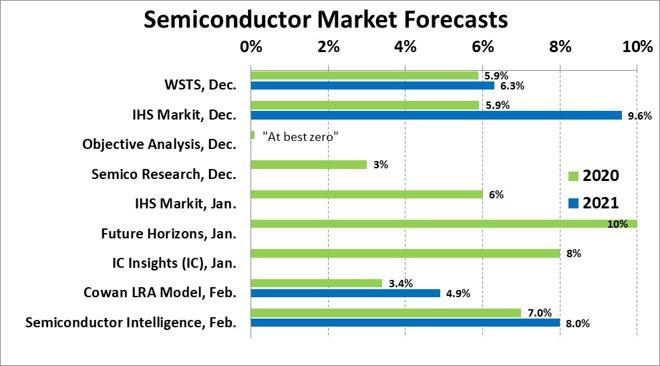 The outlook for 2021 is slightly better than 2020. All four organizations providing 2021 forecasts see growth improving from 2020, ranging from 4.9% from the Cowan LRA Model to 9.6% from IHS Markit. Our Semiconductor Intelligence forecast for 2021 remains at the 8% we projected in December 2019. We are assuming COVID-19 is contained in the next few months and the fundamentals driving improved economic growth in 2021 remain in place.
Also Read:
CES 2020: still no flying cars
Electronics, COVID-19, and Ukraine
Share this post via: