The global semiconductor market grew 4.2% in 2Q 2023 versus 1Q 2023, according to WSTS. The 2Q 2023 growth was the first positive quarter-to-quarter change since 4Q 2021, a year and a half ago. Versus a year ago, the market declined 17.3%, an improvement from a 21.3% year-to-year decline in 1Q 2023. Semiconductor market year-to-year change peaked at 30.1% in 2Q 2021 in the recovery from the 2020 pandemic slowdown.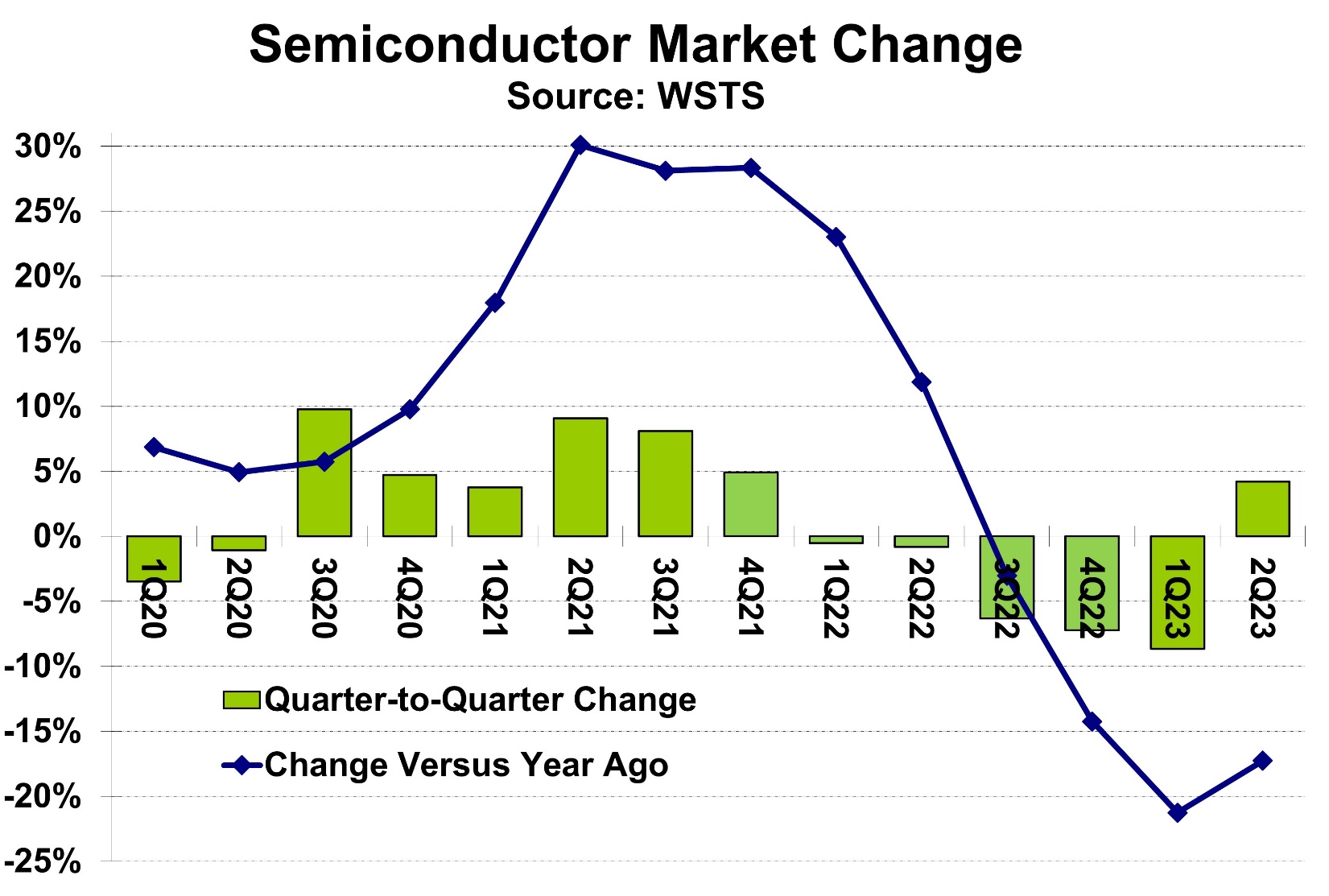 Most major semiconductor companies experienced revenue growth in 2Q 2023 versus 1Q 2023. Of the 15 largest companies, 13 showed revenue gains. We at Semiconductor Intelligence only include companies which sell to the end user. Thus, we do not include foundries such as TSMC or companies which only use their semiconductor products internally such as Apple. Nvidia has not yet reported results for the latest quarter, but its guidance was for a 53% jump from the prior quarter. If this guidance holds, Nvidia will become the third largest semiconductor company in 2Q 2023, up from fifth in the prior quarter. Nvidia cited a steep increase in demand for AI processors as the driver for the strong growth. SK Hynix reported 2Q 2023 growth of 39%, bouncing back from three previous quarter-to-quarter declines of over 25%. The only companies with revenue declines were Qualcomm (down 10%) and Infineon Technologies (down 0.7%). The weighted average growth from 1Q 2023 to 2Q 2023 for these 15 companies was 8%. Excluding Nvidia, the growth was 3%.
Top Semiconductor Companies' Revenue

Change versus prior quarter in local currency
US$B 2Q23
Reported
Guidance
Comments on 3Q23
Company
2Q23
3Q23
1
Intel
12.9
11%
3.5%
inventory issues
2
Samsung SC
11.2
7.3%
n/a
demand recovery in 2H
3
Nvidia
11.0
53%
n/a
2Q23 is guidance
4
Broadcom
8.85
1.3%
n/a
2Q23 is guidance
5
Qualcomm IC
7.17
-10%
0.4%
increase in handsets
6
SK Hynix
5.55
39%
n/a
increased demand in 2H
7
AMD
5.36
0.1%
6.4%
client & data center up
8
TI
4.53
3.5%
0.4%
auto up, others weak
9
Infineon
4.46
-0.7%
-2.2%
auto up, power down
10
STMicro
4.33
1.9%
1.2%
auto up, digital down
11
Micron
3.75
1.6%
3.9%
supply/demand improving
12
NXP
3.30
5.7%
3.1%
auto & industrial up
13
Analog Devices
3.26
0.4%
-5.0%
auto & industrial down
14
MediaTek
3.20
1.7%
4.8%
inventories down
15
Renesas
2.68
2.5%
0.4%
inventory balanced
Total of above
8%
   Memory Cos. (US$)
9%
n/a
Samsung-Hynix-Micron
   Non-Memory Cos.
7%
2%
Most companies are guiding for continued growth in 3Q 2023 from 2Q 2023. Of the eleven companies providing guidance, nine call for revenue increases ranging from 0.4% (Qualcomm, Texas Instruments and Renesas Electronics) to 6.4% (AMD). Infineon expects a 2.2% decline and Analog Devices guided for a 5% decline. The memory companies (Samsung, SK Hynix, and Micron Technology) all stated they see improving demand in the second half of 2023. Intel cited continuing inventory issues while MediaTek and Renesas reported lower or balanced inventories. Automotive will continue to be a driver in 3Q 2023, as cited by TI, Infineon, and STMicroelectronics, and NXP Semiconductors. The weighted average guidance of the eleven companies is 2% growth in 3Q 2023 from 2Q 2023. Companies providing a range of revenue guidance had high-end growth ranging from 3 to 7 percentage points higher than their midpoint guidance.
Even with positive quarter-to-quarter growth in 2Q 2023, 3Q 2023, and possibly 4Q 2023, the semiconductor market will show a substantial decline for the year 2023. Estimates of the size of the decline range from 20% from Future Horizons to 10% from Tech Insights. Future Horizons' Malcolm Penn stated he will raise his 2023 projection based on the 2Q 2023 WSTS data but has not yet cited a specific number. Our projection from Semiconductor Intelligence (SC-IQ) is a 13% drop in 2023. Looking at 2024, most projections are similar: Tech Insights at 10% growth, SC-IQ at 11% and WSTS at 11.8%. Gartner is the most bullish at 18.5%. The primary difference between the 2024 forecasts are the assumptions on the memory market. WSTS and Gartner are close on 2024 growth for non-memory products at 5.0% and 7.7% respectively. However, Gartner projects 70% growth for memory while WSTS forecasts 43%.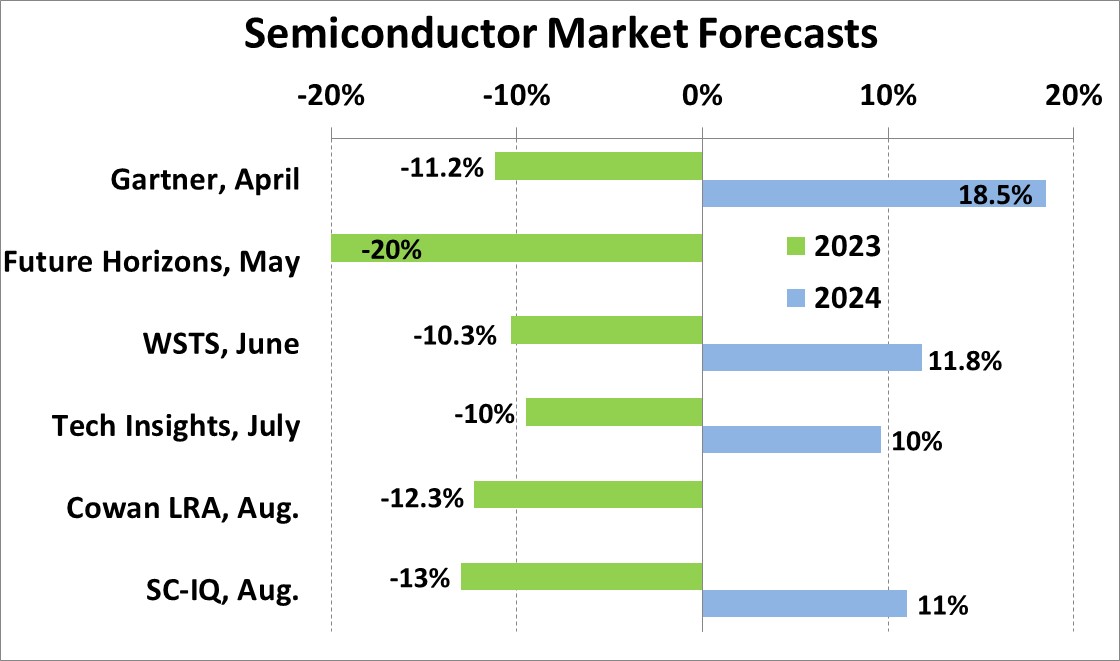 Our Semiconductor Intelligence July newsletter stated we likely reached the low point in electronics production in the second quarter of 2023. The semiconductor market finally showed quarter-to-quarter growth in 2Q 2023. Major semiconductor companies are projecting continued revenue growth into 3Q 2023. The semiconductor market has finally turned and is headed toward probable double-digit growth in 2024.
Also Read:
Semiconductor CapEx down in 2023
Share this post via: