Production of electronic devices is finally on the uptrend following a post-pandemic slump in late 2021. According to IDC, smartphone shipments versus a year ago turned negative in 3Q 2021 at -6%. The decline hit a low of -18% in 4Q 2022. Since then, smartphones have been recovering. IDC data is not yet available, but Canalys estimated 3Q 2023 smartphone shipments were down only 1% from a year earlier. 4Q 2022 shipments should follow the typical pattern of an increase from 3Q shipments, which would result in a mid-single-digit year-to-year increase. IDC's August forecast called for a 4.7% decline in full year 2023 smartphone shipments.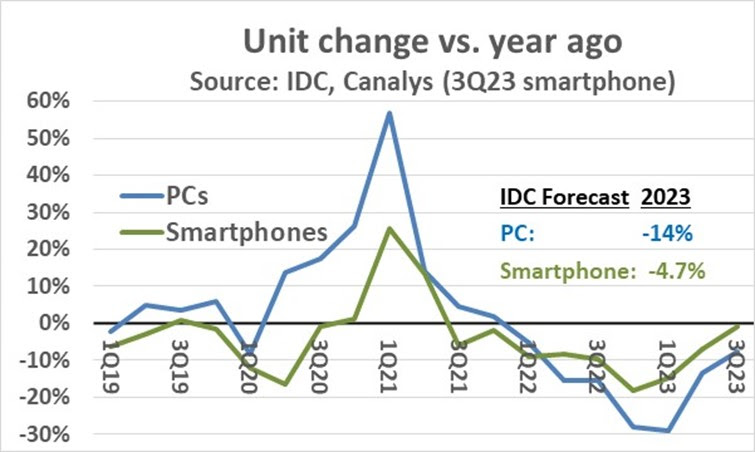 PCs are also on an uptrend. IDC estimated global PC unit shipments in 3Q 2023 were down 7.6% from a year earlier, a substantial improvement from the low of the 29% year-over-year decline in 1Q 2023. Again, based on typical fourth quarter versus third quarter trends, PC shipments in 4Q 2023 should increase by mid to high single-digits versus 4Q 2022. IDC's PC forecast in August was a 14% decline for the full year 2023. The IDC forecast will likely be revised upward based on the 3Q 2023 data.
As the largest producer of electronic devices, China is key to understanding trends. August 2023 data shows China's three-month-average electronics production in local currency (yuan) was up 2.6% from a year ago, the highest rate in eight months. Limited data on smartphone production shows August 2023 three-month-average units were down a slight 0.6% from a year ago, a major improvement from an 11.6% decline in March 2023.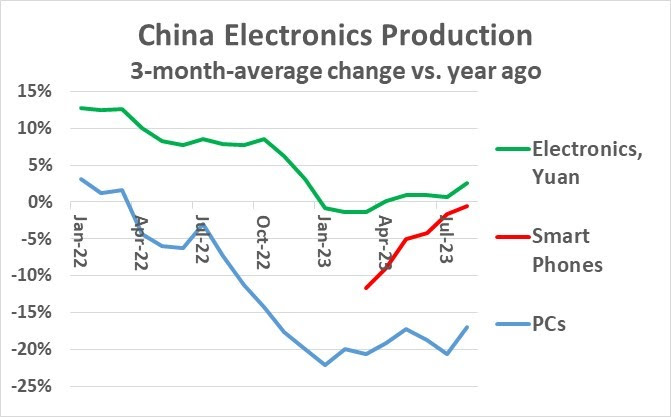 China PC production is still weak, with August 2023 three-month-average units down 17% from a year ago. August is the twelfth consecutive month of double-digit declines. However, several major PC makers are in the process of shifting some PC production out of China. Of the four largest global PC suppliers, number one Lenovo is based in China while numbers two through four (HP, Dell, and Apple) are based in the U.S. As reported by Nikkei Asia in July 2023, HP plans to shift much of their laptop production out of China to Mexico, Thailand and Vietnam. The production outside of China could be up 5 million units in 2023, close to 10% of HP's total PCs. In January 2033, PCMag reported Dell may move up to 50% of its PC production out of China by 2025. Also in January, Forbes stated Apple plans to shift much of the production of its MacBook PCs from China to Vietnam. These moves are primarily due to the impact of the COVID-19 pandemic and increasing trade tensions between the U.S. and China. While these production shifts are ongoing, Chinese data on PC production will not be a reliable indicator of global PC trends.
Electronics production in local currency for major Asia countries is primarily on an uptrend. As mentioned, China's three-month-average electronics production in August versus a year ago accelerated to 2.6%. Taiwan production was up 9% in August, the strongest growth in eight months. In September, Vietnam production increased 0.6%, an improvement from seven consecutive months of year-on-year declines. South Korea reported a 6% decline in August, but it was an improvement from double-digit declines the previous three months. Japan's August production was up a healthy 6.8% but decelerating from double-digit growth in the prior three months.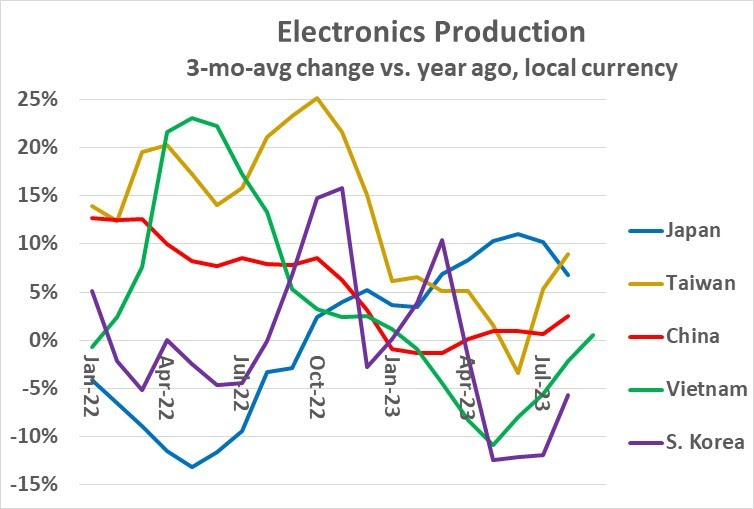 Electronics production in the U.S. and Europe is generally on a trend of decelerating growth. U.S. three-month-average production in August grew 1.2% from a year ago. This marked the ninth consecutive month of decelerating growth since a peak of 8.1% in November 2022. The 27 countries of the European Union (EU 27) reported 2.2% production growth in July, continuing a trend of single-digit growth following seven months of double-digit growth in May through November of 2022. UK production growth slowed to 1.1% in August after growth in the 7% to 17% range in the previous thirteen months. Differences in the type of electronic devices manufactured in the U.S. and Europe compared to Asia account for some of the differences in production trends. Asian countries mostly produce smartphones, PCs, televisions, and other consumer electronic devices. Production in the U.S. and Europe is more heavily weighted toward electronic devices sold to business – such as enterprise computing, data centers, communications infrastructure, and industrial electronics.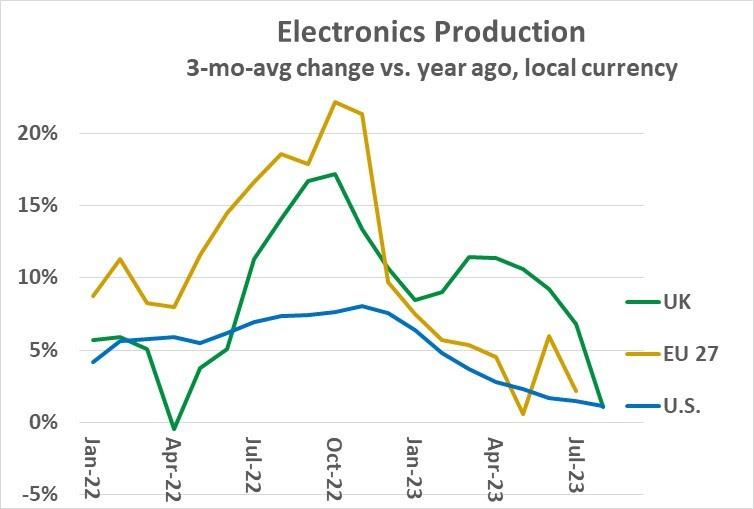 Based on the above trends, the electronics and semiconductor markets are primed for solid growth in 2024.
Semiconductor Intelligence is a consulting firm providing market analysis, market insights and company analysis for anyone involved in the semiconductor industry – manufacturers, designers, foundries, suppliers, users or investors. Please contact me if you would like further information.
Also Read:
Turnaround in Semiconductor Market
Share this post via: