Nvidia will likely become the largest semiconductor company for the year 2023. We at Semiconductor Intelligence (SC-IQ) estimate Nvidia's total 2023 revenue will be about $52.9 billion, passing previous number one Intel at an estimated $51.6 billion. Nvidia's 2023 revenue will be almost double its 2022 revenue on the strength of its processors for artificial intelligence (AI). Intel has been the top semiconductor company for most of the last twenty-one years – except for 2017, 2018 and 2021 when Samsung was number one.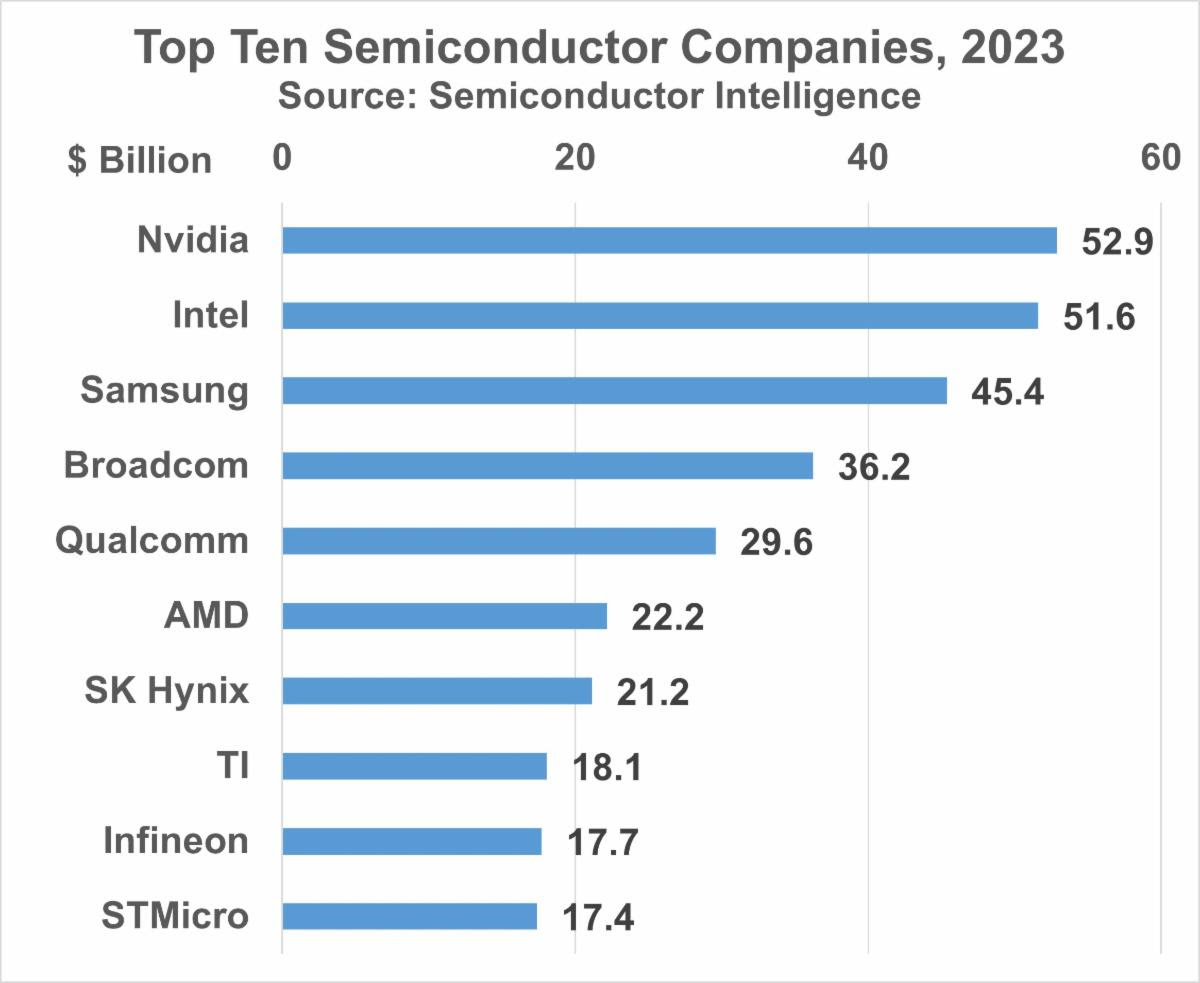 According to its website, Nvidia was founded 30 years ago in 1993 to create 3D graphics ICs for gaming and multimedia. It created the graphics processing unit (GPU) in 1999. Nvidia became involved in artificial intelligence (AI) in 2012. The company became public in 1999. Its revenue for fiscal 1999 was $158 million. Three years later its revenue was $1,369 million, an over eight-fold increase. In fiscal 2023 ended in January, its $27 billion in revenues were split between $15.1 billion in compute & networking and $11.9 billion in graphics.
Despite the fast pace of the semiconductor industry and the numerous startup companies, the top ten companies in 2023 have all been in business at least 30 years. Nvidia is the youngest at 30. Number four Broadcom Inc. is the result of Avago Technologies acquiring Broadcom Corporation in 2015. However, the original Broadcom Corporation was founded 32 years ago. Avago was a spin-off of Hewlett-Packard which entered the semiconductor business 52 years ago.
38-year-old Qualcomm grew to number five primarily through cellphone ICs and licensing revenues. Only Qualcomm's IC revenues are included in the rankings. Number ten STMicroelectronics was formed in 1987 through the merger of SGS Microelettronica of Italy with Thomson Semiconducuteurs of France. The semiconductor businesses of SGS and Thomson both date back to the 1970s.
Two of the top ten companies were among the industry pioneers about 70 years ago. Texas Instruments was founded in 1930 and entered the semiconductor business in 1954. Infineon Technologies was originally part of Siemens AG, which was founded in 1847. Siemens began producing semiconductors in 1953. Infineon was spun out as a separate company in 1999.
The two South Korean companies, Samsung Electronics and SK Hynix, have over 40 years of semiconductor sales. They became dominant in the memory business after it was largely abandoned by U.S. and Japanese companies (except Micron Technology). SK Hynix was originally Hyundai Electronics which began making semiconductors in 1983. Hyundai merged with LG Semiconductor in 1999 to form Hynix, later SK Hynix.
Intel started 55 years ago and originally sold memory devices. AMD began 54 years ago producing logic ICs. Today the two companies primarily sell microprocessors, together accounting for over 95% of the market for computer microprocessors.
The relative stability of the top semiconductor companies can be seen by comparing the 2023 top ten with 1984, 39 years ago and the year the principal of Semiconductor Intelligence began in semiconductor market analysis. Of the top ten semiconductor companies in 1984, most are still in business today in one form or another. TI was number one in 1984. Since then, TI has narrowed its focus to become primarily an analog company. Number two Motorola split off its discrete business as ON Semiconductor in 1999. ON is now an $8 billion company and acquired industry pioneer Fairchild Semiconductor in 2016. Motorola spun off its IC business as Freescale Semiconductor in 2004. NXP Semiconductors was split off from number seven Philips in 2006. Freescale merged with NXP in 2015. NXP is currently a $13 billion company. Number five National Semiconductor was acquired by TI in 2011. Intel and AMD were number seven and eight, respectively, in 1984. They will be number two and number six in 2023.
Japanese companies were strong in the semiconductor industry in most of the 1980s and 1990s, especially in memory. They were all large, vertically integrated companies. Beginning in the late 1990s these companies began spinning off their semiconductor operations. Renesas Electronics was formed by the merger of the non-memory operations of Hitachi, Mitsubishi, and NEC. Renesas is now a $13 billion company. NEC and Hitachi split off their DRAM businesses in 1999 to form Elpida Memory. Elpida was acquired by Micron Technology in 2013. Toshiba spun off its flash memory business as Kioxia in 2016. Kioxia had over $11 billion in revenue in 2022. Toshiba continues to provide primarily discrete semiconductor devices. Fujitsu divested its IC foundry business in 2014 which was later acquired by UMC. Fujitsu formed a joint venture with AMD for flash memory, Spansion. Spansion merged with Cypress Semiconductor in 2014 and Cypress was acquired by Infineon in 2020.
The relative stability of the semiconductor industry is demonstrated by the market shares of the top ten companies in 1984 and 2023. In 1984 TI had a 9.3% share. In 2023 Nvidia will have about a 10.6% share. The combined market share of the top ten companies in 1984 was 63%. In 2023 it will be about 62%. Although the top companies are relatively stable, the industry has grown from $26 billion in 1984 to $500 billion in 2023, almost a 20-fold increase.
A significant trend since the 1980s has been the rise of fabless semiconductor companies. In 1984 all the top companies had their own wafer fabs. In 2023, three of top ten (Nvidia, Broadcom and Qualcomm) were founded as fabless companies. AMD became fabless in 2008 by spinning off its wafer fabs to what is now GlobalFoundries. Intel, TI, Infineon, and STMicroelectronics all use outside foundries to provide some of their semiconductor manufacturing. The rise of fabless companies was enabled by the founding of major wafer foundry TSMC in 1987, which currently has over 50% of the market. Other significant wafer foundries are Samsung, GlobalFoundries, UMC, and SMIC.
Also Read:
Turnaround in Semiconductor Market
Semiconductor CapEx down in 2023
Share this post via: