The global semiconductor market is headed for a double-digit decline for the year 2019 after a decline of 15.6% in first quarter 2019 from fourth quarter 2018. According to WSTS (World Semiconductor Trade Statistics) data, this was the largest quarter-to-quarter decline since a 16.3% decline in first quarter 2009, ten years ago. Most recent semiconductor market forecasts reflect this trend. 2019 forecasts range from -7.2% from IDC to -15.0%, our latest Semiconductor Intelligence forecasts. Other forecasts are in the range of -11% to -13%.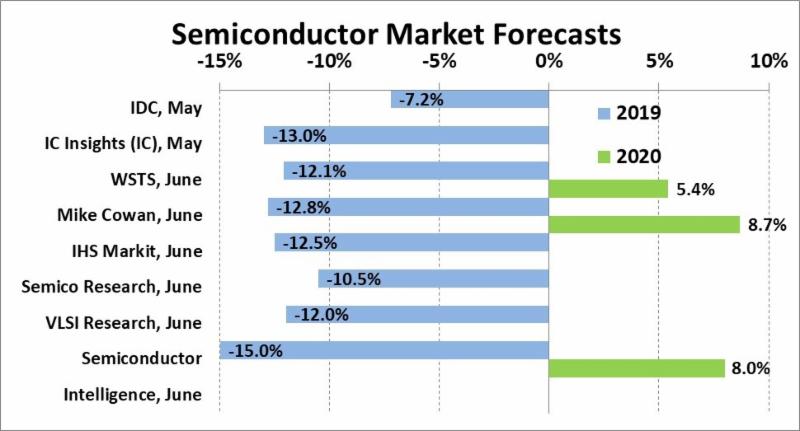 Available forecasts for 2020 show a return to growth, ranging from +5.4% from WSTS to +8.7% from Mike Cowan. Our Semiconductor Intelligence forecast for 2020 is +8.0%.
The reported first quarter 2019 revenues of the major semiconductor companies confirm the severity of the decline from fourth quarter 2018. The three largest memory companies all reported declines of over 20%. Samsung revenues were down 23% and SK Hynix revenues were down 32%. Micron's quarter ended February 28 showed a 26% revenue decline from the prior quarter while its quarter ended May 31 showed an 18% decline. Micron sees early signs of a recovery in the memory market in the second half of calendar 2019. Its revenue guidance for the current quarter ending August 31 ranges from a 2% decline to a 10% decline, with a midpoint of a 6% decline. Samsung also sees demand stabilization from some memory applications.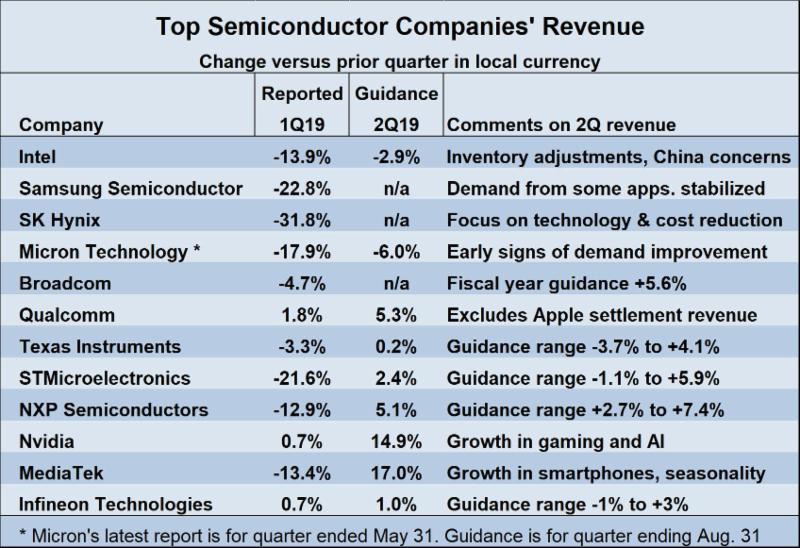 Most non-memory semiconductor companies also saw major revenue falloff in first quarter 2019, ranging from STMicroelectonics' -22% to Texas Instruments' -3.3%. Qualcomm, Nvidia and Infineon showed low single digit revenue increases. The outlook for second quarter revenues of non-memory companies is mainly positive. MediaTek expects 17% growth from first quarter based on growth in smartphones in the seasonally strong second quarter. Nvidia guided to a 15% increase due to growth in gaming and artificial intelligence (AI) applications. Texas Instruments, STMicroelectronics and Infineon expect low single-digit quarter-to-quarter growth in second quarter, but the low end of guidance for each is a decline. Of the non-memory companies, only Intel expects a decline (-2.9%) based on channel inventory adjustments and concern over the U.S.-China trade issues.
The current weakness in the semiconductor market is due to a supply/demand imbalance in the memory market, weak key end equipment markets and global economic concerns. IDC forecast a 1.9% decline in smartphone unit shipments in 2019, following a 3.4% decline in 2018. IDC expects smartphones to recover to 2.8% growth in 2020. Gartner projected total PC plus tablet units will decline 0.7% in 2019, a slight improvement from a 2.5% decline in 2018. Gartner does not see a shipment recovery in 2020, with a decline of 0.8%.
| | | | | |
| --- | --- | --- | --- | --- |
| Annual Change | 2018 | 2019 | 2020 | Source |
| Smartphones | -3.4% | -1.9% | 2.8% | IDC, May 2019 |
| PCs & tablets | -2.5% | -0.7% | -0.8% | Gartner, April 2019 |
| Global GDP | 3.6% | 3.3% | 3.6% | IMF, April 2019 |
The International Monetary Fund (IMF) sees global GDP growth decelerating from 3.6% in 2018 to 3.3% in 2019, bouncing back to 3.6% in 2020. The IMF cited the U.S.-China trade dispute, slowing consumer demand in Europe, and Brexit uncertainty in the UK as factors leading to the GDP deceleration in 2019.
The good news is the semiconductor market appears headed for recovery by the second half of 2019. The current slowdown is primarily due to memory and some inventory issues. End equipment markets are weak but should improve in 2020. GDP growth is slowing in 2019, but most economic forecasters do believe a recession is likely and growth should return to 2018 levels in 2020. Although a significant semiconductor market decline is inevitable in 2019, we at Semiconductor Intelligence feel confident with our 8% growth forecast for 2020.
Share this post via: