The global semiconductor market in 2022 was $573.5 billion, according to WSTS. 2022 was up 3.2% from 2021, a significant slowdown from 26.2% growth in 2021. We at Semiconductor Intelligence track semiconductor market forecasts and award a virtual prize for the most accurate forecast for the year. The criteria are a forecast publicly released anytime between November of the prior year and the release of January data from WSTS (generally in early March). The winner for 2022 is Objective Analysis with a 6% forecast released in December 2021. IDC was closer with a 4% forecast in September 2021, but this was outside of our contest time range. Within the contest period, WSTS was second closest with an 8.8% forecast in November 2021. Most other forecasts for 2022 made prior to March 2022 were over 10%, including ours at Semiconductor Intelligence.
How is the outlook shaping up for 2023? The year is off to a weak start. The top 15 semiconductor suppliers collectively had a 14% decline in revenue in 4Q 2022 versus 3Q 2022. The largest declines were the memory companies with a 25% decline. The non-memory companies declined 9%. Four of the fifteen companies had slight revenue increases ranging from 0.1% to 2.4%: Nvidia, AMD, STMicroelectronics, and Analog Devices.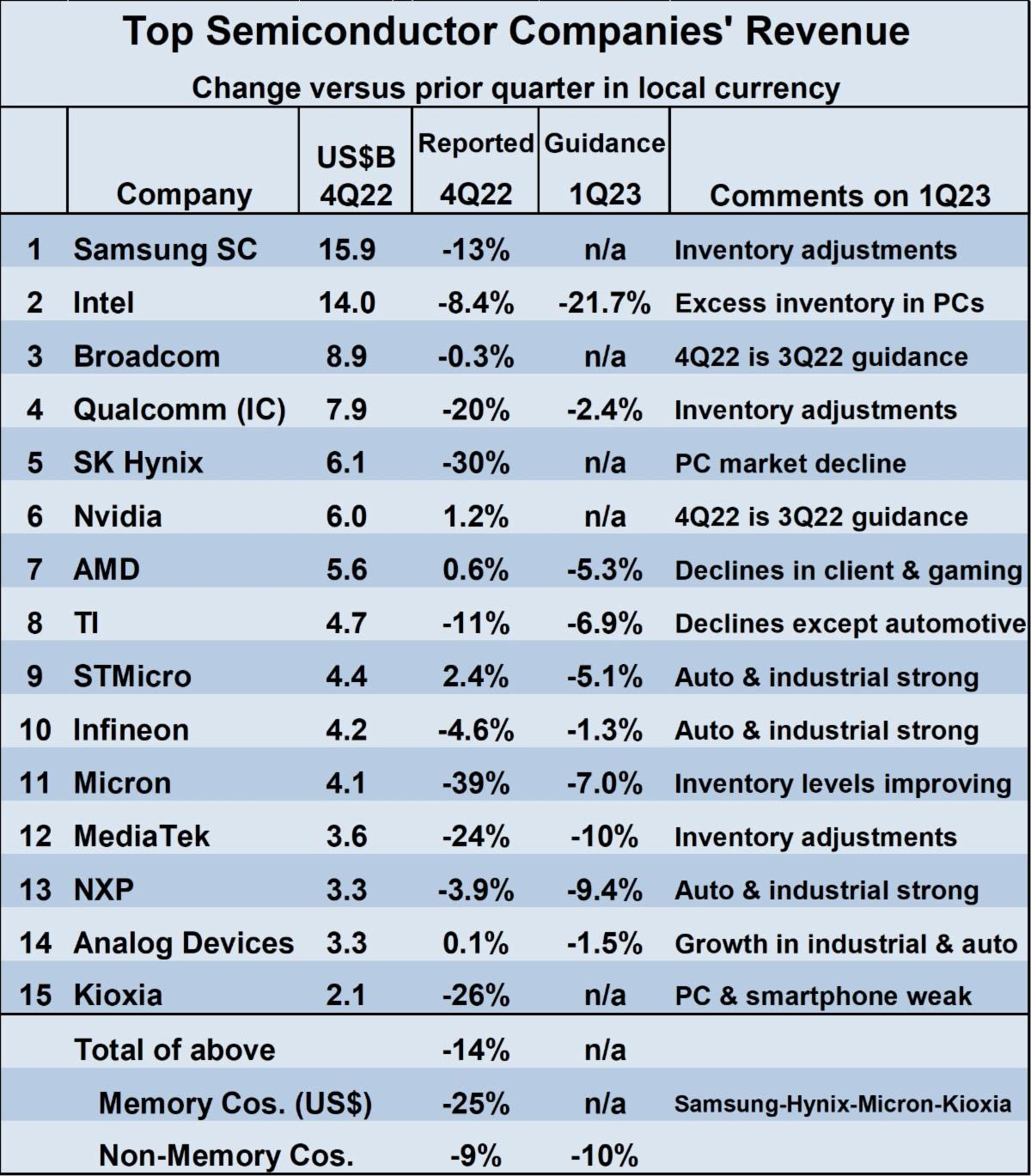 The outlook for the top companies in 1Q 2023 is generally bleak. The first quarter of the year is typically weak for the semiconductor industry, but most companies are expecting 1Q 2023 to be weaker than normal. The nine non-memory companies providing revenue guidance for 1Q 2023 had a weighted average decline of 10%, with all nine expecting a decline. Intel was the most pessimistic, with guidance of a 22% decrease. Inventory adjustments were cited by several companies as a key factor for the grim outlook, particularly in the PC and smartphone end markets. Automotive and industrial are the lone bright spots, with five companies seeing strong demand in one or both of these segments.
Memory companies, which saw revenue declines ranging from 13% to 39% in 4Q 2022, may be starting to recover. Micron Technology expects 1Q 2023 revenues to decrease 7% compared to a 39% decline in 4Q 2023. Micron sees inventory levels improving in the current quarter. The other memory companies – Samsung, SK Hynix and Kioxia – cited continuing inventory adjustments and weak end markets but did not provide revenue guidance for 1Q 2023.
For the full year 2023, the semiconductor market will certainly decline, but the extent of the decline depends on when inventories are back in line and on the overall demand for electronic equipment. According to Gartner, shipments of both smartphones and PCs are expected to decrease in 2023, but at a rate significantly less than in 2022. Smartphones should decline 4% in 2023 versus an 11% decline in 2022. PCs are projected to drop 7% in 2023, following a 16% drop in 2022. The longer-term outlook for PCs and smartphones is for low single digit growth. IDC forecasts a 2023 to 2026 compound annual growth rate (CAGR) of 3.1% for smartphones and 2.3% for PCs and tablets combined.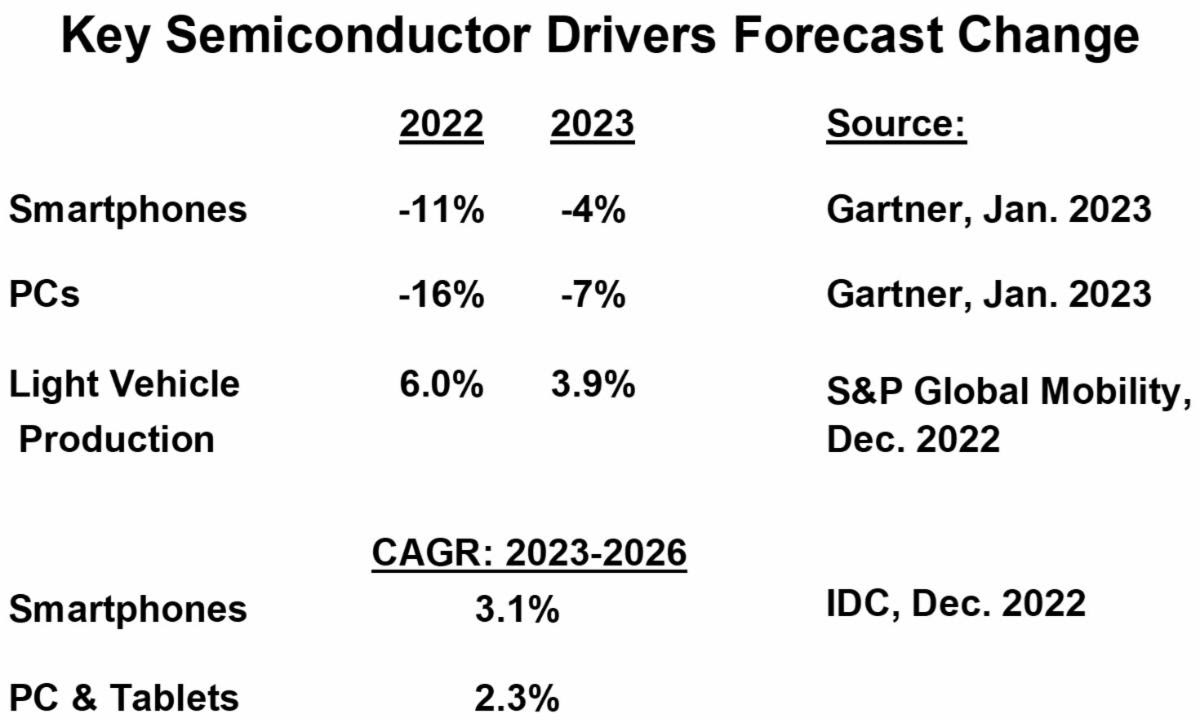 Automotive production will continue to grow, but a slightly slower rate. S&P Global Mobility projects light vehicle production will grow 3.9% in 2023 versus 6.0% in 2023. S&P expects semiconductor availability to impact production in the first half of 2023 but demand constraints should have more of an impact in the second half of 2023.
The global economic outlook has improved slightly over the last few months. The International Monetary Fund (IMF) January 2023 forecast called for 2.9% growth in global GDP in 2023, an improvement from its October 2022 forecast of 2.7%. The advanced economies overall are expected to grow 1.2%, up from 1.1% in October, with the U.S. outlook improving to 1.4% from 1.0%. The forecast for most of the advanced economies has improved in the January forecast except for the UK, which is now expected to decline 0.6%. Overall emerging/developing economies are projected to grow 4.0%, up from 3.7% in October. The biggest change is in China, now forecast to grow 5.2% as its economy fully reopens, up from 4.4% in October.
The risks of recession in 2023 are moderating. Citi Research in January stated the risk of a global recession in 2023 is about 30%, down from their earlier projection of 50%. Earlier this month, Goldman Sachs put the probability of a U.S. recession in 2023 at 25%, down from their previous forecast of 35%.
A decline in the global semiconductor market in 2023 is inevitable after the 2nd half 2022 dropped 10% from the 1st half and a likely decline around 10% in 1Q 2023 from 4Q 2022. The severity of the decrease depends on when in 2023 the recovery begins. Gartner, IC Insights, WSTS and EY expect declines in the 4% to 5% range – which implies a healthy recovery beginning in 2Q 2023. Objective Analysis (our forecast contest winner for 2022) sees a 19% drop in 2023. Their assumptions include a 45% decrease in the DRAM market and slow growth in the end markets.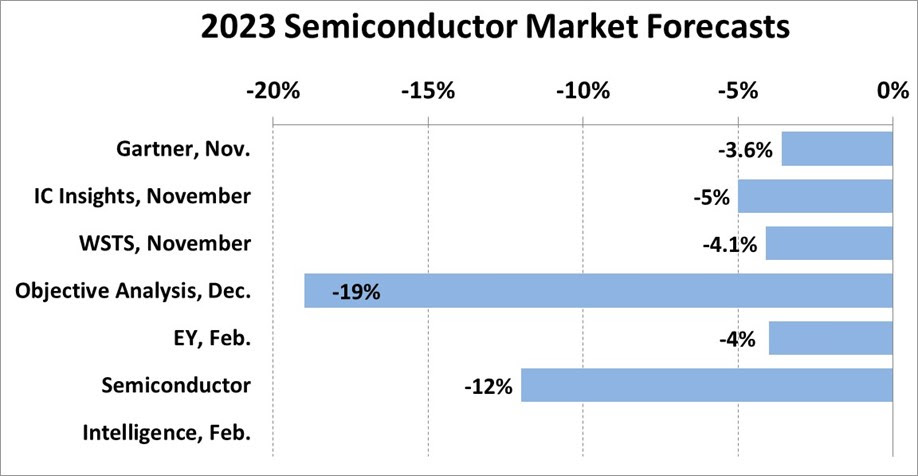 Our Semiconductor Intelligence forecast for 2023 is a decline of 12%. This assumes a moderate recovery beginning in 2Q 2023 and improving in the second half of 2023. Inventory adjustments should be mostly resolved by 2Q. Although PCs and smartphone shipments should decrease, in 2023, the rate of decline will be significantly less than in 2022. A continuing strong automotive market and growth in the internet-of-things (IoT) will contribute to the semiconductor recovery. The risks of a global recession in 2023 are lessening. Our preliminary assumptions for 2024 are continuing recovery in semiconductors and moderate growth in end markets. We put 2024 semiconductor market growth in the 5% to 10% range.
Semiconductor Intelligence is a consulting firm providing market analysis, market insights and company analysis for anyone involved in the semiconductor industry – manufacturers, designers, foundries, suppliers, users or investors. Please contact me if you would like further information.
Also Read:
CES is Back, but is the Market?
Semiconductors Down in 2nd Half 2022
Share this post via: