CES 2023, the annual consumer technology show, was held last week in Las Vegas, Nevada. Over 115,000 people attended and over 3200 companies exhibited. As shown below, attendance and exhibitors were up about 2 ½ times the pandemic limited CES 2022. However, attendance was down one-third and exhibitors were down 27% from CES 2020. Exhibit space was 2.1 million square feet, up 50% from 2022 and down 28% from 2020. Square feet per exhibitor was 656, down 39% from 2022 and about even with 2020.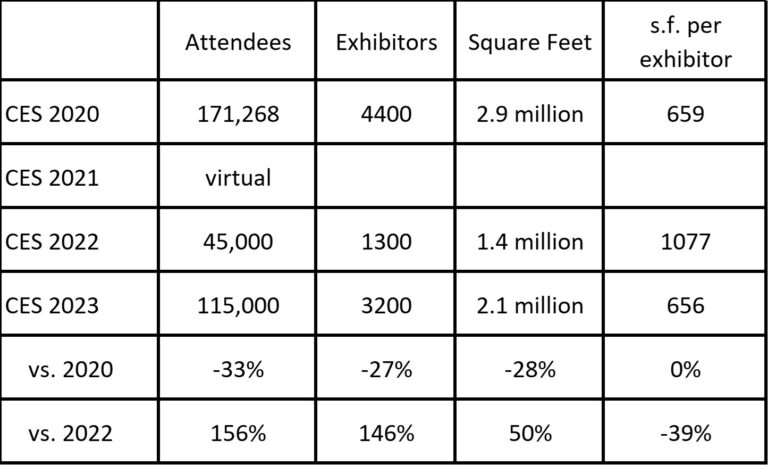 What were the technologies at CES 2023 which will drive growth in the electronics and semiconductor industries? Steve Koenig of the Consumer Technology Association (CTA – sponsors of CES) listed six key technology themes:
Enterprise Technology Innovation (security, factory automation, IoT)
Metaverse / Web 3.0 (virtualization and immersion)
Transportation / Mobility (electric vehicles, autonomous vehicles, in-vehicle technology)
Health Technology (digital therapeutics, telehealth, fitness tech)
Sustainability (smart grid, alternative energy, recycling)
Gaming and Services (virtual reality gaming, streaming, e-commerce)
Each of these themes will drive growth in the electronics industry, but there are no obvious major drivers (such as PCs and smartphones).
The CTA released its forecast for the 2023 U.S. consumer technology market in conjunction with CES 2023. In general, the forecast is downbeat with a 2% decline in the market from 2022. LCD TVs, smartphones, laptop PCs and tablets are all projected to decline. A few growth areas are automotive technology (up 4%), health and fitness services (up 9%), over-the-counter hearing aids ($0.89 billion in first full year of sales), and portable gaming consoles (up 41%).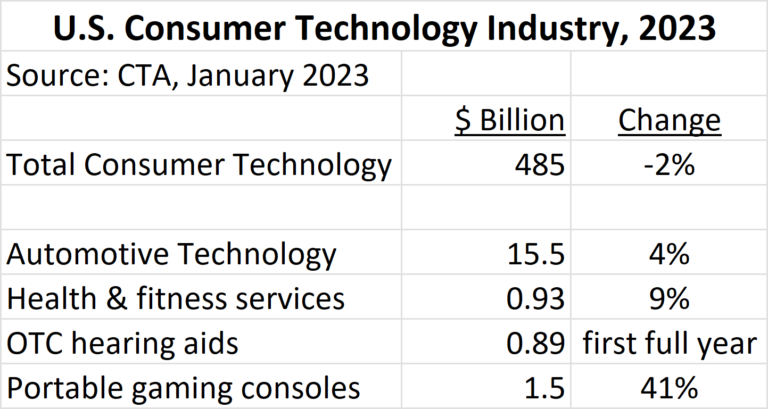 The CTA tried to be optimistic despite a likely 2023 recession. Koenig said innovation during the slow period could drive new innovations in 5G to IoT, connected intelligence, autonomous systems and quantum computing.
Major electronics companies tended to push themes more than products in their press conferences
Panasonic presented its theme of Green Impact, with a goal of reducing its CO2 emissions to about 1% of current levels by 2050. The company plans to achieve this through use of solar and hydrogen power in its factories, recycling most of its manufacturing waste, and using more recycled materials in its battery production. Panasonic introduced some new products including automotive audio systems with Amazon Alexa, the nanoeX portable air purifier, the Multishape modular personal care system, flagship MZ2000 OLED TVs, and its Lumix S5 II digital camera.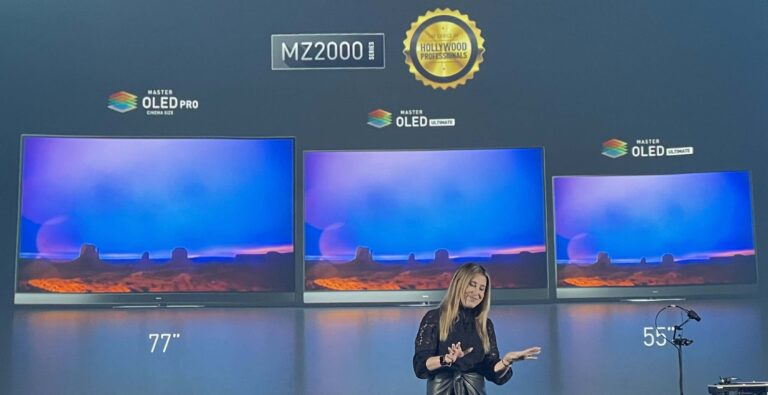 Samsung had a theme of "bringing calm to our connected world". They also pushed the green theme and pledged to be net zero by 2050. Samsung highlighted its SmartThings technology for connecting home and other consumer devices including the SmartThings Station smart home hub and wireless charging pad. Samsungs' Harman subsidiary has introduced its Ready Care system to monitor and correct driver distraction and drowsiness.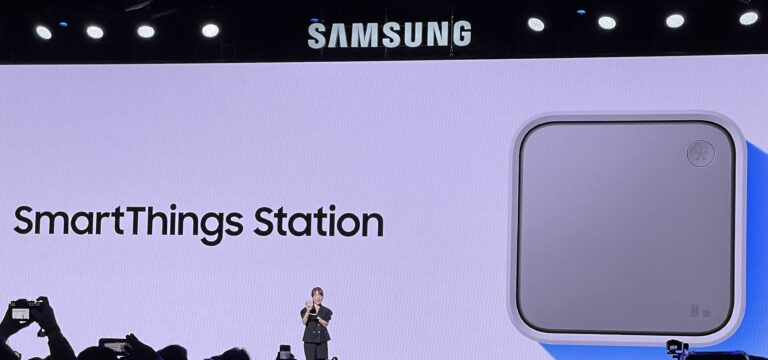 Sony had a motto of "fill the world with emotion, through the power of creativity and technology". Doesn't exactly roll off the tongue. The company emphasized the technologies used in its movie, video game and audio divisions. Sony will introduce its PlayStation VR2 virtual reality gaming system in February. Sony has partnered with Honda to design an EV (electric vehicle) with over 45 cameras and sensors. The Afeela will be available in 2026.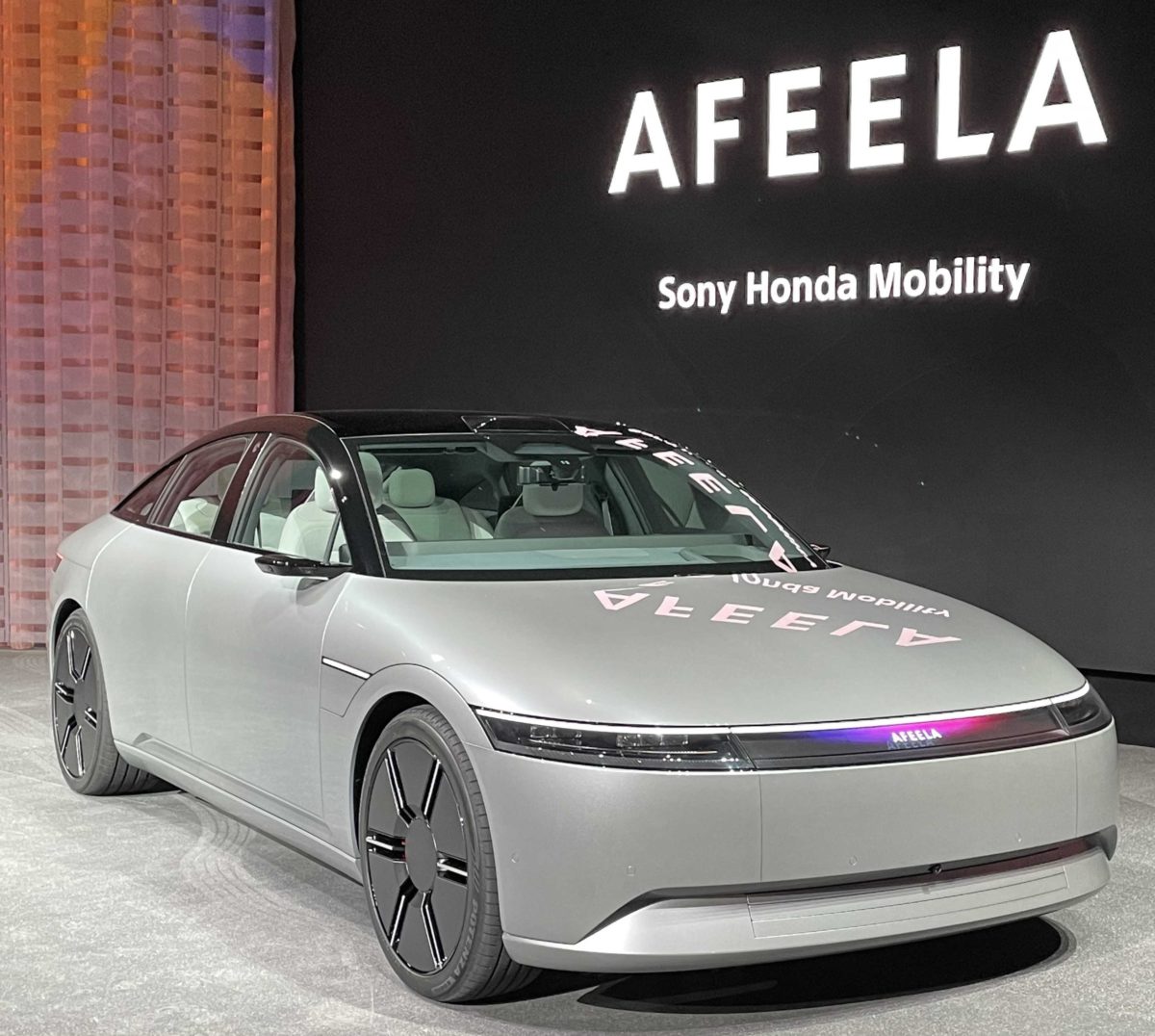 Many interesting new products were introduced at CES 2023. Some were innovative and useful. Others had interesting technology but questionable utility. Still others seem destined to failure. Our Semiconductor Intelligence take on a variety of new products is available on our website.
Semiconductor Intelligence is a consulting firm providing market analysis, market insights and company analysis for anyone involved in the semiconductor industry – manufacturers, designers, foundries, suppliers, users or investors. Please contact me if you would like further information.
Also Read:
Semiconductors Down in 2nd Half 2022
Share this post via: