Third quarter 2022 data on PC and smartphone shipments shows a continuing year-to-year decline. IDC estimates PC units in 3Q 2022 were down 15% from a year earlier, matching the 2Q 2022 decline. IDC's September forecast for PC units was a 12.8% decline for the year 2022, which is in line with the latest quarterly data. Canalys estimates 3Q 2022 smartphone shipments declined 9% year-over-year, matching IDC's estimate of an 8.7% decline in 2Q 2022. IDC's August projection was a 6.5% drop in smartphone units in year 2022. The final number will likely be closer to a 9% decline based on the latest data. IDC expects the PC decline to moderate to a 2.6% decline in 2023 and expects smartphones to recover to 5.2% growth.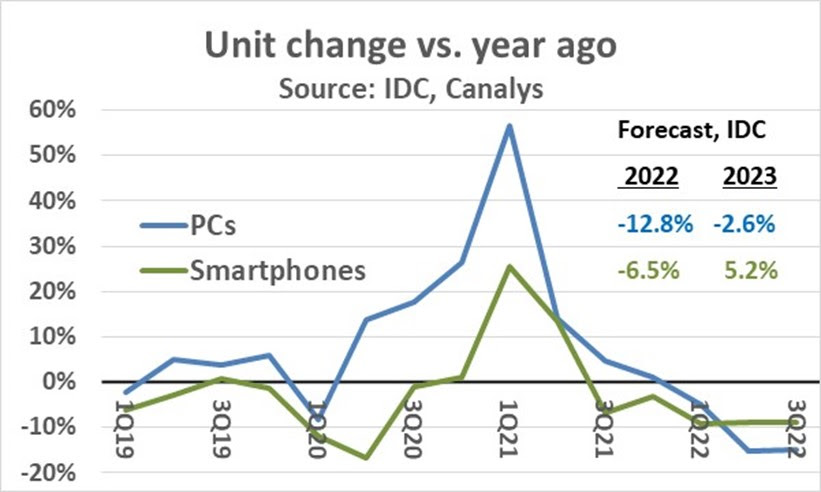 China production data also reflects the downward trend. Three-month-average change versus a year ago (3/12 change) of China's PC unit production peaked at 75% in March 2021. The high growth rate was due to weakness a year earlier from COVID-19 pandemic production shutdowns and strong demand for PCs in 2021 driven by the pandemic. PC 3/12 change turned negative in April 2022 and was -7.3% in the latest data from August. Mobile phone (including smartphones and feature phones) unit growth peaked at 35% in March 2021 primarily due to production shutdowns a year earlier. Mobile phone 3/12 change turned negative in June 2022 and was -4.7% in August. Total electronics production in Chinese currency (yuan) hit a peak of 36% 3/12 change in March 2021. From May 2021 through March 2022 the growth rate ranged between 12% to 13%, in line with pre-pandemic rates. China electronics production growth had slowed to around 8% in May 2022 to August 2022.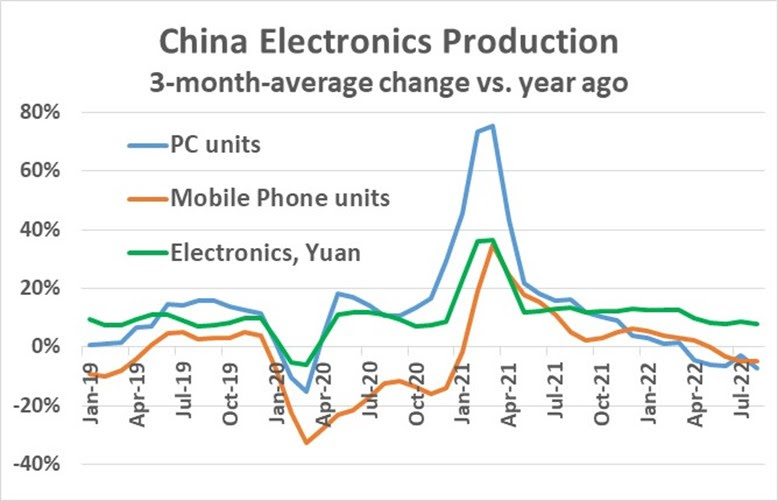 Electronics production in other key Asian countries has also been showing slower growth. South Korea reported 3/12 change in electronic production in the 20% to 24% range from June 2021 through May 2022. Since then, growth has been slowing, reaching 4.6% in August 2022. Vietnam's growth trend has been volatile, but it was over 20% from April to June 2022. In September 2022 growth decelerated to 4.6%. Japan electronics production has been declining since October 2021. Taiwan is the exception, with electronics production growth reaching 24% in August 2022.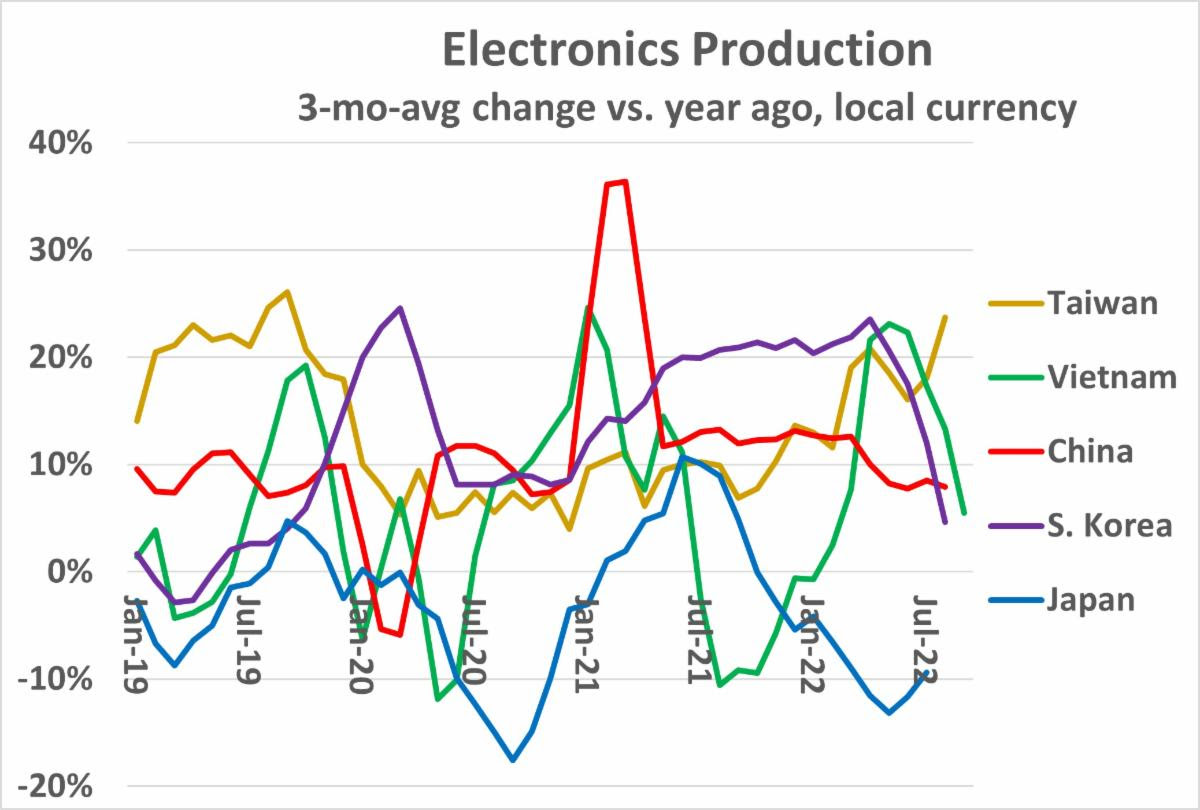 Unlike most of Asia, the U.S. and Europe have experienced accelerating growth in electronics production. U.S. 3/12 change was 7.8% in August 2022 and has been on an accelerating growth trend since December 2021. Electronics production trends in the United Kingdom and the 27 countries of the European Union has been volatile over the last few years due to Brexit and the pandemic. In 2022, UK electronics production has been on an upward trend, reaching 14% in August. The EU 27 showed a decline in electronics production for most of 2022 but returned to 4% growth in August.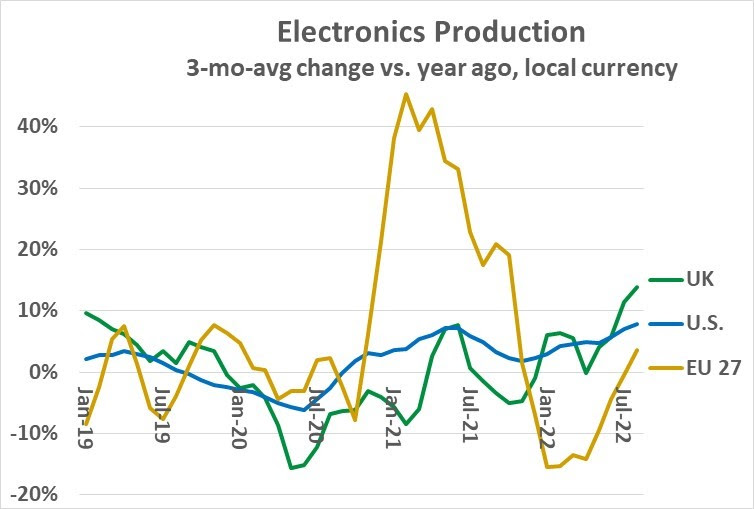 Automotive has been a growth area for electronics in 2022 as other key drivers have slowed down or declined. However, automotive is beginning to show signs of weakening. S&P Global Mobility's forecast from this week has global light vehicle production growing 6.0% in 2022 and 4.2% in 2023. The 2022 projection is up from its July forecast of 4.7% primarily due to improvements in supply chains, particularly in China. However, the 2023 forecast of 4.2% growth is less than half of the July forecast of 8.8% growth. Production in 2021 and 2022 has been limited on the supply side due to shortages of semiconductors and other components. Production in 2023 will be limited due to weakness on the demand side. High inflation, rising interest rates and the risk of recession are expected to negatively impact consumer demand for new vehicles in 2023.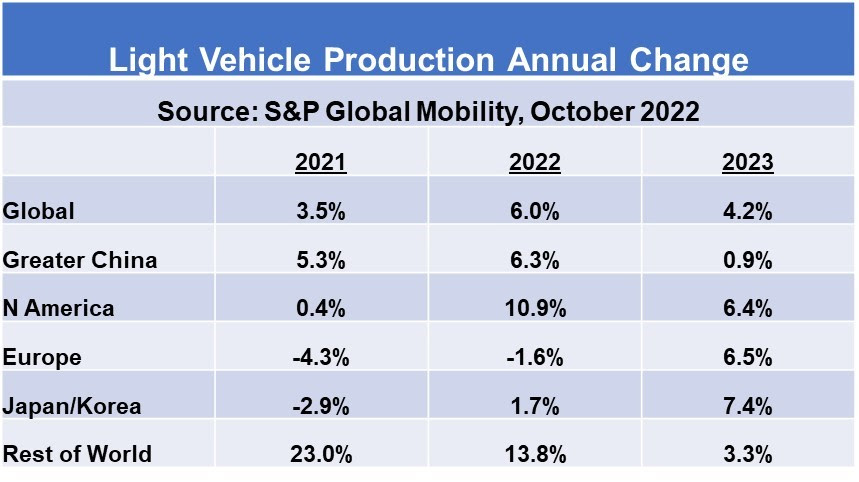 The economic outlook remains uncertain. An August 2022 survey of chief economists by the World Economic Forum showed 73% believed a global recession was likely in 2023. Bloomberg's October survey of 42 economists shows the probability of a U.S. recession in the next 12 months is 60%. However, Bloomberg's economic model shows a 100% probability. Our current forecast for the semiconductor market is a 6% decline in 2023. However, most of the risk is on the downside.
Semiconductor Intelligence is a consulting firm providing market analysis, market insights and company analysis for anyone involved in the semiconductor industry – manufacturers, designers, foundries, suppliers, users or investors. Please contact me if you would like further information.
Also Read:
Automotive Semiconductor Shortage Over?
Share this post via: