Several signs point to an easing of the shortages of semiconductors for automotive applications. However, the production of light vehicles will likely remain below full potential through at least 2023. LMC Automotive's July forecast of light vehicle production called for 81.7 million units in 2022, up 2% from 2021. LMC's January forecast was for 13% unit growth in 2021, over 4 million more units than the current forecast. The July forecast calls for production growth of 5% in 2023 and 7% in 2024. LMC's April projection for 2023 and 2024 was 4 million units higher each year than the July projection. 2024 production of 91.7 million units should still be below the pre-pandemic level of 94 million units in 2018, five years earlier.
The key reasons for the shortages of automotive semiconductors are:
Automotive manufacturers cut back on semiconductor orders severely at the beginning of the COVID-19 pandemic in early 2020. The auto companies were fearful of being stuck with excess inventories of cars if demand fell significantly due to the pandemic. When the automakers tried to increase orders, they had lost their place in line and were behind other industries such as PCs and smartphones.
Many automakers used a just-in-time ordering system to avoid excess inventories. This left them with almost no buffer inventories. Also, most semiconductors used in automotive are bought by the companies supplying the systems (engine controls, dashboard electronics, etc.) rather than the automakers, leading to a more complex supply chain.
Semiconductors used in automobiles have a long design-in cycle and must be qualification standards. Thus, it is difficult for an automaker to change suppliers in the short term.
Due to the long design cycles and long product life, semiconductors used in automotive applications use older process nodes than most other applications. As shown in the table below, McKinsey estimated 72% of the semiconductor wafers for automotive in 2021 used process nodes of 90 nanometer or greater compared to 52% of all applications. Only 6% of automotive demand is for 14 nanometer and less process nodes, compared to 21% for all applications. Semiconductor manufacturers concentrate their capital spending on the more advanced process nodes, with only modest expansion of capacity in older nodes. TSMC, the dominant wafer foundry, makes 65% of its revenue from advanced process nodes and only 12% of its revenue from nodes of 90 nanometers or greater. Only 5% TSMC's revenue is from automotive, compared to 38% from smartphones. Thus, automakers are generally a lower priority for foundries.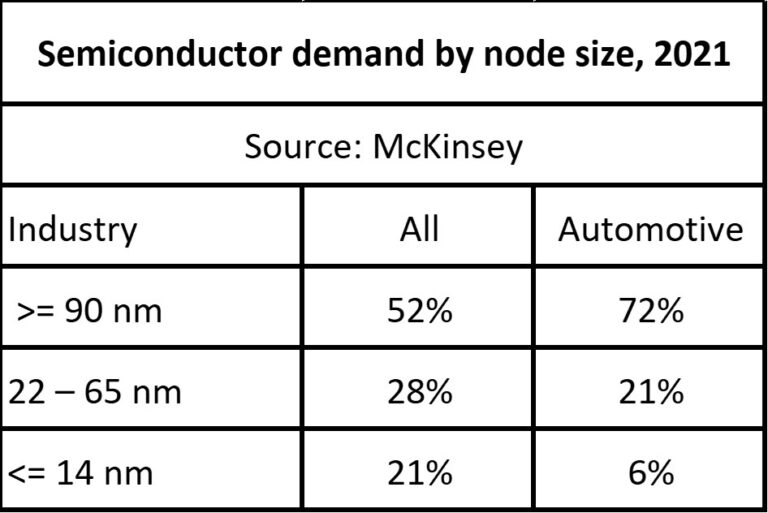 Given all the above factors, it will take time for all the supply issues to be resolved. Recent comments from major automakers reveal mixed trends in resolving the semiconductor shortages.
Toyota – shortages at least through 3Q 2022
Volkswagen – shortages easing
Hyundai – shortages easing
General Motors – shortage impact into 2023
Stellantis – shortages through the second half of 2022
Honda – outlook uncertain due to shortages
Nissan – recovery in next few months
Ford – shortages still an issue
Mercedes-Benz – no significant supply issues
BMW – no production delays due to shortages
Volvo – back at full supply
Bosch (parts supplier) – shortages into 2023
The table below list the major suppliers of semiconductors to the automotive market. The top ten suppliers accounted for 46% of the total automotive semiconductor market of $69 billion in 2021 (according to WSTS). Automotive is a significant portion of total semiconductor revenues for each of these companies, ranging from 17% to 50%.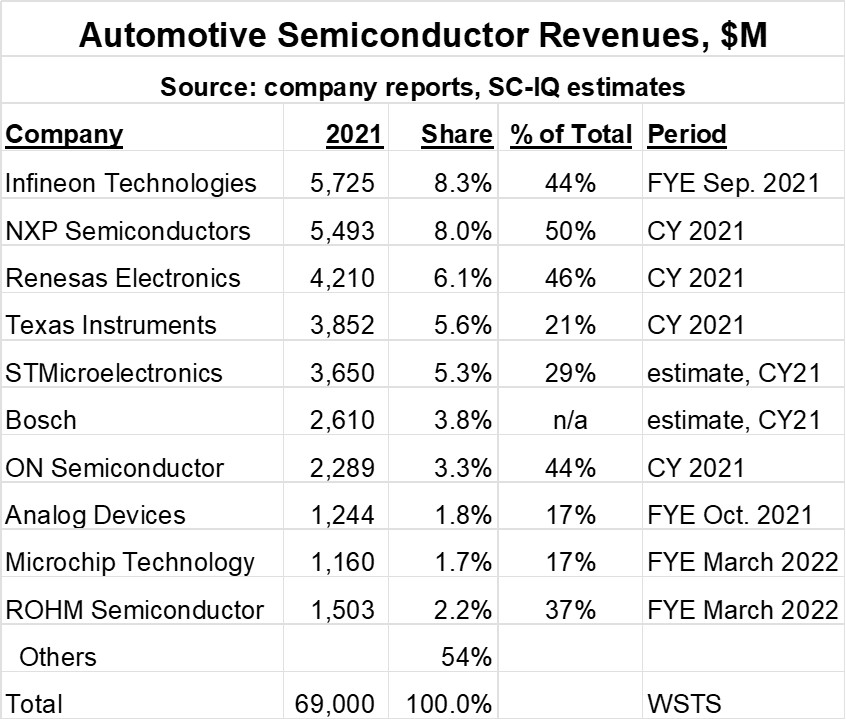 The five largest suppliers of automotive semiconductors also had varied outlooks on the shortages in their recent financial reports for 2Q 2022:
Infineon Technologies – gradual easing of shortages throughout 2022
NXP Semiconductors – demand will still exceed supply in 3Q 2022
Renesas Electronics – inventory back to planned levels at end of 2Q 2022.
Texas Instruments – inventories still below desired levels
STMicroelectronics – capacity sold out through 2023
Shortages of automotive semiconductors will likely remain through at least the year 2023. Although a few automakers indicate they are back at full production, most report continuing shortages. The shortages will prevent automakers from producing enough vehicles to meet demand in 2022 and 2023, resulting in continued high prices for most vehicles.
Automakers and semiconductor suppliers are working to try to prevent such severe shortages in the future. Automakers are adjusting their just-in-time inventory models. Automakers are also working more closely with semiconductor suppliers to communicate their short-term and long-term needs. Semiconductors will become even more crucial to automakers as trends toward electric vehicles and driver-assist technologies continue.
Also read:
Semiconductors Weakening in 2022
Share this post via: