The semiconductor market in 2022 is weakening. Driving factors include rising inflation, the Russian war on Ukraine, COVID-19 related shutdowns in China, and lingering supply chain issues. Four of the top 14 semiconductor companies (Intel, Qualcomm, Nvidia and Texas Instruments) are expecting lower revenues in 2Q 2022 versus 1Q 2022. All four cited COVID-19 related lockdowns in China as a factor. China locked down several major cities including Shanghai and Beijing in April in May due to rising COVID cases. The shutdowns were lifted on June 1, but since then temporary shutdowns were reimposed to fight emerging cases. The shutdowns significantly impacted manufacturing in China.
Six non-memory companies expect revenue growth in 2Q 2022 from 1Q 2022 ranging from 3% to 7%. Three of these companies (Infineon Technologies, STMicroelectronics and NXP Semiconductors) have significant automotive business contributing to their growth. AMD's 1Q 2022 reported revenue was up 22% from 4Q 2021 largely due to its acquisition of Xilinx which was completed midway through the quarter. It's outlook for 2Q 2022 growth is 10%, also including Xilinx. Excluding the effect of the Xilinx acquisition, AMD's revenue grew 10.4% in 1Q 2022 and is expected to grow about 3% in 2Q 2022. The weighted average revenue growth of the 10 largest non-memory companies in 1Q 2022 versus 4Q 2021 was 4%. The weighted average outlook for 2Q 2022 is a decline of 1% from 1Q 2022.
Memory companies have a brighter outlook than non-memory companies. Micron's guidance for its fiscal quarter which ended in early June was an increase of 11.7% from the prior quarter. Samsung, SK Hynix and Kioxia all reported demand for both DRAM and flash memory remains solid.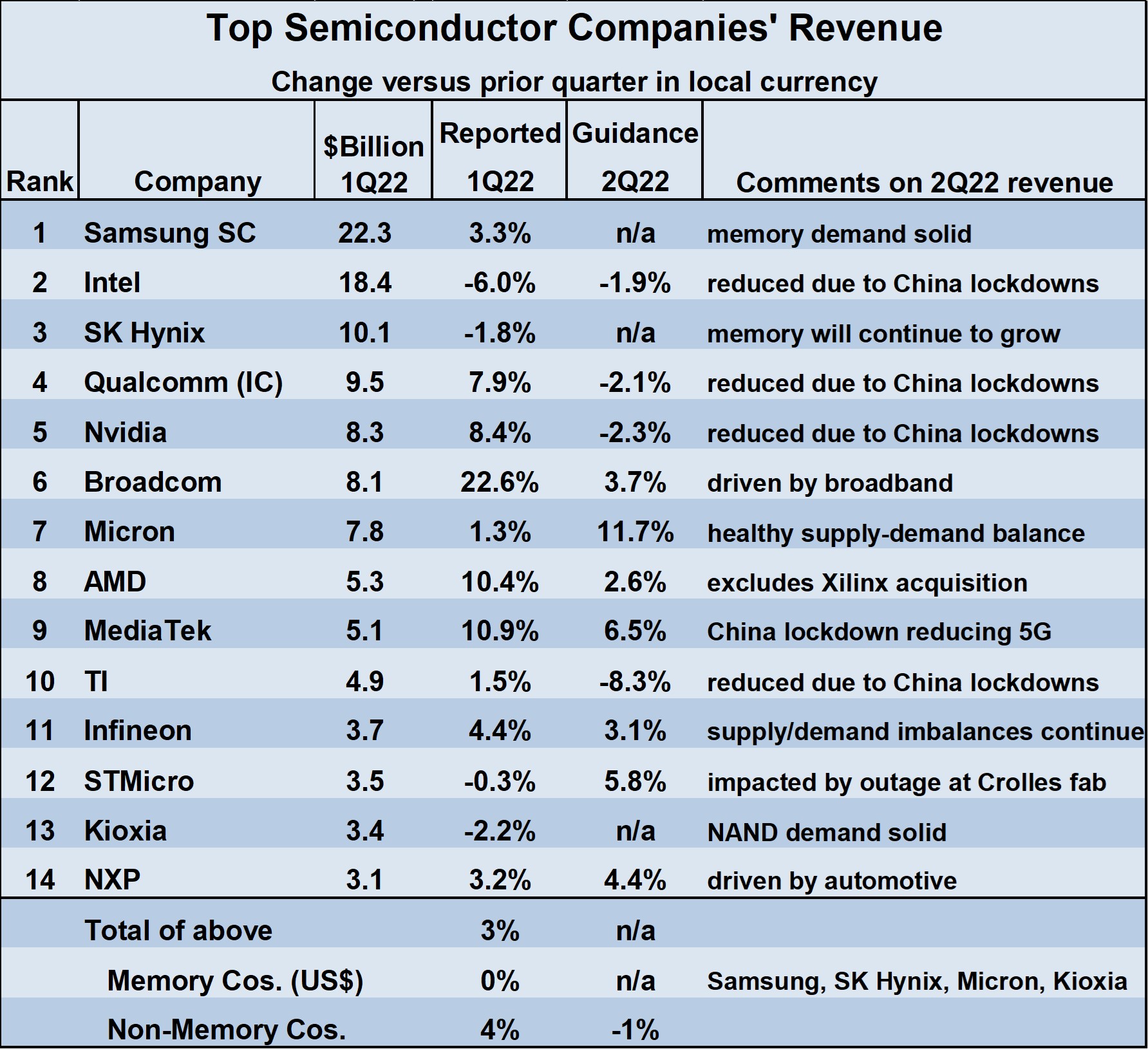 The outlook for the global economy is diminishing due to the factors listed earlier. The June 2022 forecast from the World Bank is for only 2.9% growth in global GDP in 2022 following 5.7% growth in 2021. In January 2022, the World Bank projected 4.1% growth in 2022 global GDP. Among advanced economies, the U.S. and the Euro area are expected to show 2.5% GDP growth in 2022, less than half the 2021 rate. Among emerging and developing economies, China's 2022 GDP growth is forecast at 4.3%, well below 2021's 8.1%, due primarily to COVID related shutdowns. Russia's GDP should decline 8.9% in 2022 due to its war on Ukraine and resulting boycotts. India's economy remains strong, with 2022 GDP growth targeted at 7.5%, the highest among major economies. The outlook for 2023 is similar to 2022, with the World Bank calling for 3.0% global GDP growth.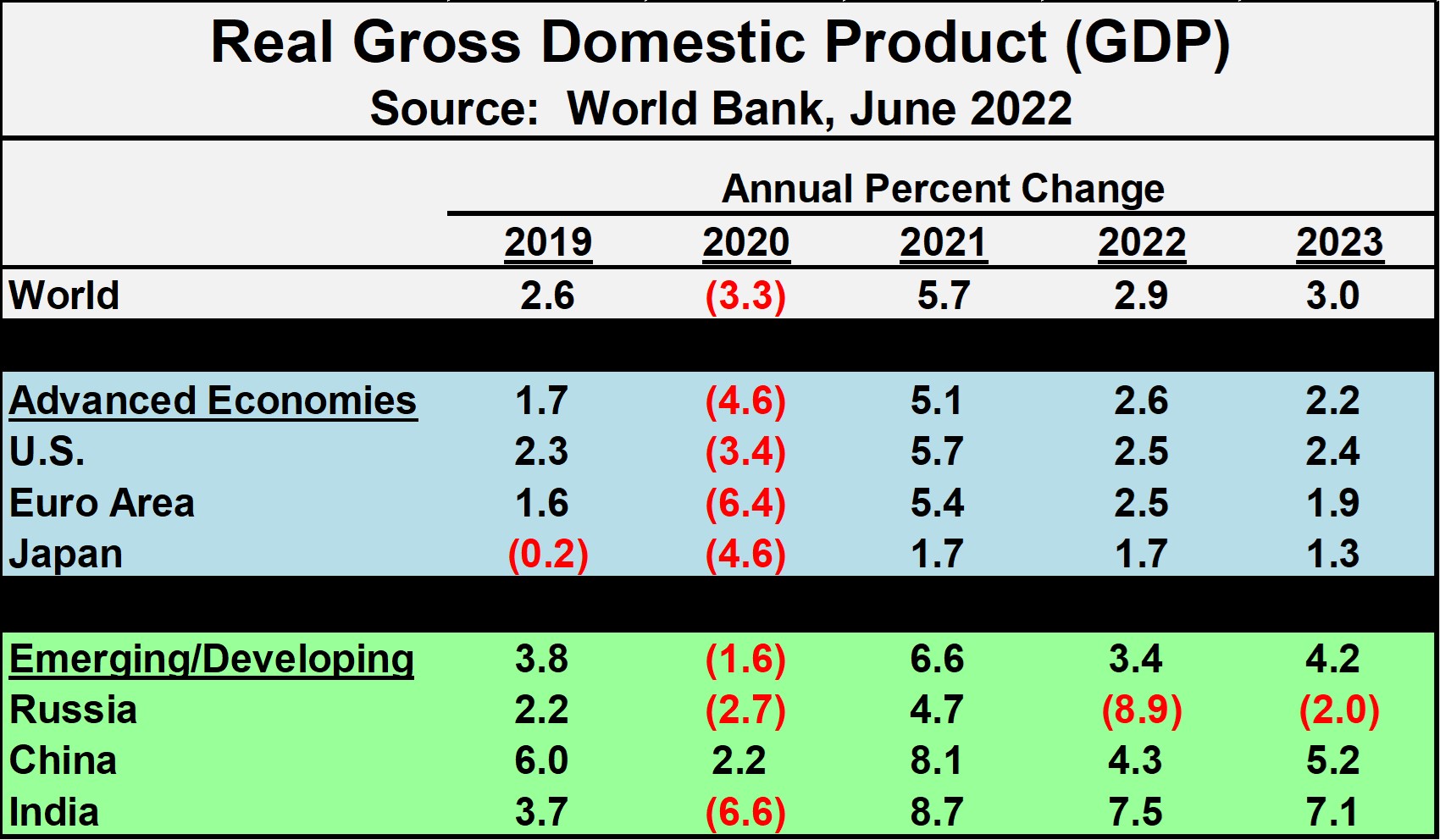 In the U.S., the chance of a recession in the next 12 months is 30%, according to Bloomberg's May 2022 survey of economists. The Federal Reserve this month projected inflation would be 5.2% in 2022 based on its personal consumption expenditures index. The Fed expects inflation to moderate to 2.6% by the end of 2023. Inflation fears led the Federal Reserve this week to raise its benchmark interest rate by 75 basis points, the largest increase in 28 years. The European Central Bank plans to raise interest rates by 25 basis points in July.
The outlook for key semiconductor market drivers is also abating. Earlier this month IDC projected declines in 2022 shipments of both smartphones and PCs. Smartphones are forecast to decline 3.5% in 2022 after 6% growth in 2023. IDC expects smartphones to recover to 5% growth in 2023. PCs boomed in 2020 and 2021 with double-digit growth driven by work-at-home and learn-at-home trends due to the COVID-19 pandemic. IDC forecasts a decline of 8.2% for PCs in 2022. PCs should grow 1% in 2023, in line with pre-COVID trends.

The automotive industry is the only bright spot among major drivers. In May 2022, S&P Global Mobility (which merged with IHS Markit) expects light vehicle production to grow 4.1% in 2022 after 3.5% growth in 2021. Pent-up demand for vehicles would drive even higher growth, but production is limited by shutdowns in China, supply chain issues, and the war in Ukraine. Vehicle production is forecast to grow a healthy 9.4% in 2023.
With the weakening global economy and declines in shipment of key drivers, we at Semiconductor Intelligence have lowered our semiconductor market forecast for 2022 to 9% from 15% in February. The 2Q 2022 semiconductor market will likely decline by about 1% to 2% from 1Q 2022. The second half of 2022 should be weaker than typical trends. The only reason 2022 could see high single-digit growth is due to the strong quarter-to-quarter growth in 2021. The 1Q 2022 semiconductor market was up 23% from a year ago. Year-to-year growth should be in the low single-digits to flat by 4Q 2022. Other forecasts for the 2022 semiconductor market range from 11% from IC Insights to 16.3% from WSTS.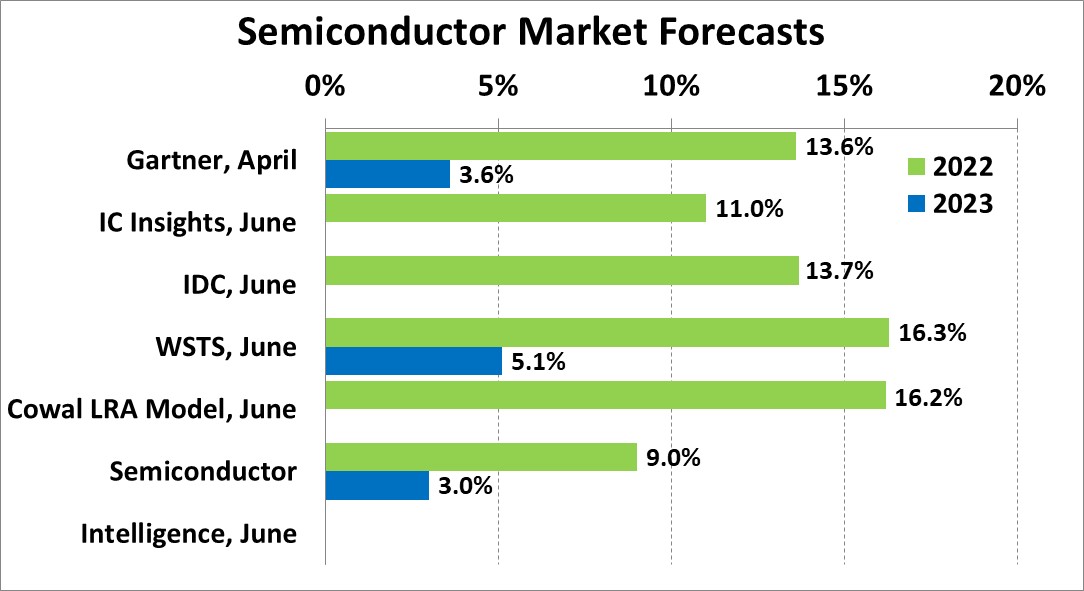 The weakness in the 2022 semiconductor market should continue into 2023. Our preliminary forecasts for 2023 is 3% growth. Other 2023 forecasts are 3.6% from Gartner and 5.1% from WSTS.
Also Read:
Electronics, COVID-19, and Ukraine
Semiconductor Growth Moderating
Share this post via: