Shipments of PCs and smartphones were weak in 2022 and continue to decline in 2023. For the first quarter of 2023, IDC estimated PC shipments dropped 29% from a year earlier. This follows a 28% year-to-year decline in 4Q 2022. For the year 2022, PC shipments declined 16% from 2021, the largest year-to-year decline in the history of PCs. The outlook for the rest of 2023 is not encouraging, with Gartner forecasting a 12% decline in year 2023 PC shipments. The PC market collapsed after the end of the boom during the COVID-19 pandemic. Global economic uncertainty is contributing to the current PC market weakness.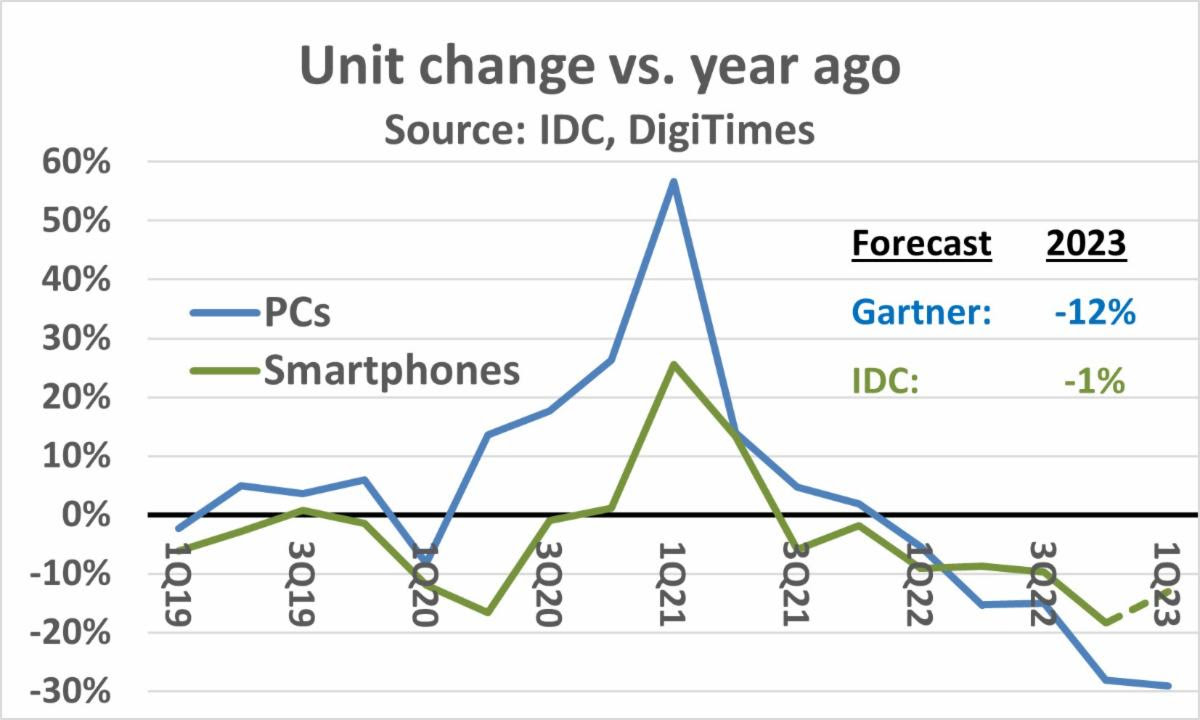 IDC estimated smartphone shipments in 4Q 2022 dropped 18% from a year earlier, resulting in an 11% decline in year 2022 shipments, the largest decline ever. Smartphones rebounded from a 7% decline in 2020 (driven by pandemic-related production slowdowns) to 6% growth in 2021. As with PCs, the current economic uncertainty is impacting smartphone shipments. DigiTimes estimates 1Q 2023 smartphone shipments dropped 13% from a year ago. IDC projects a 1% decline in smartphone shipments for the year 2023.
The weakness in PCs and smartphones is reflected in production data from China. Although some electronics manufacturing has shifted out of China in the last few years, China still accounts for about two-thirds of smartphone production (according to Counterpoint Research) and the vast majority of PC production. China's three-month-average change versus a year ago (3/12) for PCs turned negative in April 2022 and the decline has been greater than 20% for the last three months ending in February 2023. Mobile phone production change (primarily smartphones) was negative for seven of the last nine months, with the decline in the last two months greater than 10%. Total China electronics production measured in local currency (yuan) showed 3/12 change turning negative in January 2023, the first decline since the early months of the pandemic in 2020.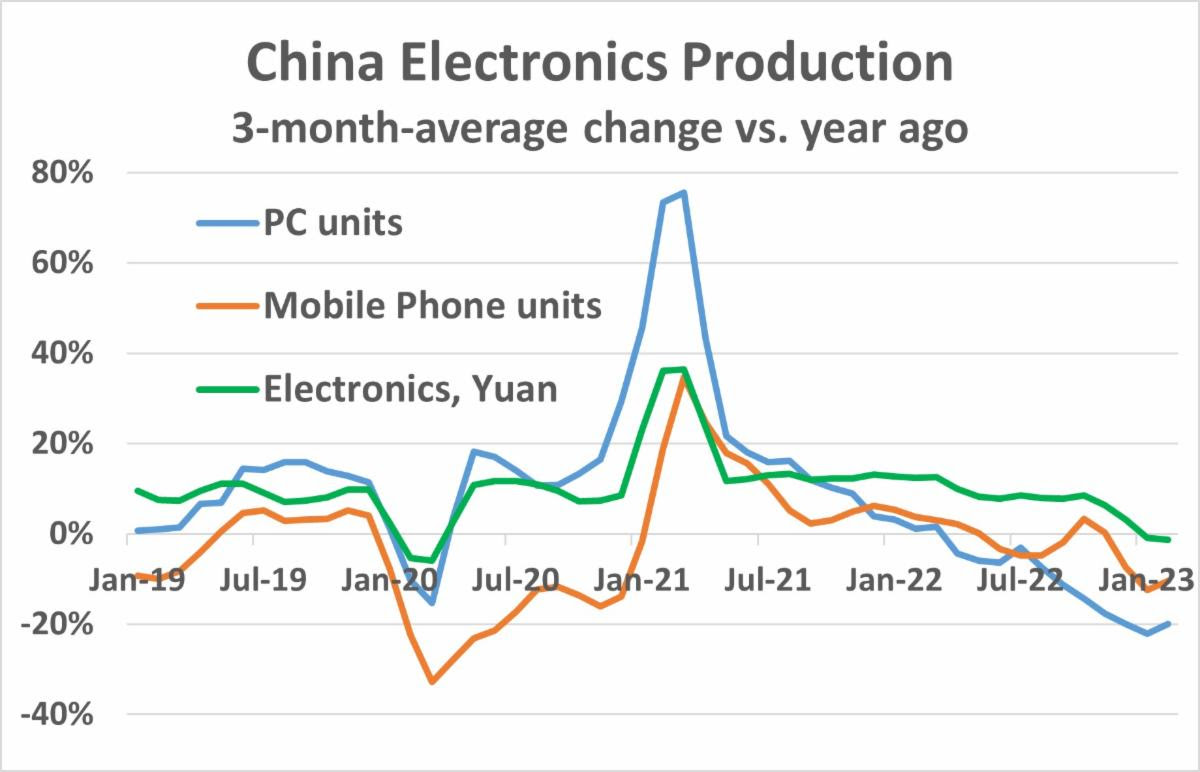 Countries which have benefited from electronics production moving out of China are also showing a slowdown. Malaysia and Taiwan both reported strong electronics production growth in most of 2022, with 3/12 change mostly above 20% and approaching 30% in several months. In the latest data, 3/12 change dropped below 10% in January for Taiwan and in February for Malaysia. Vietnam 3/12 change was over 20% in 2Q 2022 but has been decelerating each month since June 2022. Vietnam's 3/12 change turned negative at minus 1% in February 2023, the same as China. In March 2023, Vietnam was at minus 5%.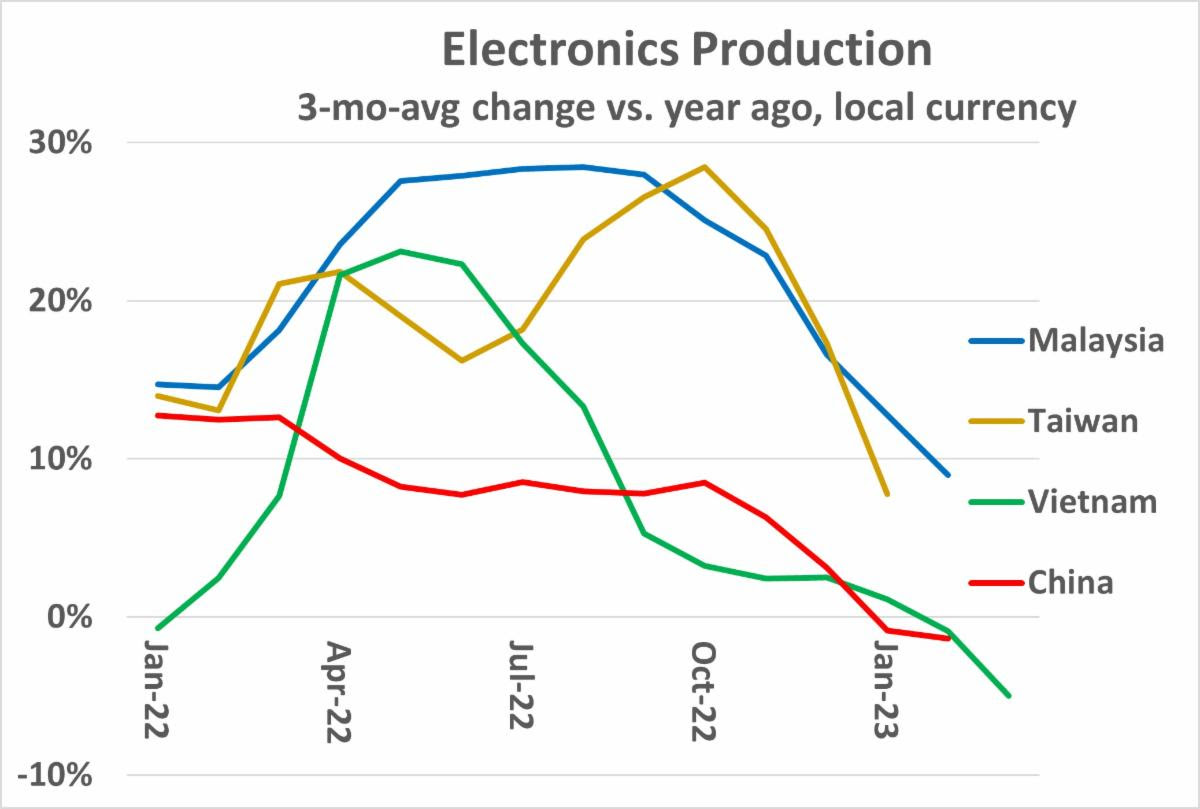 The more mature electronics manufacturing regions have not been as affected by the slowdown in PCs and smartphones. The United States, Japan, United Kingdom and the 27 countries of the European Union (EU 27) are less dependent on consumer electronics. Electronics production in these countries is largely industrial, automotive, communications infrastructure and enterprise computing. However, many of these countries are experiencing moderating growth. The EU 27 3/12 change in electronics production ranged primarily between 10% and 20% for most of 2022. In January 2023, the 3/12 changed dropped to 7%. The U.S. experienced a moderate acceleration in 3/12 growth through most of 2022, increasing from 3% in January 2022 to over 8% in the last three months of 2022. U.S. growth had been decelerating in 2023, dropping below 6% in February. In contrast, Japan and the UK electronics production was in decline for much of 2022. Japan 3/12 turned positive in October 2022 and was 4% in February 2023. The UK 3/12 turned positive in October 2022 at 0.9%. After a 0.7% decline in January 2023, the UK 3/12 bounced back to 0.8% in February 2023.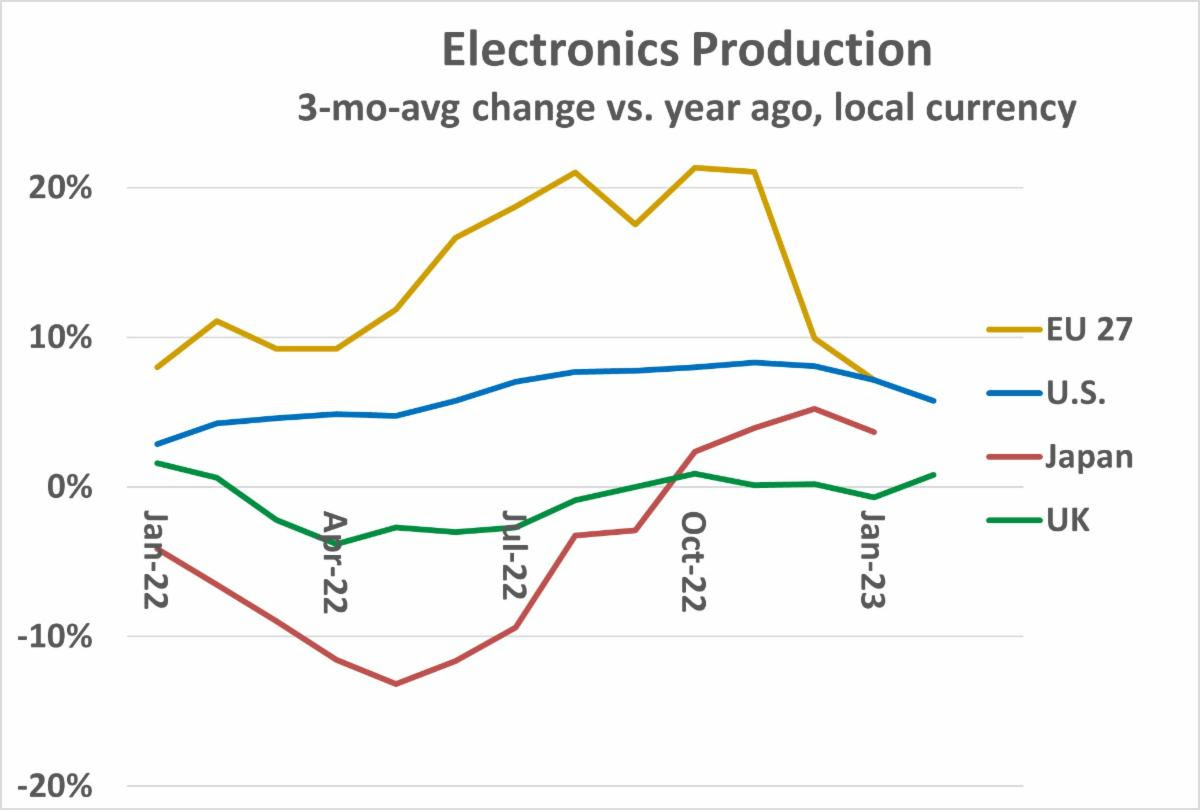 As stated in our February 2023 Semiconductor Intelligence newsletter, the outlook for semiconductors in 2023 is bleak. In addition to weak end demand in many electronics markets, many semiconductor companies are dealing with excess inventory and pricing pressures. Despite a few bright spots such as automotive (March 2023 newsletter), the overall semiconductor market will not recover until end demand of key end equipment such as PCs and smartphones reverses its decline.
Also Read:
CES is Back, but is the Market?
Share this post via: