The worldwide economic outlook is chaotic due to the ongoing COVID-19 pandemic. The outlook for the semiconductor market is also very uncertain. 1Q 2020 revenue versus 4Q 2019 was mixed for major semiconductor companies, ranging from a 19% decline for STMicroelectronics to 9.9% growth from Kioxia (previously Toshiba Semiconductor). WSTS reported a decline of 3.5% for the semiconductor market in 1Q 2020. Guidance for 2Q 2020 revenues shows continued caution. Most companies expect a decline in 2Q 2020 revenues from 1Q 2020.
The range of 2Q 2020 guidance is wide. Low end 2Q 2020 guidance from Qualcomm, Texas Instruments, STMicroelectronics and NXP Semiconductors ranges from -14% to -22%. The upper end guidance for these companies ranges from -7% to -0.3% and the midpoint guidance averages -10.5%. Seemingly optimistic guidance from Nvidia and Infineon is deceptive. Nvidia began to include the revenue of its Mellanox acquisition in 2Q 2020. Excluding the effect of the Mellanox acquisition, the midpoint of Nvidia's 2Q 2020 guidance would be about 4% instead of 18.5%. Similarly, Infineon is including revenue from its Cypress Semiconductor acquisition in 2Q 2020. Excluding Cypress, the midpoint of Infineon's guidance would be about -13% instead of +5.7%.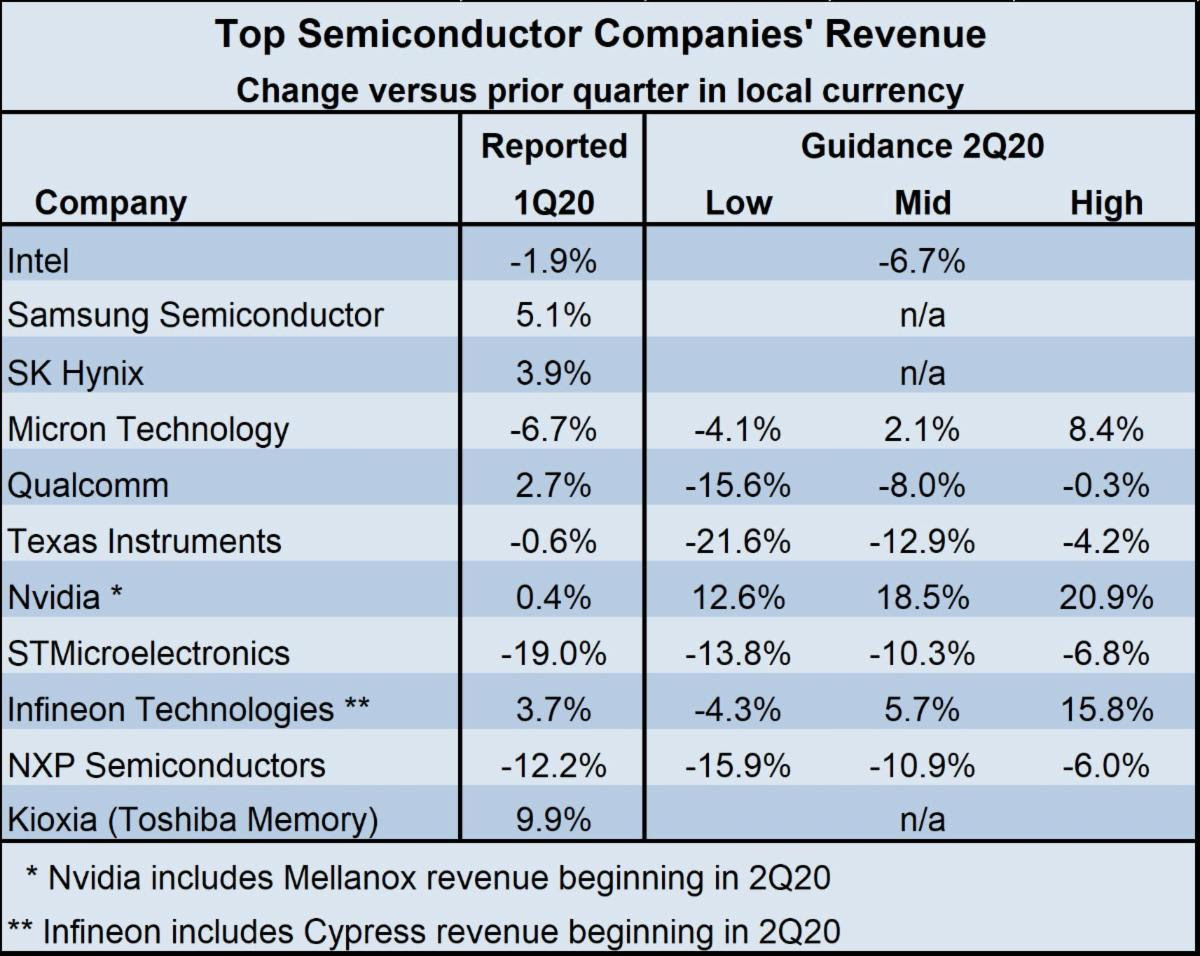 The memory companies (Samsung, SK Hynix, Micron and Kioxia) generally had positive 1Q 2020 revenue growth compared to 4Q 2019. The midpoint of Micron's guidance for its fiscal quarter ending later this month is +2.1%. Samsung, SK Hynix and Kioxia did not provide revenue guidance for 2Q 2020, but they all expect strong demand from PCs and servers but declining demand from smartphones.
PC demand is expected to be strong as many more people are working from home or receiving educational instruction from home. Increased dependence on the internet for communication and information is driving continued growth in servers for data centers. IDC in March forecast a 9% decline in PC and tablet unit shipments in 2020 based on weakness in the first half of the year and a pickup in the second half. IDC reported 1Q 2020 PC unit shipments declined 9.8% from a year ago, following three quarters of year-to-year growth in 2019.
Smartphone demand in 2020 is more uncertain. IDC in March forecasted a 2.2% decline in smartphone unit shipments for the year. In April, Strategy Analytics projected a 23% decline. IDC reported 1Q 2020 smartphone unit shipments were down 11.7% from a year ago. Although many experts expect weak smartphone demand in 2020, sales could be driven by increased use of video communication. Just as businesses are using video conferencing on PCs to increase communication among remote employees, households are increasingly using video over smartphones to communicate with family and friends they cannot visit in person. This increased use of video may prompt many to upgrade their smartphones.
1st quarter 2020 electronics declines were primarily due to supply issues. China electronics production was down significantly in January and February as China shut down much of the country in an effort to contain COVID-19. January and February 2020 China electronics production value in yuan was down 13.8% from a year ago. Unit production of PCs was down 29% and mobile phone unit production was down 41%. China production value has since recovered, with March up 9.9% from a year ago and April up 11.8%. PC unit production was up 29% in April versus a year ago. Mobile phone unit production has yet to return to previous levels, with April down 26% from a year ago.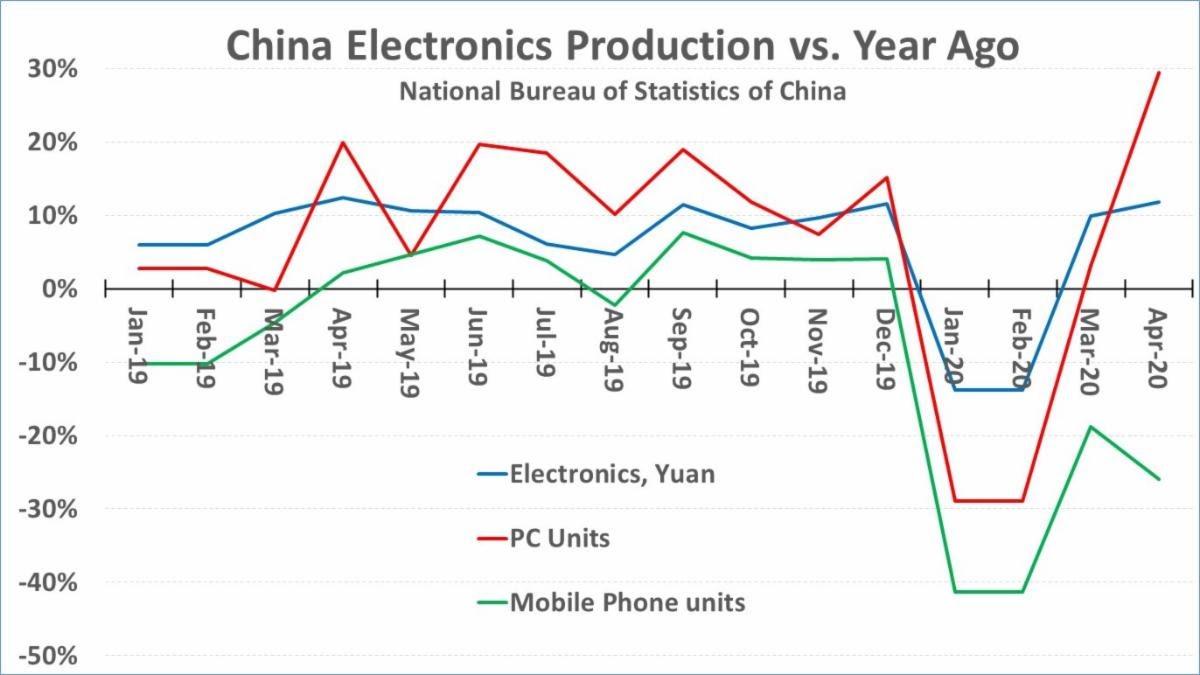 Electronics markets for the remainder of 2020 will be driven by demand. For the second quarter, most of the world was under stay-at-home orders (or recommendations) for the month of April. Many countries are beginning to open up in May and continuing into June. Economic activity should continue to pick up in 3Q 2020 and 4Q 2020 barring a significant reemergence of COVID-19. 2021 should be a strong growth year as the economy returns closer to normal and pent-up demand drives increased spending by consumers and businesses.
Recent forecasts for the semiconductor market in 2020 vary widely, as can be expected. The highest forecast is 7.6% growth from the Cowan LRA model. The Cowan model is based on historical trends and does not take into account current events such as COVID-19. Omdia expects 2.5% growth. Gartner expects a decline of only 0.9%. McKinsey calls for a decline of 5% to 15% (with a -10% midpoint). IBS is the most pessimistic at an 11.7% decline. IC Insights and IDC each project a decline of about 4%. Our latest forecast from Semiconductor Intelligence is a 6% decline in 2020.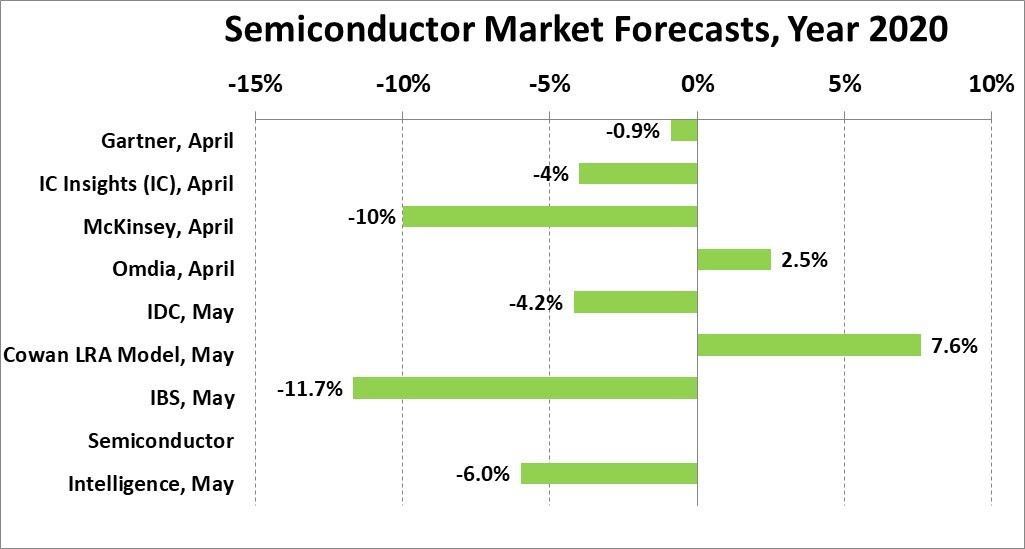 The memory market remains the one bright spot in the semiconductor market in 2020. Gartner expects memory to grow 14%. Gartner forecast a 6% decline in semiconductors excluding memory, compared to a 0.9% decline for total semiconductors. Omdia also see memory driving grow, with its 2.5% growth forecast for semiconductors dropping to a 5% decline excluding memory.
A precedent exists for a V-shaped recovery for the semiconductor market. At the beginning of the great recession in 2008, the semiconductor market dropped sharply with a 24% quarter-to-quarter decline in 4Q 2008 and a 16% decline in 1Q 2009. The severe economic contraction led electronics manufacturers to cut inventories in preparation for a potential severe drop in demand. As it turned out, electronics markets did not see a major impact from the recession. PC units grew 5% in 2009. Mobile phone units dropped 3% in 2009, but the newly emerging smartphone market was a booming. The semiconductor market had a steep recovery, with 20% quarter-to-quarter growth in 2Q 2009 and 3Q 2009. By 4Q 2009 the market was basically back to pre-recession levels.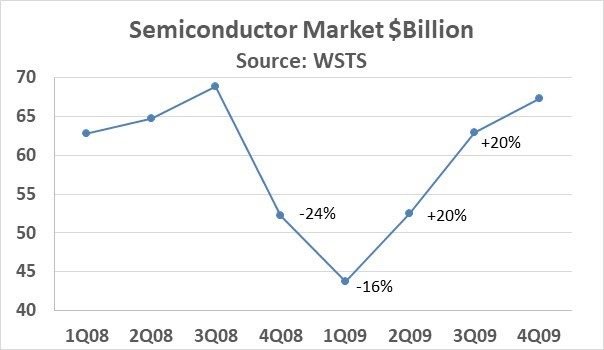 Our Semiconductor Intelligence forecast is more of a U-shape than a V-shape. A sharp drop in 2Q 2020 should be followed by a relatively stagnant market in 3Q and 4Q 2020. Growth is expected to pick up in the first half of 2021. We expect the semiconductor market will grow 10% to 15% in 2021.
Also Read:
Semiconductor Recovery in 2020?
Share this post via: