The threat of COVID-19 (coronavirus) is continuing to spread. As of March 17, the World Health Organization (WHO) reported 179,111 confirmed cases and 7,426 deaths. WHO declared COVID-19 a pandemic as of March 11. Many countries have imposed severe restrictions to slow the spread of the disease, ranging from banning of large gatherings to near-total lockdowns.
According to Digitimes, the top five notebook computer brands (HP, Lenovo, Dell, ASUS and Apple) saw combined shipments in February 2020 drop 40% from January and drop 38% from a year ago. Digitimes also reported electronics production in China is quickly returning towards normal. However, production declines were steep in the first two months of the year. The National Bureau of Statistics of China reported combined January and February 2020 production of mobile phone units was down 34% from a year ago. The total value of Chinese industrial production in January and February was down 13.5% from a year ago.
What will be the effects of COVID-19 on the global economy, and more specifically electronics and semiconductors? It is too early to tell. Much depends on how quickly the disease can be contained and when life for most people can return to relatively normal. Regarding electronics and semiconductors, the two key factors are supply and demand. Supply has been severely disrupted in the short term. Even as China moves back toward more normal production levels, many other countries have severe restrictions which could impact electronics production – including Italy, Germany, France, the U.S., South Korea and Japan. Some factories are closed. Others have reduced staffing levels as employees self-quarantine or stay home to take care of children whose schools are closed. Even if COVID-19 is contained by the end of June, production in the second half of the year will not be fully able to compensate for lost production in the first half.
The demand side is a different story. Certainly, many households will see a reduction in income due to lost workdays. Other households with employees working from home and those with sick leave to cover lost work time will not see a reduction in income. These households could have more discretionary income (income after taxes and necessities) than previously. Many restaurants, bars, movie theaters and other entertainment venues are closed. Many clothing stores are closed. Travel for pleasure is severely curtailed. With spending on these areas severely cut back, households will have more discretionary funds. Much of this extra money will be saved due to the current economic uncertainty. However, some of the money will be available to spend on durable goods such as electronics.
An interesting case is the trend in the United States after the terrorist attacks on September 11, 2001 (9/11). After the attacks, air travel was severely disrupted. The International Air Transport Association estimated air travel demand was down by over 31% in the five months following the attacks. Much of the money people would have spent on air travel and other vacation expenses was spent on consumer goods.
The chart below shows U.S. personal consumption expenditures change versus a year ago from 1Q 2001 through 2Q 2002 using data from the U.S. Bureau of Economic Analysis (BEA). The U.S. was in a recession from March 2001 through November 2001 primarily due to the collapse of the internet bubble. Electronics showed slower growth or declined. PCs and peripherals went from growth in 2000 to declines in 2001. Communications equipment (including mobile phones) and televisions went from double digit growth in 2000 to single digit growth in 2001. However, a shift is apparent beginning in 4Q 2001, the first full quarter after the 9/11 attacks. Air transportation expenditures, already declining in 2Q 2001, declined 28% versus a year ago in 4Q 2001. Expenditures on hotels and motels followed a similar trend. Consumers shifted their spending toward automobiles and electronics. New auto expenditures, which had been in a year on year decline since 4Q 2000, jumped 20% in 4Q 2001. Communications equipment and televisions accelerated from 4% growth in 3Q 2001 to 10% and 8% growth respectively in 4Q 2001. PCs and peripherals were in decline for the first three quarters of 2001. In 4Q 2001 the rate of decline slowed and positive growth returned in 1Q 2002.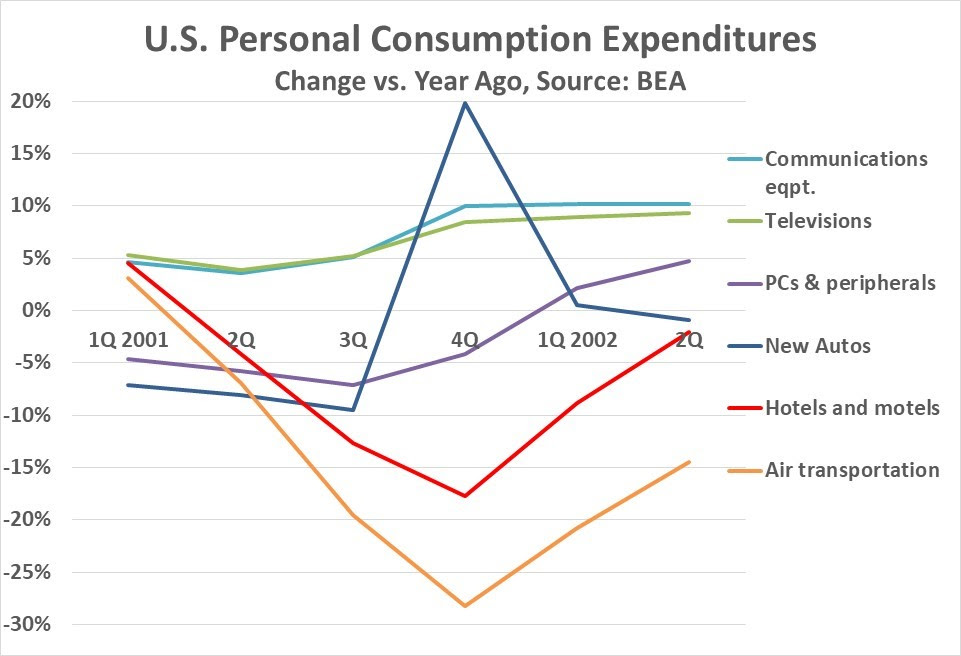 The trend in spending is also confirmed by the change in 4Q 2001 versus 3Q 2001. The numbers are seasonally adjusted, so 4Q seasonal trends are taken out. The change in consumer expenditures from 3Q 2001 to 4Q 2001 was 26% for new automobiles, 5.3% for communications equipment, 4.4% for televisions, and 2.2% for PCs and peripherals. Total consumer expenditures were up 1.6%. Meanwhile air transportation was down 9% and expenditures for hotels and motels were down 6%.
During the internet boom, the world semiconductor market peaked at $55.3 billion in 3Q 2000, according to World Semiconductor Trade Statistics (WSTS). The market fell to $30.6 billion in 3Q 2001, a 45% decline. The 4Q 2001 market was basically flat with 3Q at $30.5 billion. Quarter to quarter growth returned in 2002, with 4Q 2002 up 23% from a year earlier. The recovery in the semiconductor market coincides with the electronics boom in the U.S. in 4Q 2001. Other factors also drove the semiconductor recovery, but the post 9/11 strong growth in electronics and automobile spending was certainly a major contributor.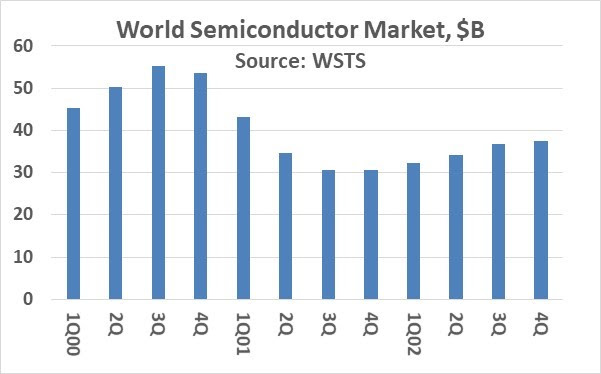 Could a similar trend result when the world economy begins to recover from COVID-19? It is certainly a possibility. Even when the risks of infection decrease, people will still be reluctant to travel. Fear of COVID-19 may also delay returns to restaurants and entertainment venues. People could spend more of their money on electronics, most of which can be enjoyed in the safety of the home.
Electronics and semiconductors will certainly see significant declines in the first half of 2020 due to supply constraints and a falloff in demand. Assuming COVID-19 is contained by the end of 2Q 2020, supply and demand should return to normal levels. As mentioned above, demand could possibly exceed normal levels in the second half of 2020. In February, we at Semiconductor Intelligence forecast 2020 semiconductor market growth of 7%. With the current uncertainty, we are not ready to offer a new forecast, but 2020 will most likely be a year of decline as was 2019.
Also Read:
Semiconductor Recovery in 2020?
CES 2020: still no flying cars
Share this post via: