September WSTS data shows the 3Q 2012 semiconductor market increased 1.8% from 2Q 2012. The year 2012 semiconductor market will certainly show a decline. 4Q 2012 would need to grow 11% to result in positive growth for 2012. The outlook for key semiconductor companies points to a 4Q 2012 roughly flat with 3Q 2012. The table below shows the midpoint of revenue guidance for 4Q 2012 versus 3Q 2012.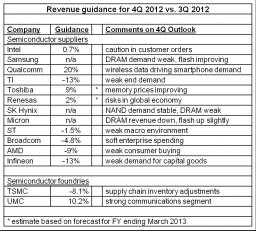 Guidance for 4Q 2012 varies widely, from double digit declines from TI and Infineon to a 20% increase from Qualcomm. Most companies expect a flat to down 4Q 2012. The companies generally expect weak end market demand in 4Q, with the possible exception of mobile communications. We at Semiconductor Intelligence are forecasting the 4Q 2012 semiconductor market will be up 0.5% from 3Q 2012, driving a 2.5% decline for year 2012.
What is the outlook for 2013? The overall economic outlook is uncertain. The latest forecast from the International Monetary Fund (IMF) calls for worldwide GDP growth of 3.6% in 2013, a slight improvement from 3.3% in 2012. The advanced economies are expected to grow 1.5% in 2013, up from 1.3% in 2012. The IMF expects the Euro Zone to begin a slow recovery from the downturn caused by the debt crisis. Emerging and developing economies will be the major growth drivers with 5.6% growth in 2013. China GDP growth should increase slightly in 2013 after slowing in 2011 and 2012.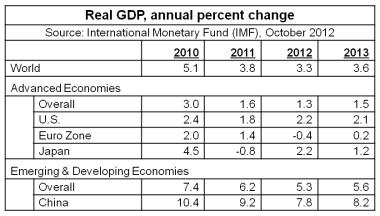 We at Semiconductor Intelligence have developed a forecast model based on GDP. Since semiconductors are at the low end of the electronics food chain, the market tends to follow the acceleration or deceleration of GDP growth rather than the rate of GDP growth. The 0.3 percentage point acceleration in GDP growth from 2012 to 2013 indicates 2013 semiconductor market growth of around 8% to 10%.

The electronics market outlook is mixed. Business and consumer spending on PCs is weak. However smartphones and media tablets are continuing to show healthy growth. Inventory adjustments are being made in the semiconductor supply chain. Thus the semiconductor market should turn up quickly when end demand picks up. Based on these factors, we at Semiconductor Intelligence are forecasting 9% growth in the semiconductor market in 2013. The chart below compares our forecast with other recent forecasts.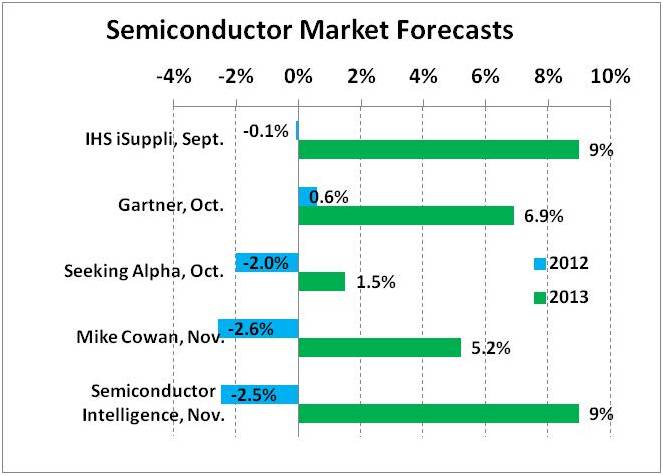 Share this post via: