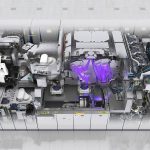 A "Logic Lead" recovery confirmed- Memory still mired, 3400C = "Third times a charm". EUV finally accelerates as all ducks now in a row.
ASML posted a good quarter with great orders and capped off with a strong outlook for the current quarter.  Logic demand is sparking a recovery while memory remains essentially dead in the water.
ASML reported EUR2.6B in sales and EUR1.13EPS easily beating street earnings estimates even though revenue was in line. More importantly, guidance is for Q3 revenues of EUR3.0B with GM of 43-44%. Logic was a strong 61% of business, doubling from earlier levels. Memory demand which was expected to be down 20% is now expected to be down 30%.  Bookings were EUR2.8B and 10 EUV systems. Two thirds of bookings were for logic.
Logic comes to life first ….. Memory still dead
In our note last week, from Semicon West, we said that logic would likely lead the recovery, lead by 5G demand, while memory will remain dead for the foreseeable future. That is exactly what ASML said today.  ASML's report is proof of our view of a different kind of recovery and a new normal of weaker memory.
ASML said that memory is now expected to be down 30% rather than the earlier 20% which suggests it may get worse before it gets better.
We had suggested that 5G would be the tip of the spear of a logic lead recovery and ASML also pointed out 5G as the driver of new technology nodes. (maybe ASML is reading our notes…)
3400C – Alpha, Beta now "production"….
"Third times a Charm"
We think that aside from the view that EUV is finally accelerating in the market, ASML finally, coincidentally has a tool thats truly ready for prime time and that is the 3400C.
The first 3400 version was likely more of an "alpha" stage tool, followed by an improved "beta" tool and now the 3400C has incorporated many fixes and improvements that make it a true "production" tool that customers can use in high volume production.  The increase in orders seems to support this view and customers we have spoken to seem to view the 3400C as a production ready tool that has key, needed improvements.  Its likely that this version could turn out to be a big seller.
It seems to us that EUV now has most all of its ducks in a row to accelerate into production.  This does not mean that there isn't a ton of work still to be done but we think its safe to plow ahead and go into full production as we are past the point of no return.
A longer, deeper, memory downturn???
We think there is one very key piece of evidence that points to a deeper and different memory down cycle compared to prior down cycles.  In prior downturns, memory makers just idled in place, turning out chips waiting until demand picked up to suck up excess capacity and restore the supply/demand imbalance thus restoring pricing.
This cycle is very different in that memory makers are actively cutting wafer starts to artificially reduce supply to try to bring back a supply/demand balance rather than hope that demand recovers.
This means that memory makers will have a lot of idle semiconductor equipment sitting in their fabs turned off, wafer for memory demand to get back in balance.  It also means that memory makers will have a lot of excess capacity sitting off line that can be brought on line very quickly which could further dampen a recovery.  It also means that it will take, much, much longer for memory makers to start buying capacity related tools as they already are sitting on idle tools.  We would point out that this is not necessarily true of litho purchases as litho purchases are technology driven, not capacity driven as the memory industry looks at transitioning to EUV at some point in the future unrelated to the glut in capacity.
Winners are different in a logic led recovery
As we clearly pointed out in last weeks note, a logic led recovery does not equally raise all boats in the semiconductor equipment industry. Lam is the poster child of the memory industry spending spree, followed not too far behind by Applied.  ASML is clearly the leading indicator of logic as EUV isn't currently used in memory (even though ASML still sells a lot of DUV tools into memory). KLA has historically been a logic/foundry house that closely follows the litho lead into new geometries.
Just as important we would point out the timing differences.  ASML has lead times of up to 18 months on EUV systems while process equipment makers tend to be a "turns" business. This means that the orders being seen currently by ASML may not be seen by Lam or Applied for another year, until the litho systems get installed and working.  KLA will likely slightly lag ASML tools as KLA also has longer lead times and you need to get your process worked out before you order a lot of process tools to fill out the fab.
The bottom line is that this early ASML, logic driven recovery does not immediately translate into better business for all in the equipment industry….but its not a bad omen…its a good start.
The stocks
We think this news is more ASML specific but will obviously have some positive collateral impact across the chip sector. The good ASML news is coupled with the somber fact that memory still sucks and the Sword of Damocles that is China trade is still swinging over the industry's heads.  Given that 5G is both at the center of the logic recovery and the center of the Huawei dispute makes for an interesting dynamic.
In general, we would want to be long ASML and KLAC while potentially flat or short LRCX and AMAT. This could be an interesting "pair trade".  ASML said in essence that their view of memory had deteriorated from down 20% to down 30% and that type of report would certainly be a net negative for AMAT and LRCX in their upcoming earnings.
Share this post via: