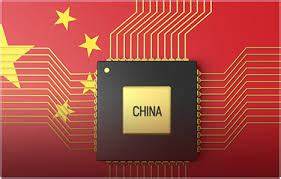 LRCX has OK QTR but "challenging outlook" – Memory still sucks
China at 48% is a huge risk given potential of more sanctions
Leading & trailing logic both poor- no recovery in sight yet
Memory spending at historical lows for NAND
Quarter came in OK but outlook seems weak and unclear
Revenues came in at $3.48B (of which $1.43B was service so equipment sales hit a low of $2B) with EPS of $6.85. We are still way down from the year ago revenue of $5.07B and seem to be bouncing along the bottom of business.
WFE spend for the year is estimated at roughly $80B.
Guidance is for $3.7B +- $300M and EPS of $7.00 +- $0.75, in line with expectations.
Lam is very reliant on China at 48% of revenues & would/could be toast without it
At roughly half of Lam's business, up from 30% of business, China is a huge risk in our view. With unclear new sanctions and continued poor relations with China having half your semiconductor business there is just not a tolerable risk.
Without China, Lam would be in sad shape….its the only sector working for them right now.
We think this clearly warrants a discount on the value of the company as right now they appear to have the highest exposure in the semiconductor space to China.
It doesn't sound like December is going to be much different and this is not a one quarter aberration.
R&D spending headwind in 2024?
Management also issued a somewhat veiled warning that R&D spend will be strong in 2024 and could negatively impact financials. This seems an odd warning as R&D typically has been increasing across the industry so we wonder if there is some unusual spend anticipated or if R&D as a percentage will be up due to weaker revenues?
No talk or idea about timing of a recovery
As we have pointed out in prior notes there are no real signs of any sort of a recovery on the horizon. Management did not offer timing or speculation about a recovery and the lack of commentary itself may add to the uncertainty on the part of investors.
Memory is clearly in the deepest hole and will be the slowest to recover but we also have no idea about logic/foundry.
The company stayed away from any prognostication about 2024 other than spending more on R&D……..
Fab utilizations at record lows
Management commented that fab utilization is at historical lows which not only slows/stops new equipment and new fabs but also slows spending on service/spares & upgrades of existing installed tools.
We can confirm we have been hearing that across the board, fab utilization is very low and certainly a major concern of semiconductor producers that is keeping them fearful and up at night. This is obviously the key reason they have slowed their orders to a relative trickle.
Given the torrid spending pace of China which outstrips the rest of the planet we can't help but reiterate our concern that additional capacity coming out of China from all these tool purchases could extend the downcycle even further as China will undercut everyone else as they have in every other industry and will be able to throw gasoline on the existing bonfire of capacity and low utilization…..which in turn will inhibit further spend in onshoring to the US much as we see with slowing fab construction in the US.
In essence, selling all these tools to China will stunt growth in the US and elsewhere.
The Stock
As expected, LRCX stock was off 5% in the aftermarket given what was a less than positive conference call and outlook.
Our view is that the overexposure to China is something that we would want to avoid as an investor as the risk to that business is both unknown and highly variable.
Lam could see half its business evaporate overnight if something bad happened with China. While we certainly do not expect that to occur, the risk profile is way too high to overlook or not apply a significant discount to the company's valuation.
Its bad enough we have no idea about a general industry recovery but to add an unusually high China risk on top is a bit much.
We had indicated that collateral impact after the ASML call this morning would likely be negative and we think we heard that on the Lam call tonight. We likely expect similar uncertainty from KLAC and AMAT as they report later on in earnings season. We would imagine they will also have exposure to China and uncertainty about a recovery as well.
It could also be that investors may be getting tired of hearing from some analysts that a recovery is just around the corner or coming in the next half or trying to put a positive spin on an unending downcycle.
The bottom line is we need a broader macro recovery for semiconductors to start acting better and eventually trickle down to equipment sales. Until that happens we won't see a true recovery. AI won't do it. High bandwidth memory won't do it. The CHIPS Act won't do it. New technology won't do it. Its a lot of hand waving and ignoring the fundamental underlying issue of the macro economy and over spending in the past.
We think we are changing our long term view that Lam was the "poster child" for the memory industry into being the "poster child" for the Chinese semiconductor industry.
We would imagine that Lam has likely increased spending on lobbyists in Washington to prevent further China sanctions and perhaps on Mandarin lessons as well……..
Also Read:
ASML- Longer Deeper Downcycle finally hits lithography – Flat 2024 – Weak Memory – Bottom?
ASML- Absolutely Solid Monopoly in Lithography- Ignoring hysteria & stupidity
SPIE- EUV & Photomask conference- Anticipating high NA- Mask Size Matters- China
Share this post via: