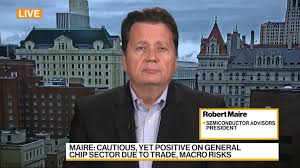 We offer private consulting services which are available to advise industry executives and investors on technology issues and related investing opportunities.
Our services include professional research analysis and expert advice on business, strategic and market planning; due diligence studies, mergers/acquisitions, capital raising, divestitures, strategic alliances, leveraged buyouts, recapitalizations, etc. Long/Short investment strategies, custom research and industry wide investment strategies.
Semiconductor Advisors offers services which often begin in the initial phases of a company's strategy, and continue through negotiation, structure and execution. We also can provide advice on corporate positioning in the public markets, including assistance in clients communications to the public markets.
We have been instrumental in transactions involving billions of dollars for the semiconductor and other technology sectors. We have been involved with a higher number and dollar volume of transactions than any other financial professional in our space.
Our work and efforts have helped the growth of the industry with IPOs such as ASML, Agilent, Sandisk, Cymer, MKS Instruments, Rudolph Technologies and many others.
We have played a central role in raising billions of dollars of both public and private equity for many companies raning from venture capital start ups to large public companies including Applied Materials, KLA Tencor, Veeco, Sanmina, ASE Test.
Our analysis, guidance and advice has been crucial to billions of dollars of highly strategic mergers and acquisitions. We have provided help and guidance to those companies directly involved as well as investors analyzing those transactions.
Our research has been cited by the Wall Street Journal and Institutional Investor Magazine. We are routinely quoted in Barrons, Investors Business Daily and many media outlets in both the financial and technology sectors.
"SemiWatch", our flagship technology research newsletter has thousands of subscribers and is highly followed by both the industry participants and investors.
Our history and deep relationships spans over 25 years on Wall Street in the technology industry, working with companies both large and small. Those who know us know of our reputation for direct, unbiased, unfiltered advice which is far from the standard Wall Street, biased, highly filtered, drivel. We are well known for our independent and differentiated viewpoint.
Robert Maire
Share this post via: