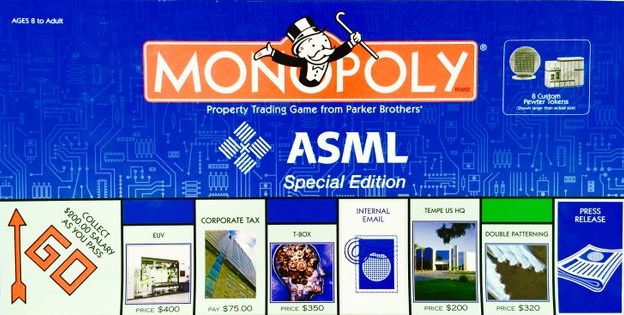 ASML reports in-line QTR but future looks flat for 2024
Downcycle finally hits litho leader- ASML monopoly solid as ever
Memory remains bleak – New China sanctions unclear
Recovery timing is unclear but planning for an up 2025
In Line Quarter and year as expected
Overall revenues came in at Euro6.7B with EPS at Euro4.81, more or less in line with guidance and expectations. The company appears on track for its previously guided 30% growth in 2023 over 2022.
The obvious issue was that orders were down (-42%) significantly to Euro 2.6B with only Euro0.5B in EUV bookings which suggest weakness at leading edge and sustaining business at trailing technology.
Overall the company is looking at a flat 2024 over 2023……..
Length & Depth of downturn confirmed as it finally hits ASML
In the many years we have followed the semiconductor industry, it has always been the case that lithography tools were the last to be canceled/slowed while most other tools saw an immediate impact.
If the current downcycle were a year or less or limited to just the memory sector, its likely that ASML would have skated over the downcycle without impact while others got hit.
The length and depth of the current downturn is much deeper and longer than most previous cycles and thus has finally caught up with ASML. Customers are obviously less concerned about canceling and delaying orders as they are getting off the order queue that usually lasts well over a year. They are likely more confident that they will be able to get the tools whenever the recovery actually recovers.
This also seems to suggest that the recovery cycle will be longer and slower than prior recoveries otherwise customers would want to have equipment to be ready, and wouldn't slow ASML orders.
A three or four year downcycle?
The downcycle started in the spring of 2022. If we assume that we are coming close to a bottom at the end of 2023 (as ASML suggests) we have spent the last year and nine months on the way down to the bottom.
If we assume a slow recovery (which already seems indicated) we won't see a recovery back to prior levels until some time in 2025 (at best).
That would peg the current downcycle at 3 to 4 years making it one of the worst overall.
We were more negative than most every analyst going into the downturn and unfortunately we have been proven correct at the length and depth even though we had hoped to be wrong.
Monopoly remains solid
Despite recent hysteria and bad information there is no threat to ASML's position on the horizon whatsoever.
The primary threat remains market health and demand. Sanctions are a secondary threat but less impactful than demand related issues.
China sanctions initially sound less impactful
Although ASML is still reading recently released sanctions from the US to figure out the impact, it appears at first blush that the impact is less than what could have otherwise been.
It looks like enough ARFi tools will be shipped into China to help out ASML's revenues while "bad actors" in China will still be on the "verboten" list.
Final export licenses and approvals remain to be seen but so far "draconian" sanctions appear to be off the table.
Looks like Gina took the slap in the face and didn't respond as much as could have been, showing restraint. Maybe Biden wants to have a better meeting with Xi.
High NA likely to be a bright spot in 2024
The roll out of High NA tools at the end of 2023 and going into 2024 is likely to be a significant portion of business and new orders when the industry does actually start to recover probably in 2025.
Importantly the company has not cut back on R&D or leading technology efforts as it represents the future of the company.
We think orders and revenues on High NA tools will be one of the things that elevates ASML out of the downturn faster than others in the industry.
At $400M or so a pop, it doesn't take a lot of orders to add up to real money.
Timing of CHIPS Act & fab construction just sucks
Unfortunately the last thing you want to do in an oversupply based downcycle is build more capacity……
The CHIPS act aims to do just that…..All the new fabs announced in the US, if brought on line in the previously expected timeline would tank the industry again.
Its quite clear that delays TSMC Arizona, Intel and others are more due to the current oversupply/downcycle than any other issue.
We would expect at least a 2-3 year delay if not more, of many of these projects. Chip companies are simply not stupid enough to spend money on new capacity when they are already swimming in it.
This is obviously unfortunate as it delays the US reshoring effort and dependence on Asia remains without a reasonable solution…..
The Stock
As expected, a longer cycle that has impacted ASML's 2024 will weigh down the stock as no growth in 2024 over 2023 is clearly disappointing.
However, the longer term remains strong. ASML's position remains strong. Not much has changed about the overall dynamics of the semiconductor industry.
We do see collateral damage to other chip equipment stocks as the length of the downcycle impacts others more so than ASML.
We will likely hear more of that through the rest of earnings season….
Most other chip equipment makers will likely try to put a good face on it but the reality is that this is a longer than expected and worse downturn.
When even ASML catches a cold the rest of the equipment makers catch pneumonia….
About Semiconductor Advisors LLC
Semiconductor Advisors is an RIA (a Registered Investment Advisor),
specializing in technology companies with particular emphasis on semiconductor and semiconductor equipment companies.
We have been covering the space longer and been involved with more transactions than any other financial professional in the space.
We provide research, consulting and advisory services on strategic and financial matters to both industry participants as well as investors.
We offer expert, intelligent, balanced research and advice. Our opinions are very direct and honest and offer an unbiased view as compared to other sources.
Also Read:
ASML- Absolutely Solid Monopoly in Lithography- Ignoring hysteria & stupidity
SPIE- EUV & Photomask conference- Anticipating high NA- Mask Size Matters- China
Micron Chip & Memory Down Cycle – It Ain't Over Til it's Over Maybe Longer and Deeper
Share this post via: