Today, IoT devices are available in our daily life through wearable, smart appliances or metering application and some prediction call for 33 billion connected objects, 25 billion being IoT by 2020 (Gartner, 2014). Being very synthetic, IoT device (smart appliance or wearable object) will be wirelessly and securely connected to a "server" (smartphone, PC or else) itself connected to the cloud. By the way, we can expect most of the added value to come from cloud located services, but this scenario appears anyway to be an outstanding opportunity for the semi ecosystem. Building these 20+ billion devices will necessarily generate upside revenue. We think that these devices will have to be secured, extremely low-power… and low-cost. IoT has to be secured because hackers should absolutely not be allowed to meddle in the system. Low-cost to allow an adoption rate as fast as predicted and low-power as the user will not accept to change or charge the battery every day, or even every week (except maybe for wearable). In fact, the development of IoT systems could lead to revolutionary change in H/W and S/W design practice, similar to mobile phone explosion pushing to design incredibly more power efficient SoC in the 2000's.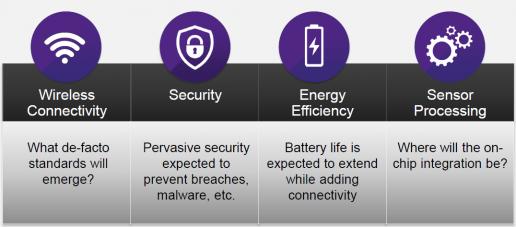 This sounds theory, but the recent launch by Synopsys of Silicon proven IP platform on TSMC 40ULP to support IoT designs is a real case. If you look at the IP market landscape, ARM is the undisputed #1, but only addresses CPU and GPU. By opposition, Synopsys ( #2) supports foundation IP (logic libraries, memory compilers), Non-Volatile Memory (NVM), Data Converters (ADC, DAC) IP, the long list of interface IP (USB, PCIe, DDRn, LPDDRn, SATA, HDMI, MIPI, Ethernet…) and wireless interface IP with BLE solution coming from Silicon Vision acquisition. Synopsys is leader on every IP segment, except CPU/GPU and NVM, and the company can support a complete SoC or ASIC design. Noblesse oblige, the IP vendor had to be the first to port these IP to ultra-low power processes (55nm and 40nm). In fact, more than a simple porting, Synopsys has re-architected and optimized most of these IP for smaller area, low voltage and lower power to propose energy efficient IP.
To support wireless connectivity, Synopsys has bet that Bluetooth Low Energy (BLE) will be the preferred protocol integrated in IoT systems. This sound like a wise choice to support systems developed today, as WiFi appears to be too power hungry and mesh network like ZigBee too advanced (but this may change as Bluetooth SIG plan to add mesh capability). This picture illustrate a Bluetooth (BLE supporting 4.0, 4.1 and 4.2) demo board on 55 nm.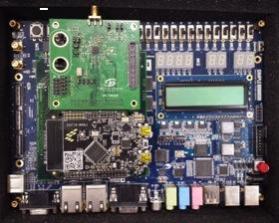 Security is more than a concern for IoT… it's a requirement! "As it's increasingly important to secure devices against the growing number of data breaches and malicious attacks, IP providers need to stay ahead of the security standards," said John Koeter, vice president of marketing for IP and Prototyping at Synopsys. Security must be addressed at different levels for IoT, from Firmware integrity assurance, secure bootstrap, ID and authorization and cryptography IP. Synopsys has just announced the industry's first security IP solutions compliant to the Secure Hash Algorithm-3 (SHA-3) cryptographic standard to enable developers to protect the integrity of electronic information in applications such as message authentication and digital signatures, random number generation and key derivation functions.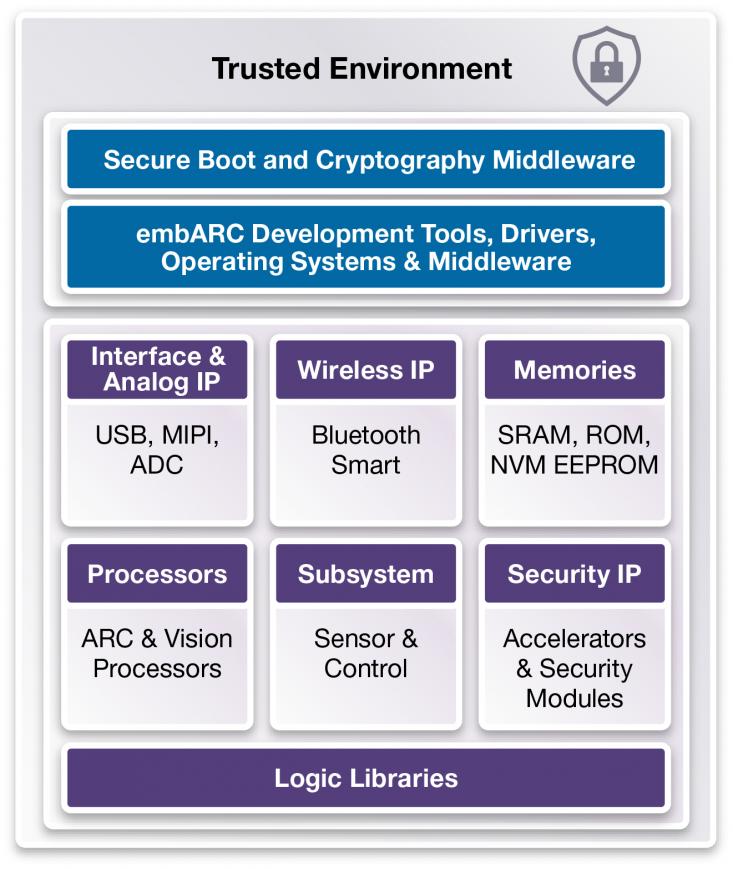 Last but not least, you can expect IoT device to be equipped with sensors capturing data from the real world and you need controlling these sensors and processing data. SoC architect can rely on a complete set of power optimized IP, as above described, and on ARC based sensor & IP control subsystem, to support always-on processing required for sensor fusion and voice recognition applications. ARC EM4 is buss-less architected and hardware accelerators help again decreasing the global processing power consumption. Sensor processing at low cost (low area), optimized for low power is the last piece of the winning puzzle to address IoT application, with energy efficient set of IP, security IP (SHA-2, SHA-3) and modules and wireless connectivity (BLE 4.0, 4.1 and 4.2).
From Eric Esteve from IPNEST
Share this post via: