Hard to believe a year has gone by since the big announcement of the Cadence Blueprint toBattle 'Profitability Gap'; Counters Semiconductor Industry's Greatest Threat! Having spent more time on it that I should have, here is my opinion on EDA360 on its first anniversary.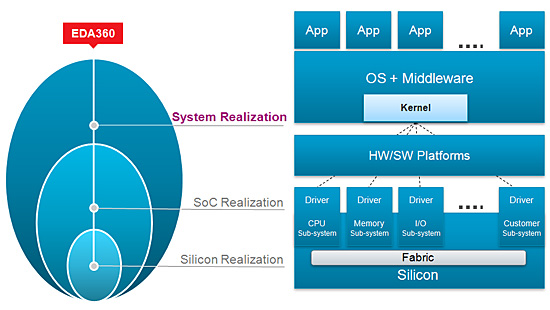 Richard Georing did a very nice anniversary piece "Ten Key Ideas Behind EDA360 – A Revisit" which is here. Points 1-9 are a good description of what Synopsys and Mentor already do today but they call it revenue instead of a vision. Point 10 is something that I have to take exception with due to the absurdity.
10.No one company or type of company can provide all the capabilities needed for the next era of design. EDA360 requires a collaborative ecosystem including EDA vendors, embedded software providers, IP providers, foundries, and customers.Cadence is committed to building and participating in that ecosystem…..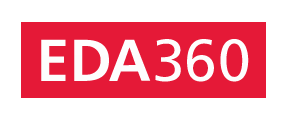 Lets not forget when Cadence announced EDA360 they productized it immediately:
SAN JOSE,Calif.,27 Apr 2010
Cadence Design Systems, Inc. (NASDAQ: CDNS), the global leader in EDA360, today laid out a new vision for the semiconductor industry, EDA360.

The only companies that are going to "collaborate" on EDA360 are companies that want to be acquired by the "Global Leader in EDA360". Most of the semiconductor professionals that I mentioned EDA360 to laughed out loud. EDA can't even spell the word collaboration nor will they follow the Global Leader in EDA360down the collaboration bunny trail.
A video of the panel I did on "Enabling the Collaboration Across the Ecosystem to Deliver Maximum Innovation"at the Design Tech Forum can be found in the Wikihere. Executives from Cadence, Synopsys, Mentor, eSilicon, and GlobalFoundries were there and not one mention of EDA360.
I also took issue with them calling it a manifesto in my blog Cadence EDA360 Manifesto and questioned John Bruggeman's social media savvy since he thinks LinkedIn is only for job searching. His Blog (Official doorway into the life and mind of JohnB) and Twitter (@JohnBruggeman) accounts were brand new. Both have since been abandoned but read the handful of blogs and comments, they are pretty funny. JohnB also does not see the value in a crowd sourcing social media platform like SemiWiki.com. Luckily thousands and thousands of semiconductor professionals around the world do not agree with JohnB.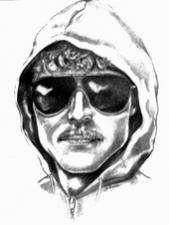 Another problem I have with EDA360is the fear, uncertainty, and doubt (FUD) it attempts. For example, it argues that Moore's law hit a wall due to rising development costs? FUD is a standard EDA tool to baffle customers and build a value proposition where none currently exists, so nothing new there.
On the positive side, I think EDA360 is an excellent road map for Cadence. The company seems to have focus and hopefully EDA360 products will continue to be developed and deployed. The one year anniversary is paper by the way, thus the title. Just my opinion of course. Share yours in the comment section and I will make sure JohnB gets them.
*Note: to read/write comments you must log in.
Share this post via: