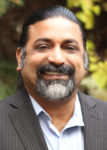 In this interview we talk with Sam Mahalingam, chief technology officer at Altair, about gaining a competitive edge with software that's built to handle high-throughput workloads like chip design and electronic design automation (EDA). Altair is a global technology company providing solutions in product development, high-performance computing (HPC), and data analytics.
Where does Altair fit into the semiconductor industry?
A competitive edge in this industry can come down to a very slim margin: seconds or even milliseconds. The goal is to enable users to iterate more designs in less time, and ultimately reach market first with a superior product. Our software is designed to make that possible. When you're not getting as much value as you should from your infrastructure, not optimizing where it's possible, the long-term cost of missed opportunities can be high.
A big challenge is that every step of design exploration and verification involves a complex set of variables, each requiring time to analyze both individually and in terms of its interaction with other variables. It's not unusual for engineering teams to run millions of jobs each day, so the ability to achieve maximum throughput means a team can test as many variables as possible and be less likely to miss a crucial interaction that will affect the final product.
Altair software designed expressly for high-throughput workloads in areas like semiconductor design includes the Altair Accelerator™ enterprise job scheduler, Altair Allocator™ multi-site license allocation and management tool, and Altair Accelerator Plus hyper-scheduler.
How does hyper-scheduling boost efficiency?
Hyper-schedulers, or hierarchical schedulers, like Altair Accelerator Plus are built to offload the base scheduler for greater throughput, better utilization, and flexible usage models. Millisecond dispatch latency is important for short jobs, which users can queue sequentially on their own. When a batch of jobs is presented as one larger job, it reduces the burden on the lower-level scheduler while maintaining visibility into each individual job.
A hierarchical scheduler can also handle user query, job submission, and reporting functions, which is a substantial offload from the base scheduler since 80% of typical scheduler loads come from these non-dispatch functions.
What's your take on cloud technology for chip design and EDA?
Today's cloud technology has broken down barriers like cost, latency, and security concerns. The cloud is scalable and elastic, and it's an attractive option for chip designers and EDA engineers. Major cloud providers including Google Cloud, Amazon Web Services, Oracle Cloud Interface, and Microsoft Azure make it possible for businesses of any size to access powerful resources without the need to own and maintain their own data centers.
Scheduling technology like Altair Accelerator enables users to optimize performance, match cloud expenditure to actual compute demand, and let teams shift seamlessly between cloud and on-premises environments with flexible, demand-based license allocation tools. When demand stops, on-demand cloud resources scale right back to zero.
Accelerator is storage-aware, meaning that it modulates running jobs based on filer latency. Accounting for latency experienced by the filer can dramatically accelerate scheduling speed in the cloud. Altair customers have seen up to 10 times increased acceleration with storage-aware scheduling. We also have a useful tool we call Rapid Scaling that can be used for cost optimization.
Tell us more about Rapid Scaling.
Rapid Scaling is part of the Accelerator package, an optimization tool we designed to be minimalist, configurable, and transparent. It allows users to auto-scale resources in the cloud, helping to bring the cost of cloud resources as close as possible to exact demand. Rapid Scaling looks at workload speed and determines which computing resources are critical. Users can scale based on workload speed and contain everything in a single instance, clearly showing the cost of computing.
With Rapid Scaling users can measure workload movement and respond quickly, rapidly terminate instances, and know exactly how much they're spending.
How does licensing impact workload optimization?
EDA licenses are expensive, and large companies routinely spend millions of dollars on them every year. With millions of jobs running daily, it's easy for users to get bogged down in peak-time resource queues. Not having enough licenses means lost productivity and slower progress, but an excess of licenses is a waste of money. With the right scheduling software, engineers get access to just enough licenses to get their work done without needing to absorb the cost of overprovisioning for peak demand times.
We optimize license utilization between on-premises and cloud infrastructure with Altair Allocator, based on demand at each location. Licenses are allocated between on-premises and cloud locations. This makes for efficient collaboration, even in hybrid environments. Licenses are simply moved to where the workload is.
You can learn more in this webinar, Saving Serious Money with License-first Scheduling.
About Altair (Nasdaq: ALTR)
Altair is a global technology company that provides software and cloud solutions in the areas of product development, high performance computing (HPC) and data analytics. Altair enables organizations across broad industry segments to compete more effectively in a connected world while creating a more sustainable future. To learn more, please visit www.altair.com.
Also Read:
CEO Interview: John O'Donnel of yieldHUB
CEO Interview: Deepak Kumar Tala of SmartDV
Share this post via: