When looking at the time to design and verify an SoC we've known for many years now that the verification effort requires more time than the design process. So anything that will shorten the verification effort will have the biggest impact on keeping your project on schedule.
A second trend is the amount of Analog content in a mostly Digital SoC, which further complicates the verification process because analog IP is created at the transistor level with schematics and uses a SPICE netlist for simulation.
To better understand how you can improve your next mixed-signal SoC consider attending a webinarfrom Concept Engineering and EDA Direct on July 30th where they will present how their STARvision PRO tool is used in the verification process.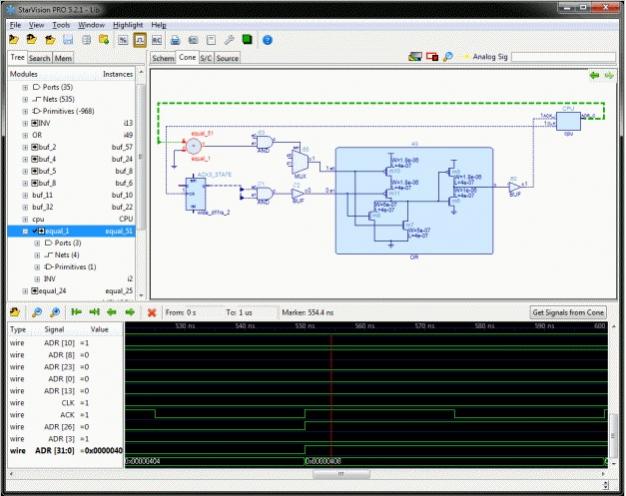 Webinar Includes
Easily understand and

integrate IP

in your next design
Generate clean schematics from

cell library

provided by foundries
Quickly debug and traverse even the largest designs
Mixed-language support for System Verilog,

Verilog, VHDL, Spice

, Spectre, DSPF, LVS

Automatically generate schematics on the fly at RTL, Gate or Transistor

level
Automatic Logic Cone Extraction

Clock Tree Analysis

Identifies

Clock Domains

and Clock crossing signals
Cross Referencing netlist to Schematics
Understand the topology and function of the circuit without having schematics

Verify connectivity

especially for multi fanin and fanout nets
ERC Checking: Floating input and output nets, heavy connected nets, etc.
Debug power/ground connectivity issues
Analyze results of LVS runs and use the automatically generated schematics from the extracted SPICE netlists with RC network

Full chip netlist tracing

(top level integration and block level)
Full access to design db using Tcl scripts
Details

When: July 30, 2013
Time: 10AM to 11AM (PDT)
Where: Online Webinar
Register: Online Here
Further Reading

Concept Engineering is a privately held company based in Freiburg, Germany, founded in 1990 to develop and market innovative schematic generation and viewing technology for use with logic synthesis, verification, circuit characterization, circuit optimization, test automation and physical design tools. The company′s customers are primarily EDA tool manufacturers (OEMs), in-house CAD tool developers and semiconductor companies. For more information see http://www.concept.de.

*lang: en_US

Share this post via: