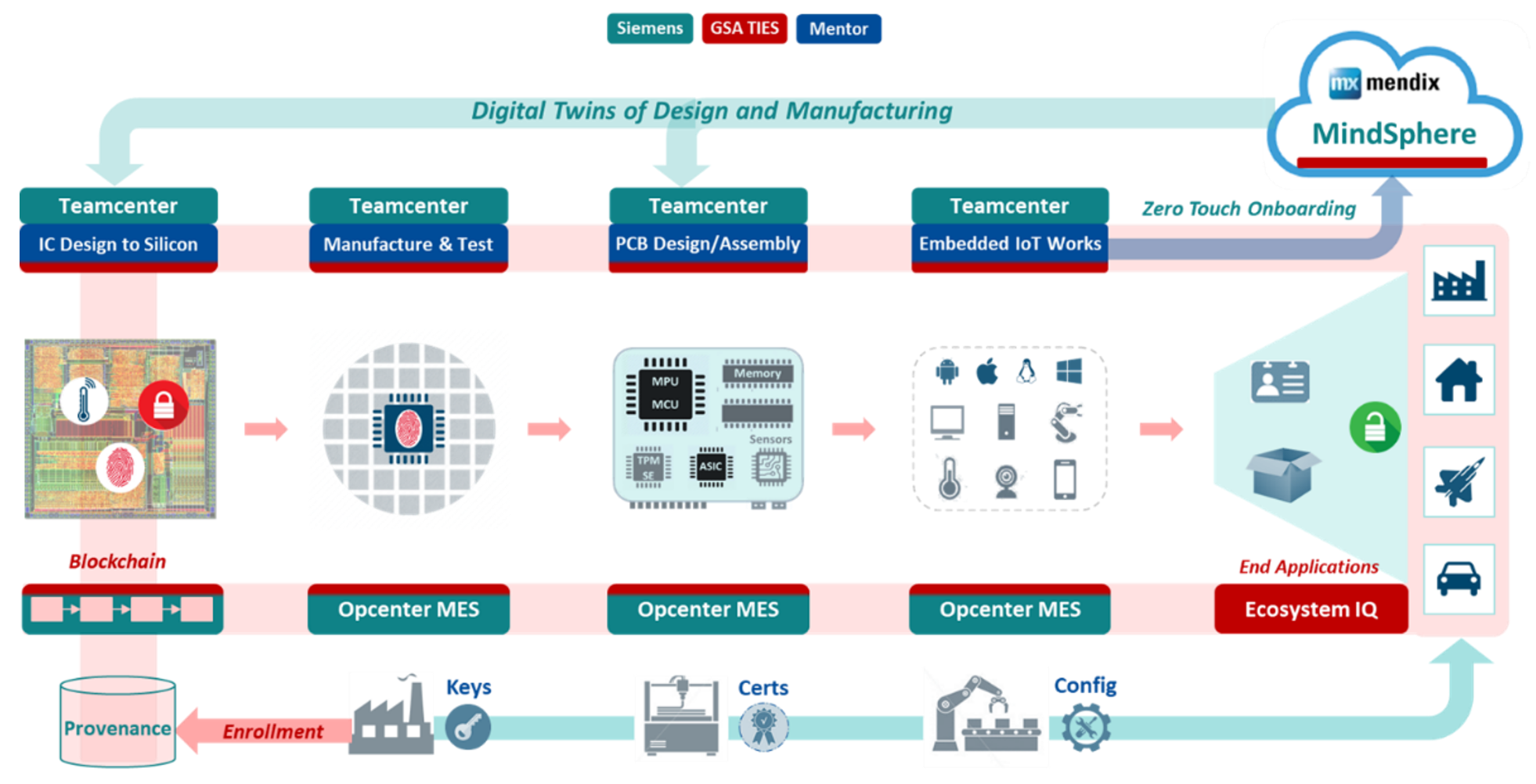 Introduction
For many years, I pondered the ultimate future of EDA. Companies such as Oracle, SAP and Dassault provide a huge array of enabling software infrastructure for the enterprise, including product design, mechanical design, project management and materials sourcing. But not for the all-important tasks of chip and system design – the tasks that enable a lot of businesses these days. When would EDA take its place as a critical part of this infrastructure?
I wasn't alone, many others weighed in with the same thoughts, and we all wondered when EDA would "grow up" and join the mainstream enterprise workflow. Back in the day a few decades ago, there were clandestine, "back room" executive meetings on the topic of integrating operating workflows, mechanical and chip design CAD (as EDA was called then). Would your Oracle salesperson now sell chip design software along with enterprise workflow software? When would the chip design, mechanical design and enterprise desktops be united?
The wait may be finally coming to an end.
Enabling Software Infrastructure
If you step back a bit, chip/system design is like any other enterprise process. There are technical innovations to achieve, schedules to meet, materials to source and a supply chain to be coordinated for final delivery. I recently dug into an ambitious program Siemens and Mentor are undertaking in the broader ecosystem. Let's examine some of the enabling software infrastructure from Siemens Digital Industries Software and its Xcelerator portfolio of software, services and apps. Note this is the part of Siemens where Mentor lives.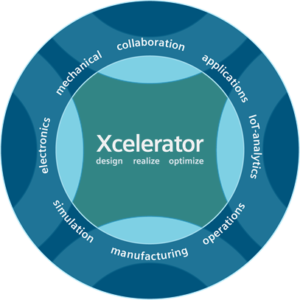 Siemens' software portfolio is all about leveraging complexity as a competitive advantage – partly achieved by the integration of different engineering domains, e.g., electronics, mechanical and software design and management. Siemens enables a Teamcenter-enabled integrated workflow called the comprehensive digital twin: a virtual representation of its real-life counterparts across both the product and production lifecycles. The comprehensive digital twin essentially integrates model-based design with feedback from the physical world to create a continuous feedback loop of product optimization. This comprehensive digital twin has three elements:
Design: of both the product, and of the production facility/factory floor where the product is created. Models of systems, sharing data across domains as appropriate, and data transferring between traditional EDA tools, such as emulators, and system-level simulation tools to solve complex challenges in the autonomous vehicle domain, for example. Now it is possible to simulate and analyze the complex interactions between electronics, software and mechanical behavior across today's smart systems.
Realize: or manufacture. Here, Siemens empowers its customers to optimize manufacturing with concepts pioneered in EDA such as design for manufacturability and design for test becoming mainstream in the industrial manufacturing world, along with Opcenter manufacturing operations management.
Optimize: The closed-loop data feedback cycle that creates ongoing product and production optimization. Cloud computing and Industrial IoT are key elements of this process: Connecting devices and machines to the IIoT through billions of sensors and analyzing their performance leads to powerful insights via the Mendix platform which can be fed back into the development process. The SoC computing power allows AI/ML to process the data generated, unlocking value in this data in unprecedented ways to deliver new value.
This collective enterprise infrastructure, combined with Mentor's portfolio, has elevated Siemens to earn a place at the table with the likes of Oracle, SAP and Dassault while helping "EDA grow up."
Siemens as a Catalyst
As part of ~$90B systems and software conglomerate, Siemens appears to be closing the gap from chip to system. What facilitates this are three key attributes:
The first is breadth of technology reach needed for delivering end-to-end secure & trusted solutions. Mentor's TrustChain Platform has been applied from chip to PCB and from device to cloud based on TrustChain collaboration with Intel and Infineon (see the previously mentioned post). By acquiring Mentor, Siemens closed the chip-to-system gap and gained access to the chip supplier ecosystem.
The second is Siemens' broad device portfolio, such as PLCs, IPCs, HMIs, and I/O modules linked to sensors, as well as their know-how in Industrial IoT.  This powerful combination of software, automation and IoT solutions enables a company to link the physical and digital worlds to evolve solutions for the digital enterprise – another example of the comprehensive digital twin that can streamline processes along the value chain. If you consider Siemens' business partners, knowledge networks and Charter of Trust alliances, there is an opportunity to evolve an industry-wide ecosystem.
The third is unified strategic intent. This started with Mentor's vision of a Platform for Secure Supply Chain and Silicon Lifecycle Management (SLM), which is being unified with the PLM portfolio of Siemens. When on-chip sensors started to emerge, Mentor advocated a Secure Internet of Chips and the GSA Trusted IoT Ecosystem for Security (TIES) role in providing use cases for SLM services in the value chain.
The Role of GSA TIES
The 250+ GSA members represent 70% of the $450B+ semiconductor industry revenues and an ecosystem providing the core of connected IoT electronics for all market segments.
With Siemens closing the gap in the value chain, monetization of IoT services by chip/system suppliers is possible if provenance of design (security of digital assets) and provenance of manufacturing (trust of physical assets) can be established and coupled with Blockchain to enable trusted services delivery. An example enabled by something like this is root-cause tracing of failures due to reliability or security issues.
This makes GSA TIES a catalyst to bring competing companies and technologies together in support of a broader, expanded ecosystem platform where hardware and software suppliers can share their information, or collective ecosystem IQ, to harness the value of IoT services from the end-application inward. GSA TIES appears to be moving this way according to its introductory presentation. And if it accomplishes this it will be a win-win for all.
Looking Forward
The graphic at the top of this post crystallizes the story. With Siemens and Mentor capabilities and GSA TIES as a catalyst, there is now an opportunity for EDA, IP, and chip suppliers to participate in a growing ecosystem in which chip delivery starts a relationship with the systems customer which in turn starts a relationship with the IoT services provider. At last, EDA takes its place as a critical part of this infrastructure.
There appears to be an opportunity for Siemens to become a platform economy company in this new connected world. Some recent changes in their management could signal that, we'll see. The collective ecosystem IQ creates services opportunities for all. According to ABI Research, there is a $460 billion IoT services market by 2026.
Imagine chips inside devices securely talking to each other as part of a massive chip-to-chip network of connected devices powering autonomous factories, planes, ships, trains, cars, drones and the global transportation and smart city infrastructures.
We're talking about IoT services enabled by trillions of connected chips. Opportunity knocks!
Also Read:
Arm Design Reviews add Mentor for Verification Review
Randomization Fools Us Some of the Time
Siemens PAVE360 Stepping Up to Digital Twins
Share this post via: