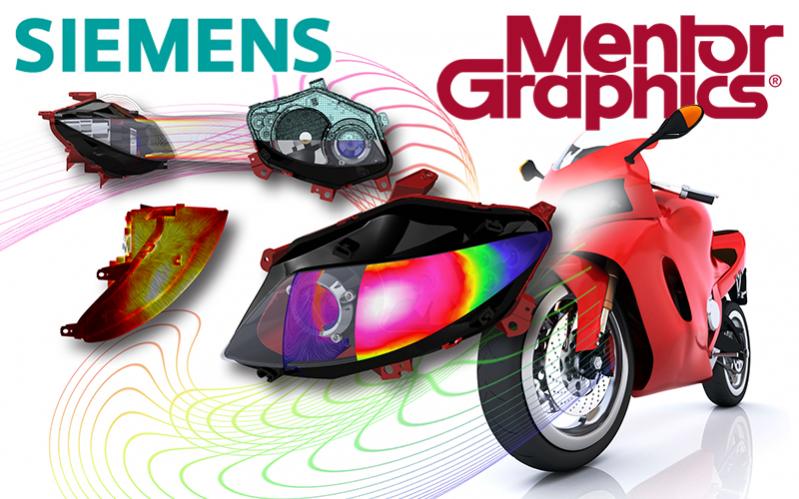 As you know I am a big fan of disruption and the Siemens acquisition of Mentor is turning out to be one of my favorite EDA disruptions. At first it was a little bit perplexing but after one short year it makes complete sense.
Siemens is acquiring Mentor as part of its Vision 2020 concept to be the Benchmark for the New Industrial Age. It's a perfect portfolio fit to further expand our digital leadership and set the pace in the industry," said Joe Kaeser, President and CEO of Siemens AG.
Just a quick example: User groups are a great source of information and customer engagement. EDA has a long history of user group meetings and I have attended more than my fair share of them. Great content, free food, excellent networking, and free food. This week is the Siemens PLM Connection user led conference in Phoenix Arizona. Last year close to 3,000 people attended from all over the world and they expect even more this year. Mentor is now part of PLM Connection and will be presenting more than 50 of the 400+ sessions. After the American PLM Connection event there will be one in Russia, China, Japan and Europe. Compare this with the hundreds of people that attend the average EDA user group and you will see what I mean by EDA disruption.
If you haven't read the Siemens Wikipedia page you should take a quick look. What an incredible 171 year history with a very strong position for the future. My favorite part is the acquisitions section, Siemens is not shy about acquisitions. Not listed yet are Solido, Sarakol, and Infolyitica which are mentioned in the video below. Solido of course was the absolute best EDA acquisition of 2017 according to me.
If you want a quick update on the CAD software side of Siemens here is an interesting video with Tony Hemmelgarn, President and CEO, Siemens PLM Software and Wally Rhines, President and CEO, Mentor, a Siemens business. It's just under 12 minutes but for those of you who don't like videos here is the my take on the Mentor part:
Wally first talked about the Mentor integration with Siemens. According to Wally, customers are excited. From what I have seen and heard customers are not just excited, they are now believers in the Siemens industrial automation vision. The great cultural blend was also mentioned and supported by low single digit employee turnover.
This year has been an all time growth record for Mentor and the momentum continues with synergistic system level product integration with Siemens. Growth was faster than possible than when they were a separate company for sure. Large customer renewals grew 32% relative to prior contracts in terms of annualized run rate with strength across all of Mentor products. Mentor also saw continued improvement in customer satisfaction (via a survey).
The strong semiconductor market has certainly helped Mentor but there is more to the story. Example: Since the acquisition, Mentor initiated and developed a new Calibre product for memories resulting in a $50M order from a leading memory manufacturer. Mentor has also regained the lead in emulation which, from what I have heard from the SoC companies, is correct.
Wally also talked about midterm EDA trends: shrinking and miniaturization, 7nm to 5nm to 3nm where Calibre is the gold standard for verification. AI has taken off with $900M in Q4 2017 investment. Mentor's leading product Calypto allows companies to develop AI algorithms and synthesize them into silicon. IoT and industrial IoT is causing enormous growth bringing in new companies developing complex products that can serve as sensors and actuators for gateways and edge nodes. Growth of automotive in which Mentor has a large presence representing 20% of their revenue. With leading positions in infotainment, ADAS, embedded software, etc… and continued growth of the semiconductor industry as chip design moves to system design bringing together data from all aspects of design.
No matter how you look at it, this acquisition is one for the record books and will make a nice chapter in Wally's best selling autobiography, absolutely.
Share this post via: