Data on China production of mobile phones from the National Bureau of Statistics of China indicates a double-digit decline in the year 2020. In 1Q 2020, the early stages of the COVID-19 pandemic, China mobile phone production declined 50% from 4Q 2019 and dropped 33% from a year earlier. Many factories were temporarily closed in an effort to control the spread of COVID-19. Production has since recovered with 2Q 2020 units up 36% from 1Q and 3Q 2020 units up 15% from 2Q. However even if production in 4Q 2020 returns to the 4Q 2019 peak of 517 million units, total 2020 production would be 1525 million units, down 15% from 2019.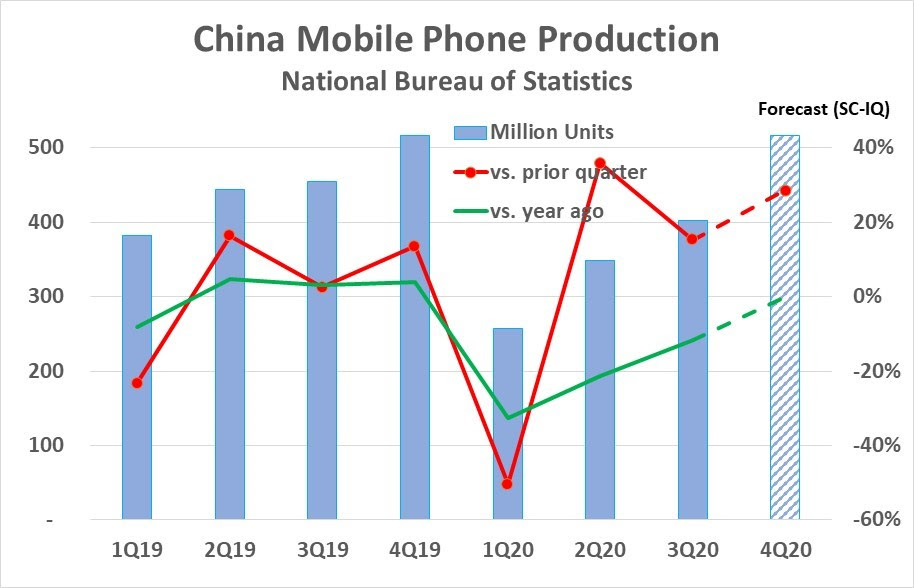 Mobile phones include both smartphones and feature phones. Smartphones account for about 75% of total mobile phone units. Although not all mobile phones are produced in China, China production tracks closely with estimates of the total mobile phone market, as shown in the table below.

The smartphone market decline in 2020 will not be as severe as the overall mobile phone decline. Recent forecasts call for a smartphone unit decline of about 10% to 11%.
The smartphone market decline is due to a combination of temporary cuts in production and temporary shutdowns of retail outlets because of the pandemic. Apple introduced its iPhone 12 lineup earlier this month, its first 5G phones. The iPhone 12 models are expected to boost smartphone demand in 4Q 2020. However, the iPhone 12 and 12 Pro did not begin shipping to customers until last Friday, October 23. The iPhone 12 mini and the iPhone 12 Pro Max will not ship to customers until November 13, almost halfway through the quarter. Analysts estimate Apple will ship about 80 million units of all iPhone 12 models in 4Q 2020. The iPhone 12 models should account for about 15% of total mobile phone production in the quarter and about 20% of smartphone production – not enough to significantly boost overall units in the quarter.
The outlook for Chinese production of microcomputer units is much stronger than the outlook for mobile phones. In 1Q 2020 China production of microcomputers dropped 42% from 4Q 2019 and was down 15% from a year earlier. However, production bounced back strongly in 2Q 2020, up 72% from 1Q 2020 and up 17% from a year earlier. Based on data through 3Q 2020 and our Semiconductor Intelligence forecast for 4Q 2020, microcomputer production will be up 8% in 2020 over 2019.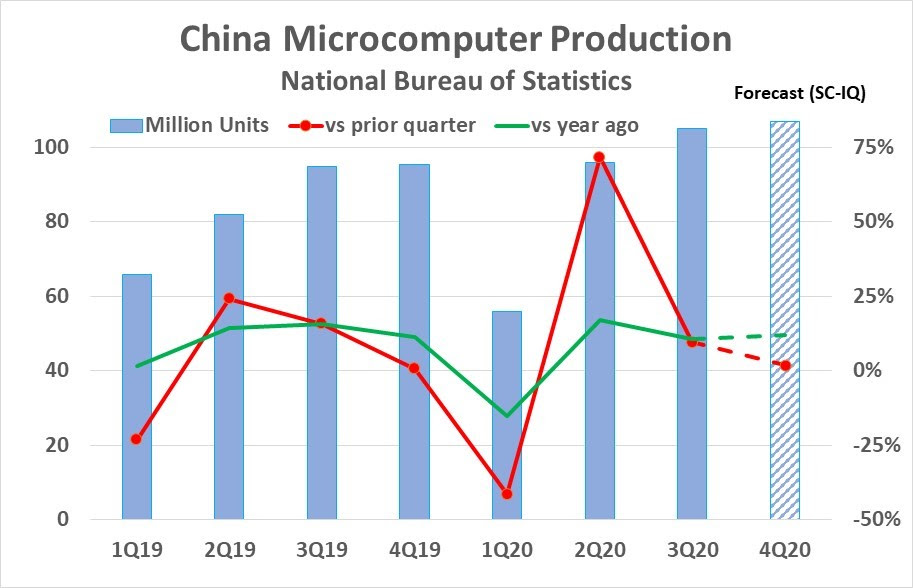 The definition of microcomputers in the China production data is uncertain, but it likely is a combination of PCs and tablets. China microcomputer production in 2019 was 338 million units. IDC estimated 2019 shipments of PCs were 266 million units and tablets were 143 million units, for a total of 410 million units. The China microcomputer production is 83% of the combined PC and tablet shipments.
Our Semiconductor Intelligence forecast of 8% growth in China microcomputer production in 2020 fits with IDC's September forecast of 3.3% growth for combined PC and tablet shipments in 2020.
We expect a strong recovery in China mobile phone production in 2021. Following a 15% decline in 2020, production should grow about 20% in 2021. 2021 production of 1830 million mobile phone units would be a 2% increase from 1798 million units in 2019. China microcomputer production in 2021 should grow about 8%, the same rate as in 2020.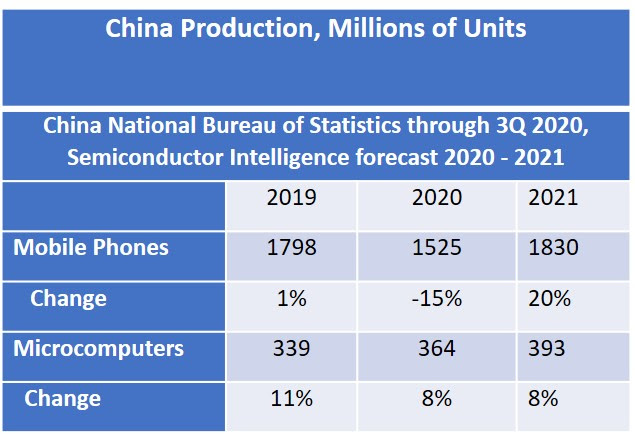 The China production data is consistent with overall trends in electronics in 2020. Demand for PCs and tablets has increased in 2020 as the pandemic has forced many people to work from home, learn from home, and even communicate socially from home. Many households without PCs or tablets have needed to acquire them, often subsidized by employers or schools. Other households have upgraded their PCs or tablets. The demand for mobile phones has been steady but was disrupted by temporary shutdowns of production facilities and retail outlets. Smartphone growth is recovering driven by 5G phones, including the iPhone 12 models.
Semiconductor Intelligence is a consulting firm providing market analysis, market insights and company analysis for anyone involved in the semiconductor industry – manufacturers, designers, foundries, suppliers, users or investors. Please contact me if you would like further information.
Bill Jewell
Semiconductor Intelligence, LLC
billjewell@sc-iq.com
Also Read:
Electronics Production Healthy
Semiconductors Not as Bad as Expected!
Semiconductors up in 2020? Not so fast
Share this post via: