In the early stages of the global COVID-19 pandemic, most forecasters expected the semiconductor market to decline in 2020, including our May Semiconductor Intelligence projection of a 6% drop. However, the semiconductor market has shown surprising strength so far this year. WSTS reported the 2Q 2020 semiconductor market was only down 0.9% from 1Q 2020. The top semiconductor companies had mixed results for 2Q20. Nvidia's acquisition of Mellanox and Infineon's acquisition of Cypress increased their 2Q20 revenues. These acquisitions are excluded in the comparison of 2Q20 to 1Q20. The total revenues of the twelve companies listed were up 3.9% in 2Q20 from 1Q20. Seven of the twelve companies had revenue declines. The memory companies (Samsung, SK Hynix, Micron and Kioxia) were up 12.7% while the non-memory companies were down 1.4%.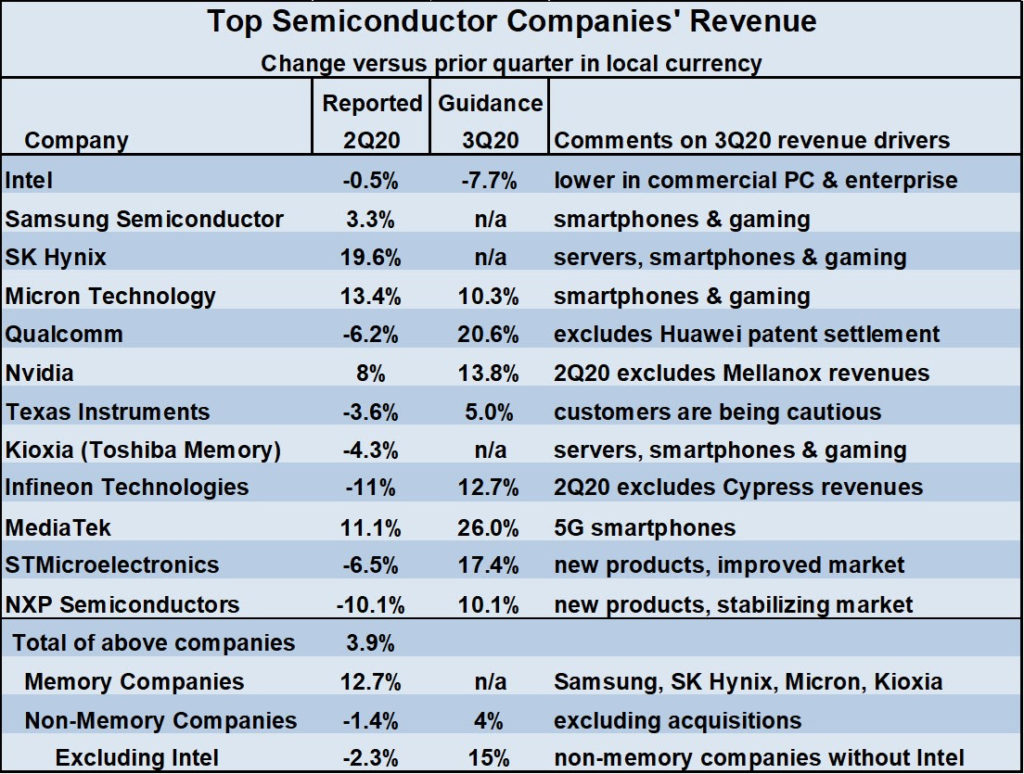 The consolidated 3Q20 guidance of the non-memory companies is 4% revenue growth from 2Q20. However, the guidance is dragged down by Intel's guidance of -7.7%. Excluding Intel from the non-memory companies, the resulting 3Q20 guidance is 15%.
The major memory suppliers did not provide guidance for 3Q20 revenues, except for Micron Technology. However, they all stated new products in smartphones and videogames are expected to drive revenue growth in the second half of 2020. Apple is expected to introduce its 5G iPhone 12 models in October. Microsoft will release its Xbox Series X gaming system in November. Sony is expected to release its PlayStation 5 gaming system before the end of 2020. In late June, Micron said it expected revenues to increase from 6% to 15% for its quarter ending in late August. However, in a financial conference earlier in August, Micron said the quarter would be "somewhat weaker" than its previous guidance.
IDC in late May and early June of this year forecast double-digit declines in 2020 for both smartphones and PCs. July data on 2Q 2020 shipments showed smartphones were down 16% versus a year ago – in line with IDC's June forecast of an 11.9% decline in 2020 smartphone shipments. July data on 2Q 2020 PC shipments showed a surprising 11% year-to-year increase driven by increased use of PCs for working and learning from home during the pandemic. IDC will certainly revise its 2020 PC forecast upward from its May forecast of a 15% decline, possibly showing an increase in PC units for the year 2020.

The global recession of 2008 to 2009 was the worst economic downturn since the great depression in the 1920s and 1930s. In 2009, the global GDP declined 1.7% and U.S. GDP declined 2.5%, according to the World Bank. The current global recession will certainly be much worse than 2009. The June economic forecast from the International Monetary Fund (IMF) was a 4.9% decline in global GDP in 2020. The advanced economies will be hit the worst, with an 8% decline. Emerging and developing economies are expected to decline 3%. Ironically, the only major economy expected to show growth in 2020 is China – the original source of the COVID-19 outbreak. The IMF projects global GDP will recover to 5.4% growth in 2021. Looking at the net change in GDP from 2019 to 2021, the advanced economies should see a 3.6% decline while the emerging and developing economies should see a 2.7% increase.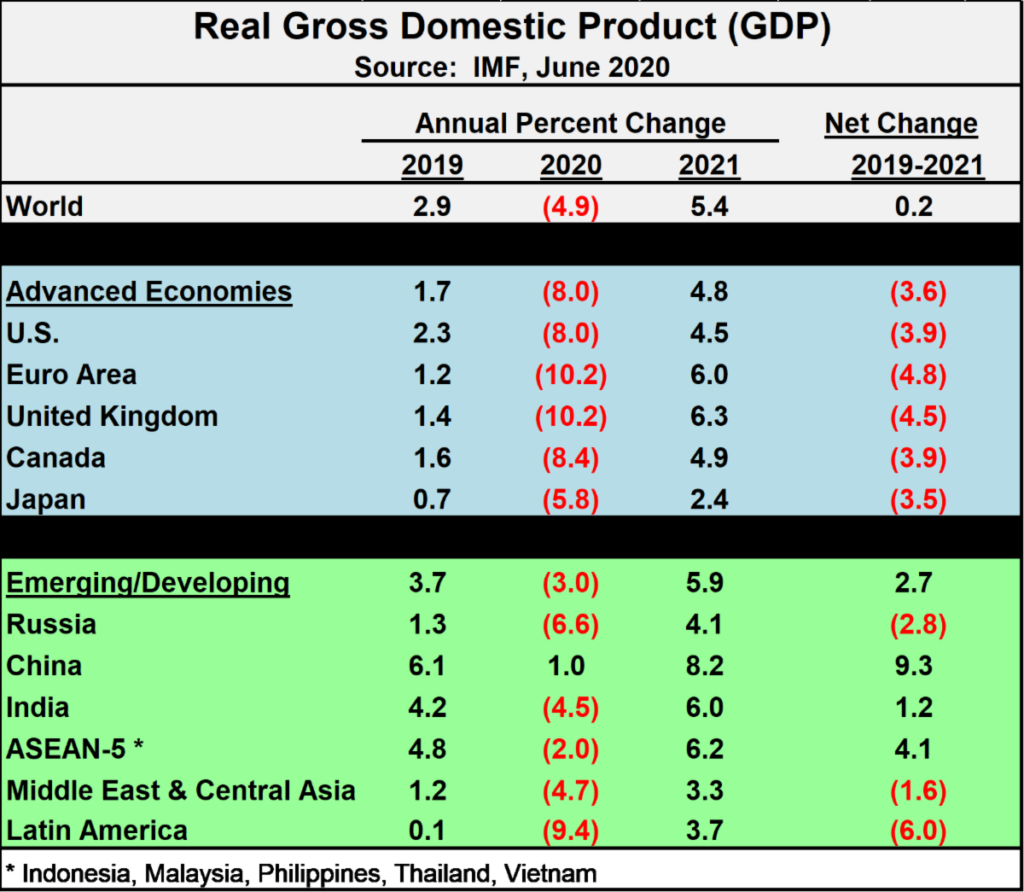 As pessimistic as the IMF economic update was in June, the COVID-19 pandemic has become more severe since. According to Johns Hopkins University, worldwide COVID-19 cases more than doubled from 10.5 million at the end of June (after the IMF report) to 23.4 million as of August 23. U.S. cases also more than doubled during the same time period, 2.6 million to 5.7 million. Recently cases have been increasing in hard-hit countries which seemed to have had COVID-19 under control such as the UK, Spain, France, and Italy.
Against this backdrop, we at Semiconductor Intelligence find it difficult to expect much of an increase in the world semiconductor market in 2020. However, the strength of the PC market and the relatively optimistic 3Q 2020 guidance of several major semiconductor companies indicates the semiconductor market will fare better than the overall economy in 2020. We are forecasting 1% growth in the semiconductor market in 2020 and 8% growth in 2021. Several recent forecasts for 2020 are around 3%. The Cowan LRA Model predicts 5.2% growth in 2020, but this model is based on historical trends and does not account for the current pandemic. For 2021, the Cowan LRA model forecasts 4.4% growth, WSTS expects 6.2%, and Semico Research predicts "low double digit" growth (shown as 10% on the chart).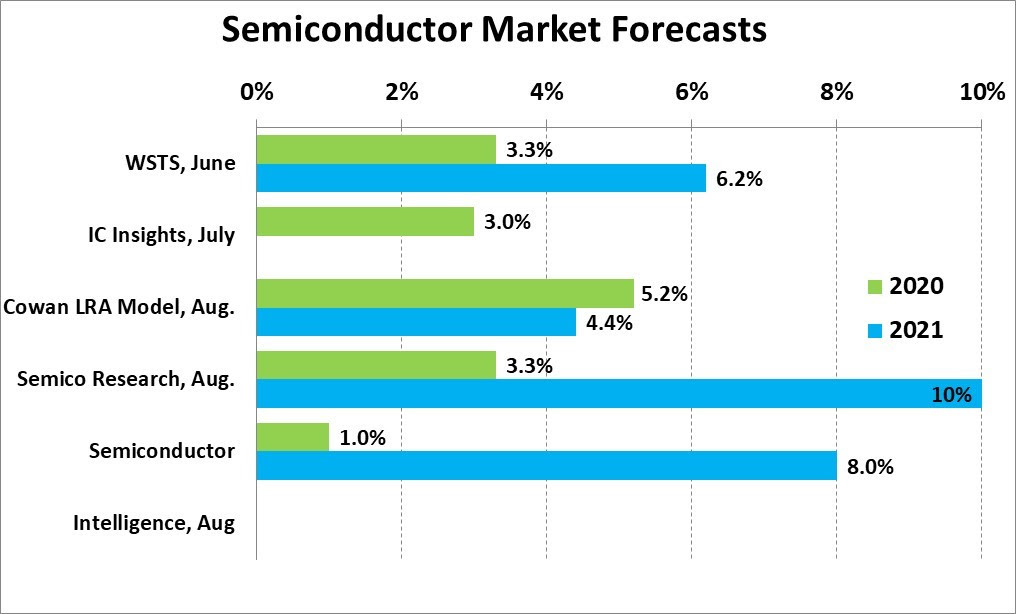 We are in uncharted territory in 2020 – the worst pandemic in 100 years and the worst economic downturn in 90 years. The relative strength of the semiconductor market compared to the overall economy is largely due to the shifting nature of human interaction. Most countries have placed restrictions on workplaces, schools, and retail outlets. Thus, people increasingly work, learn and shop from home. This increases demand trends for PCs, smartphones, computing infrastructure and communications infrastructure. Even after the COVID-19 pandemic is over, many of these trends will continue – making semiconductors and electronics an even more important part of the global economy.
Also Read:
Semiconductors up in 2020? Not so fast
Is the Worst Over for Semiconductors?
Share this post via: